Jim Thomas Receives Christopher Columbus Fellowship Foundation 2009 Homeland Security Award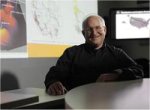 Jim Thomas, NSD, was recently awarded the Christopher Columbus Fellowship Foundation 2009 Homeland Security Award. This significant honor recognizes his international leadership and outstanding scientific achievements in establishing the growing science of visual analytics and the numerous associated technologies that aid in detecting, predicting, preventing, and responding to acts of terrorism.
Thomas's scientific leadership in visual analytics has resulted in the emergence and deployment of new information technologies critical to our nation's security. Visual analytics innovations developed under Thomas's leadership have been deployed to national and regional analysts and first responders at a number of homeland security agencies and organizations. For example, teams under his leadership developed the Scalable Reasoning System providing law enforcement investigators with visual tools to discover patterns, trends, and relationships when and where it matters most-where lives are at stake. This technology has been deployed to front-line law enforcement and counter-terrorism personnel at the San Diego area Automated Regional Justice Information System (ARJIS), the Port Authority of New York and New Jersey, and the Seattle Police Department. The ARJIS Executive Director described this capability as "critical" to officers on the ground.
Equally important to the contributions Thomas has made to this scientific field, he has played an important role in educating our next generation of scientists and engineers. He has led the development of a series of visual analytics curricula at the university level. He has inspired degree and certificate programs, academic research programs and classes, workshops, summer camps, and faculty fellowships. His impact on future generations of visual analytics researchers helps ensure a steady pipeline of discoveries and technology solutions that can address homeland security challenges.
Congress established the Christopher Columbus Fellowship Foundation in 1992 to "encourage and support research, study and labor designed to produce new discoveries in all fields of endeavor for the benefit of mankind." Each year, the foundation honors American citizens who improve the world through scientific endeavors. Recipients are selected from hundreds of nominations and are chosen by a panel of science, policy and other experts.
<< Back to Highlights