Richard May named IEEE VAST symposium co-chair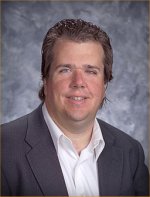 Richard May has been unanimously approved by the IEEE VAST (Visual Analytics Science and Technology) Steering committee as the IEEE VAST symposium co-chair with Jörn Kohlhammer from Fraunhofer in Germany. IEEE VAST is one of the fastest growing national and international scientific communities.
IEEE VAST is the first international symposium dedicated to advances in Visual Analytics Science and Technology. The scope of the symposium, co-located with the annual IEEE Visualization Conference (IEEE Vis) and the IEEE Information Visualization Conference (IEEE InfoVis), includes both fundamental research contributions within visual analytics as well as applications of visual analytics, including applications in science, security and investigative analysis, engineering, medicine, health, media, business, and social interaction.
As Deputy Director for the Department of Homeland Security's National Visualization and Analytics Center (NVAC), Dr. May develops opportunities to transfer technologies to meet the needs of regional preparedness experts and coordinates visual analytics research across government and academic partners. He received his B.S. and M.S. in Computer Science from Washington State University and his Ph.D. in Industrial Engineering from the University of Washington.
Throughout his career, May has focused on designing new technologies and protocols to generate and interact with complex, massive data sets. He has conducted research in video and image processing, information visualization, virtual and mixed reality and visual analytics. In the early 1990s, he transitioned his research from visualizing science to interacting with the visualizations, to better understand the complex nature of the problems being studied. This new focus led to research in both the logical and physical aspects of interacting with electronic information and eventually to looking at analytical processes and visual analytics.
<< Back to Highlights