Jerry Posakony Named Recipient of the 2009 IEEE Honorary Membership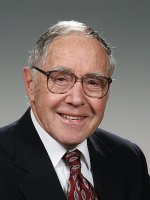 Jerry Posakony
Jerry Posakony has been named the recipient of the 2009 IEEE Honorary Membership "for pioneering contributions in ultrasonic techniques for medical diagnosis and nondestructive evaluation."
Each year, the IEEE Awards Board recommends a select group of recipients to receive the IEEE's most prestigious honors. As of Dec 2007, there were only 27 IEEE Honorary Members worldwide out of more than 376,000 IEEE members.
The grade of Honorary Member is a significant honor bestowed by the institute and is awarded for life to an individual. The honor was established through the Bylaws of the IEEE, with the following description: Honorary Members are elected by the Board of Directors 'from among those who have rendered meritorious service to humanity in the IEEE's designated fields of interest and who are not members of the IEEE.' Posakony will be formally recognized at the annual IEEE Honors Ceremony in Los Angeles in June.
Through its global membership, IEEE is a leading authority on areas ranging from aerospace systems, computers and telecommunications to biomedical engineering, electric power and consumer electronics, among others.
Jerry received the honorary membership in IEEE at the award ceremony on June 25. The event was televised and is available to view on IEEE.tv via the web.
<< Back to Highlights