Wayne Martin Recognized as One of America's 2008 most accomplished African American Engineers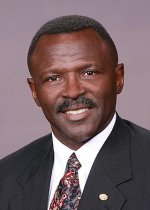 Wayne Martin
Wayne Martin has been recognized as one of America's 2008 most accomplished African American Engineers by the Black Equal Opportunity Employment Journal. Dr. Martin is a manager for the Chemical, Biological & Nuclear Surety Product Line, which provides a broad suite of science and engineering products and solutions.
Over the past 30 years, Martin has served as an environmental scientist and program manager for technology development for complex environmental problems and conducted an extensive array of experiments related to the study of contaminant migration in the subsurface using numerous analytical instruments. He has worked predominantly on national problems associated with hazardous waste management, although he has had international involvement with the International Atomic Energy Association (IAEA), working with an international committee for developing procedures for radioactive tracer techniques and studies in understanding contaminant migration mechanisms and problems. These approaches are instrumental in the investigation and identification of the environmental fate of radioactive and inorganic species in the subsurface.
His recognition also includes his efforts to increase involvement of under-represented minorities in the engineering and scientific fields and for his leadership and significant contributions to the Tri-Cities community.
Martin earned a bachelor's degree in wildlife management from Washington State University (WSU), a master's degree in radiological sciences from the University of Washington and a doctorate in environmental and natural resource sciences from WSU. He worked for PNNL from 1978 to 1993 and rejoined the Laboratory in 1997 following an educational leave of absence to obtain his doctorate.