Scientific Partnership Brings National Recognition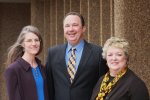 Deb Frincke (left) Mike Kluse, Barbara Endicott-Popovsky, director of the CIAC (right)
PNNL's scientific partnership with the Center for Information Assurance and Cybersecurity (CIAC) at the University of Washington has secured their spot as one of the first centers in the United States to be designated as a National Center of Academic Excellence in Information Assurance Research (CAE-R) by the National Security Agency and the Department of Homeland Security.
"PNNL's participation is unique in that the CAE-R designation is normally only given to a university," said Deborah Frincke, National Security Directorate. "However, due to our prominent participation with the CIAC, several of our staff members were listed as members and PNNL was recognized." A laboratory has never been highlighted as a key contributor in a CAE-R recognition. At minimum this means the lab will be involved with planning the next NSA hosted conference in 2009.
Frincke is an advisor for the CIAC. The CIAC sought out Frincke because she had run the University of Idaho's center of excellence. Over the last year PNNL's partnership with the CIAC has continued to grow. Several staff members have delivered lectures. Along with Frincke, Troy Thompson, Frank Greitzer, Gary Morgan and Bryan McMillan, all of the National Security Directorate, have been key contributors to the program. PNNL's activities include advanced forensics and other cyber research areas.
The CAE-R program was launched in September 2007 to address the need for information assurance technology, policy, and practices. The vision for the program is to establish a process that will present opportunities for information assurance research centers to explore much needed solutions to securing the global information grid and provide NSA, DHS and other federal agencies with insight into academic information assurance programs that can support advanced academic research and development capabilities.
<< Back to Highlights