University of Washington Collaborators Share Honors with PNNL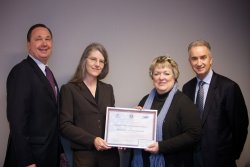 PNNL Director Mike Kluse; Deb Frincke, PNNL; Barbara Endicott-Popovsky, CIAC ; Harry Bruce, UW
PNNL's scientific partnership with the Center for Information Assurance and Cybersecurity (CIAC) at the University of Washington has secured its spot as one of the first centers in the United States to be designated as a National Center of Academic Excellence in Information Assurance Research by the National Security Agency and the Department of Homeland Security.
For more than three years PNNL has assisted the CIAC on a number of projects. One project is a joint research effort funded by DOE that includes UW researchers. Another project is educational programs; such as lectures given on Cyber Security, advanced forensics and much more.
The mission of the center will be to provide a forum for the collaboration of professors, professionals, industries and students. Additionally, the center is to identify, address and promote visions and solutions for issues of information assurance and cyber security. The center will produce and be a catalyst for research, invention, innovation, education, public awareness, entrepreneurship and economic growth in the state of Washington. Its effort will assist with sustaining the vitality of existing industry, as well as to attract and develop new industry.
<< Back to Highlights