Ted Bowyer Appointed Member on National Academy of Sciences Comprehensive Nuclear Test-Ban Treaty Panel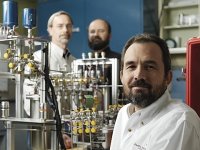 Ted Bowyer
With the Obama Administration already pushing for Senate ratification of the Comprehensive Nuclear Test-Ban Treaty (CTBT), the National Academy of Sciences has again convened a panel to study technical issues related to the treaty. The 10-member NAS panel, chaired by University of Maryland physics professor Ellen Williams, has been tasked by the National Nuclear Security Administration and the State Department to update the 2002 NAS study on the CTBT. The CTBT bans all nuclear explosions in all environments for military or civilian purposes.
The NAS panel will include two members of the 2002 study and eight other members, including Ted Bowyer, National Security Directorate. Bowyer is a nuclear explosion monitoring expert at Pacific Northwest National Laboratory (PNNL) and a former Department of Energy/NNSA scientific adviser on the CTBT.
Bowyer has worked at PNNL in a variety of nonproliferation programs related to nuclear weapons material production detection, nuclear testing detection, and nonproliferation policy. He spent several years in the Office of Nonproliferation Policy at DOE/NNSA where he served as a scientific advisor on the Comprehensive Nuclear-Test-Ban Treaty and related Nuclear Testing Limitations treaties and agreements, as well as the Fissile Material Cutoff Treaty. He has spent significant time serving the U.S. Delegations to the Conference on Disarmament in Geneva and CTBT Working Group B (WGB) in Vienna as a technical advisor. Currently, Bowyer serves as the chair of the CTBT working group B (WGB) Radionuclide Expert Group and chair of the U.S. Radionuclide Subgroup of the Verification Monitoring Task Force.
For more information about the study, visit http://www8.nationalacademies.org/cp/projectview.aspx?key=49131.
<< Back to Highlights