Page 214 of 278
Advanced Computing, Mathematics and Data
Research Highlights
September 2009
Check Out Advancing the Frontiers of Science Brochure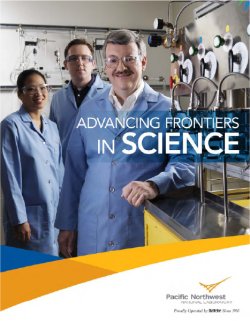 Enlarge Image
Understanding the world around us, from the behavior of subatomic particles to shifts in the global climate pattern, is vital to our nation's prosperity and security. Gaining this understanding is the job and the passion of scientists and engineers at Pacific Northwest National Laboratory. Our scientific leaders are recognized in the United States and abroad for their accomplishments.
They conduct transformational science that revolves around six key themes or agenda items...
Achieving a predictive understanding of multi-cellular biological systems
Understanding energy and materials transfer in the subsurface from the molecular to the ecosystem scales
Developing tools and understanding required to control chemical and physical processes in complex multiphase environments
Creating new computational capabilities to solve problems using extreme-scale simulation and peta-scale data analytics
Transforming the nation's ability to predict climate change and its impacts
Developing, integrating, and deploying transformational tools in the Environmental Molecular Sciences Laboratory that accelerate scientific discovery and innovation.
If you want to learn more about our work in exploring the frontiers of science, check out our latest brochure, available online.
---
Page 214 of 278