Page 31 of 278
Advanced Computing, Mathematics and Data
Research Highlights
December 2017
Something New in the Air
BlueSky adds capability, flexibility to computing research at PNNL
Recently, Pacific Northwest National Laboratory added a new instrument to its roster of high-performance computing resources that aim to transform computer science research. Dubbed "BlueSky," the reconfigurable experimental platform is capable of high-fidelity power and performance measurement and analysis of external devices. The added flexibility sets BlueSky apart from other testbeds at PNNL.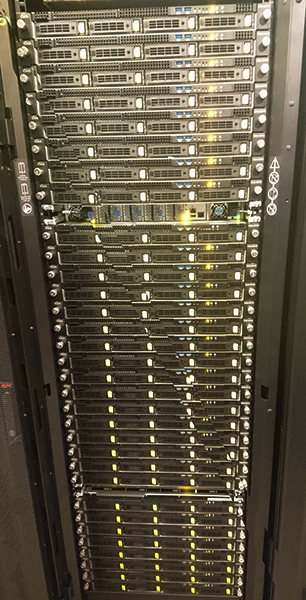 BlueSky is a new instrument to support PNNL's transformational computer science research.
Enlarge Image
.
"Most computing topologies are static in nature. However, BlueSky offers a reconfigurable system approach that can be used to examine unique network infrastructure configurations or be integrated with other systems," said Matt Macduff, an engineer and team lead with PNNL's High Performance Computing group who oversees the instrument. "Instead of a single-purpose system, it allows more meaningful research to occur."
BlueSky will benefit PNNL institutional users interested in studying advanced devices. For example, its sensor array can be connected to an external GPU (graphics processing unit) motherboard, disk arrays, file systems, or network switches to get various readings, such as how much power is coming off of a device in a specific timeframe. The resulting data are streamed to the 48-node compute cluster. The system also will exploit PNNL's existing Institutional Computing capabilities.
Notably, BlueSky will be leveraged by the Center for Advanced Technology Evaluation, known as CENATE, for evaluation of early technologies, especially workload applications that affect the U.S. Department of Energy. CENATE, a DOE Office of Advanced Scientific Computing Research program led by PNNL, is a computing proving ground that focuses on guiding the designs of future extreme-scale systems and applications.
"BlueSky's added integrative flexibility and ability to measure things other than itself will augment research conducted within CENATE," noted Kevin Barker, CENATE's director, who also serves as deputy director of PNNL's HPC group. "Having such a dedicated experimental platform will afford more insights into, for example, applications of network configuration flexibility for HPC workloads, system-level optical networking, and analysis of extreme-scale technologies that extend well beyond those associated with the Exascale Computing Project."
Among its features, BlueSky includes EDR 100G (Enhanced Data Rate) InfiniBand and Intel Skylake microarchitecture. The specialized cluster was bundled with Penguin PowerInsight devices that can measure power consumption for all subsystem components within a server. BlueSky's compute capability also affords the ability to capture, post-process, and perform in-depth analysis of the captured data.
"Adding BlueSky to the mix of advanced research instruments reflects PNNL's ongoing investments in new technologies and its commitment to being an active contributor in the HPC landscape," Macduff added.
CONTACT
---
Page 31 of 278