Page 57 of 278
Advanced Computing, Mathematics and Data
Research Highlights
November 2016
PNNL's CENATE Project Picks up Editors' Choice Award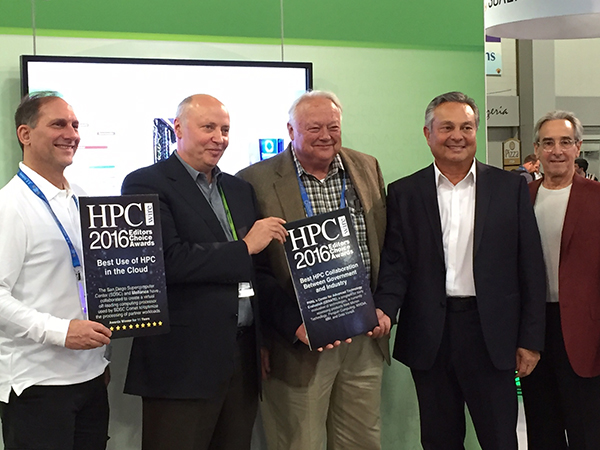 Adolfy Hoisie
(second from left) is joined by representatives from CENATE's indutry partners Mellanox Technologies, Data Vortex, and IBM to receive an Editors' Choice Award from Thomas Tabor (second from right), CEO of
HPCwire
.
Enlarge Image
.
As part of the events at SuperComputing 2016, Adolfy Hoisie, PNNL's Chief Scientist for Computing and Laboratory Fellow, was presented an HPCwire Editors' Choice award for the Center for Advanced Technology Evaluation, known as CENATE. The award, which honors the Best HPC Collaboration Between Government & Industry, acknowledges CENATE's integrated evaluation of early technologies from industry collaborators: Micron Technology, Mellanox Technologies, Penguin Computing, NVIDIA, IBM, and Data Vortex Technologies.
"This is quite an honor to share with CENATE's industry collaborators," Hoisie added of the award. "Working with these partners has helped CENATE to grow quickly and become an important project within the DOE Office of Advanced Scientific Computing Research portfolio. CENATE has delivered on its promise to become a focal point for computing technology of interest to DOE applications and systems."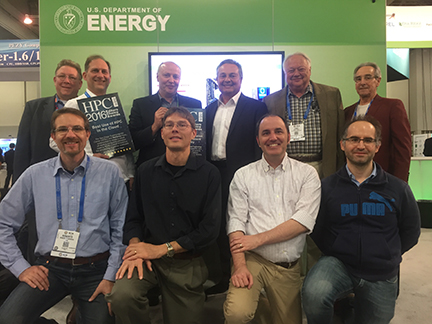 PNNL's CENATE team at SC16 (
Photo via @HPCwire
).
Enlarge Image
.
HPCwire is the leading news and information resource covering the fastest computers in the world and the people who run them. It is a top portal of choice selected by science, technology, and business professionals interested in high-performance and data-intensive computing.
For the complete awards list, visit 2016 HPCwire Awards–Readers' & Editors' Choice.
Related:
About CENATE:
Launched in 2015, PNNL's Center for Advanced Technology Evaluation was envisioned as a computer proving ground, where an integrated measure–model–design evaluation pipeline of early technologies will predict their potential, guide designs, and hone future extreme-scale systems and applications. At its core, CENATE encompasses instrumentation, testbeds, evaluation, and modeling and simulation research areas that primarily focus on workload applications of interest to DOE. CENATE is funded by the DOE-ASCR.
---
Page 57 of 278