Page 60 of 278
Advanced Computing, Mathematics and Data
Research Highlights
September 2016
CENATE Adds Powerful Testbed from NVIDIA
PNNL among the first to acquire machine learning system that features new Pascal microarchitecture
In September, Pacific Northwest National Laboratory's Center for Advanced Technology Evaluation, or CENATE, expanded its capabilities for measuring and modeling advanced technologies with the addition of a leading-edge DGX-1 system from NVIDIA Corp.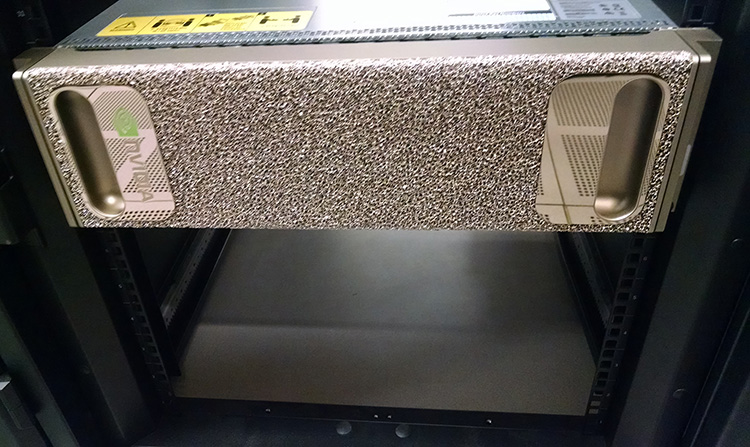 And room to grow
: The initial DGX-1 box will be joined by two more systems in CENATE's machine room.
Enlarge Image
.
Billed by NVIDIA as "the world's first deep-learning supercomputer," the DGX-1 testbed, now housed in the CENATE machine room at the Environmental Molecular Sciences Laboratory (EMSL) on PNNL's campus, complements the slate of systems and testbeds being used to measure, model, and design technologies that will impact future large-scale high-performance computers. Since 1993, NVIDIA has grown to design processing platforms for the gaming, professional visualization, data center, and automotive markets.
"This new CENATE machine will allow us to assess performance of machine learning, or deep learning, workloads, providing the means to develop more scalable machine learning algorithms that can impact scientific and national security domains," said Darren Kerbyson, associate division director of PNNL's High Performance Computing group and Laboratory Fellow who serves as CENATE's chief scientist. "It also gives us the means to examine and compare characteristics of the Pascal GPU microarchitecture against other state-of-the-art systems, such as Intel's Knights Landing."
The DGX-1 now within CENATE supplements other installed testbeds and systems in the center's design-and-procurement pipeline. According to NVIDIA, the DGX-1 was "purpose-built," incorporating the latest Pascal architecture, which provides more than 5 teraflops (FP64) in computing speed, or 1 million-million (1012) flops per second, for HPC workloads, as well as increases in neural network training and deep learning inference speeds. It also is the first architecture to feature NVIDIA's NVLink high-speed communications protocol for interconnecting processors and includes high-bandwidth stacked memory. Using Pascal, a single node of eight processors has a peak performance of 170 teraflops, or FP16 (half precision) compute performance.
"The DGX-1 is another important testbed that will enable CENATE to further its mission of assessing the impact of new technologies on U.S. Department of Energy applications," added Adolfy Hoisie, CENATE's director and PNNL's chief scientist for computing. "Already, there is great interest among the CENATE constituency and users, along with application developers and other users, such as those in EMSL or within the cybersecurity research area."
About CENATE
Launched in 2015, PNNL's Center for Advanced Technology Evaluation was envisioned as a computer proving ground, where an integrated measure–model–design evaluation pipeline of early technologies will predict their potential, guide designs, and hone future extreme-scale systems and applications. At its core, CENATE encompasses instrumentation, testbeds, evaluation, and modeling and simulation research areas that primarily focus on workload applications of interest to DOE. CENATE is funded by the DOE's Office of Advanced Scientific Computing Research.
Related
---
Page 60 of 278