Page 137 of 278
Advanced Computing, Mathematics and Data
Research Highlights
April 2014
ARM Data Team Hosts First Programming Summit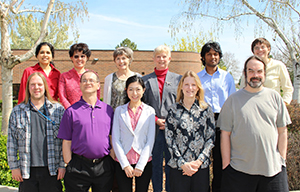 Photo courtesy of ARM Climate Research Facility, 2014.
In April 2014, the Atmospheric Radiation Measurement (ARM) Data Integration team, led at PNNL by Chitra Sivaraman, hosted their counterparts from Brookhaven National Laboratory as part of a three-day meeting aimed at furthering their expertise using the ARM Data Integrator, or ADI. During their tutorial, the collective teams honed their skills using a "pair programming" technique that pairs two programmers at one workstation, allowing code to be written and examined simultaneously for immediate feedback. The group, which included members of ARM's Infrastructure team, also used pair programming to migrate existing code to a new Linux-based operating system. Read more about their efforts in the news release from the ARM Climate Research Facility.
User Facility: ARM
PNNL Research Team: Brian Ermold, Krista Gaustad, Sri Nikhil Gourisetti, Annette Koontz, Yan Shi, Timothy Shippert, Chitra Sivaraman (all CSMD, Scientific Data Management Group), and Laura Riihimaki, translator (ASGC, Climate Physics Group).
---
Page 137 of 278