Friday, December 13, 2019
Hailstone Creation Knows No Borders
Poster: Friday, 1:40-6:00 PM, Moscone South – Poster Hall 
Where do hailstones come from?
The sky – of course.
But Jong-Hoon Jeong and Jiwen Fan are taking a closer look at the sizable hailstones that bombard the southern Great Plains in the United States each spring. They have found that hailstone activity varies considerably from year to year, and that small particles known as aerosols originating in northern Mexico may be one of the major ingredients for creating these hailstones.
Winds send the aerosols aloft to the southern United States, where they feed thunderstorms and serve as a home base for water particles to condense, freeze, and aggregate. The aerosols originate in the Mexican states of Chihuahua, Coahuila, and Nuevo León, and they contribute to hailstone activity across the border, in the southern Great Plains regions of Texas, Oklahoma, Kansas, and Colorado.
The team identified two additional important factors, both relating to temperature of large bodies of water and which vary year to year. Hailstone activity in the southern Great Plains increases when the surface temperature of the waters in the Gulf of Mexico, southeast of the nation, is higher. Conversely, hailstone activity is heightened when waters to the southwest of the nation, in the eastern Pacific Ocean, are cooler, during the La Niña phase of the El Niño-Southern Oscillation.
"If you want to predict hailstone activity, first you need to understand the factors that can contribute to its occurrence," said Jeong, who is presenting the work at AGU. "The hail frequency changes a lot year by year and it poses a big challenge for future prediction."
Out of Order: Small Tidal Streams Outrank Large Rivers
Presentation: Thursday, 11:35-11:50 AM, Moscone West – 3014, L3 
Large tidal rivers that dump directly into the ocean get most of the attention when it comes to studies of impacts from climate or land-use changes. In fact, smaller streams are barely a blip on the radar. At AGU 2019, Jerry Tagestad presents new research from PNNL and the University of Washington that aims to set the record straight.
The team scoured data from the U.S. Geological Survey examining every single stream in the lower 48 states. They found that two-thirds of tidal streams—streams affected by the pulse of the tides—are "small order" streams with three or fewer stream branches feeding into them. These small streams outnumber large rivers two to one.
The team's research also showed that ecosystem productivity was 30 percent higher along tidal streams than in nearby freshwater ecosystems. The findings indicate that the collective effects from sea level rise may have a large impact on these tidal streams, especially the small ones. Numerous tidal streams will be compressed by steeper land gradients inland—in essence, swamping the lowlands where the most biological, chemical, and geologic activity takes place.
Tagestad said that the study answers some questions but opens the door to others. Are small streams driving the nutrient cycles? Do the contributions of small streams outweigh their modest footprint?
"In a large river, those interactions are pretty well understood and represented in global models," said Tagestad. "But for small rivers, it's pretty much a blank spot on the map."
Making Waves: Better Models for Better Energy
Presentation: Friday, Moscone South – eLightning Theater II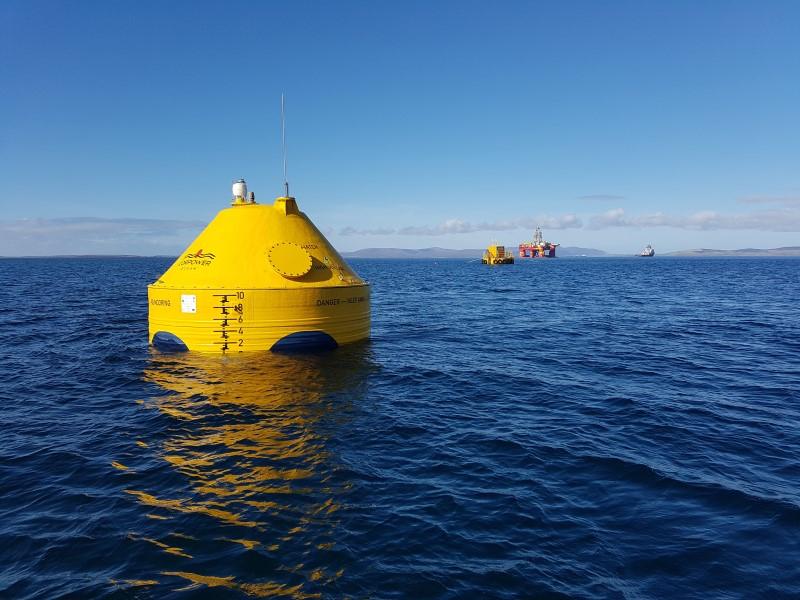 Beneath the watchful gaze of volcanic Mount Redoubt lies another mighty, yet less violent, Alaskan powerhouse.
At first glance, 180-mile-long Cook Inlet may seem like just another unassuming stretch of ocean—in fact, it is a highly promising site for renewable marine energy. The inlet's industrious, rapidly fluxing tides make it an as-yet untapped, energy-rich ocean resource.
Now, PNNL scientists are helping make Cook Inlet's potential a reality by using high-tech computer models to select ideal sites for plants that will turn the energy of the ocean's tides into power. They are also using their models to identify similar sites that will harness the energy of waves at multiple locations along Alaska's coast. The team led by Zhaoqing Yang is presenting its results at AGU 2019.
The team's work is providing decision makers with better tools for establishing wave and tidal energy infrastructure—they've developed two different models that skillfully characterize different aspects of potential plant locations.
The models' high resolution and tunability make them ideal for informing plans and strategies about where to deploy renewable energy infrastructure in Cook Inlet and along the Alaskan coast. Even so, they aren't just limited to that one location—their capabilities can be tailored to any place around the globe.
For now, Cook Inlet stands tall as one of Alaska's key representatives in the rapidly expanding renewable energy arena.
Image credit: CorPower
Water Weight: A Scaled Approach for Power System Planning
Presentation (Invited): Friday, 5:00-5:15 PM, Moscone West – 3022, L3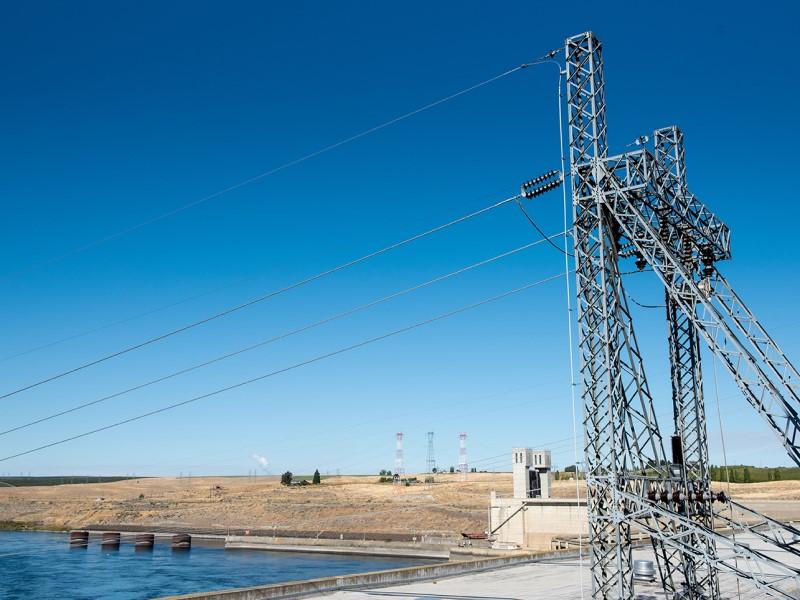 Across the United States, 92 percent of all electricity generation requires water as either a source or coolant. Competition for water, whether from demand, new policies, or long-term changes in water availability, can stress the system. Whether these stressors occur gradually or rapidly can affect power plant and grid functions beyond the range of normal operations.
At AGU 2019, Nathalie Voisin presents new research that could unlock the way planners look at the resiliency of U.S. electricity systems in a future water-stressed world.
"In the past we've been thinking about electricity planning and decision-making based on a drastic tipping point," said Voisin. "That's not really how it works."
Voisin said most past studies look at one region with one generation source at a time. In the new study, researchers evaluated electricity system risk across the United States using a three-by-three approach.
First, the team considered system resilience in terms of three attributes: persistence, or normal operations; adaptation, or contingency operations; and transformation, or system redesign. The team then applied these attributes to three system scales: a single large power plant, an urban power utility with a mix of power plants, and a large-scale power grid with numerous power plants and watersheds.
Results showed that water dependencies vary by region and over time. For power plants, water was a critical driver for long-term planning. At the city scale, water stress depended more on resources and evolving infrastructure. At the grid-scale, water was not a stress driver but a multiplier, and transforming the system could require decoupling the dependency on water.
In addition to water and scale, Voisin said system planning needs to consider interactions with other drivers, such as technology innovation, energy markets, and integration of renewables. She likened the situation to the proverbial frog in the pot of boiling water. 
"There are phases in the decision-making processes where you decide if you want to stay where you are," said Voisin. "Once the stress passes, there is a tendency to go back to the old normal. This is very important. When do you switch to the new normal? We're improving the way we define the tipping point. It's not a line – it's an entire phase."
---
Thursday, December 12, 2019
Bicoastal Case Studies Reveal Future Flood Risks and Impacts
Presentation: Thursday, 4:24-4:36 PM, Moscone West – 2007, L2 
Heavy precipitation, storm surge, high tides, and wind have exacted heavy tolls on coastal communities over the past several decades. These extreme weather events are expected to increase in both frequency and intensity. For more resilient coastal communities, we need to be better prepared; and that means a better understanding of what could happen in the future.
At AGU 2019, Dave Judi presents case studies of extreme events for two diverse coastal communities: one in the Pacific Northwest and one in the mid-Atlantic. The Pacific Northwest case study examined the impact to urban building stocks from inland flooding due to rain, snow, and rain-on-snow events. The mid-Atlantic case study looked at the impact of sea level rise, coupled with storm surge, on electric power, water, and transportation systems. Researchers used the case studies to model and run simulations of the extreme events and impacts over the next 50 to 100 years.
Results from the case studies will reveal the gaps in current profiles of coastal-urban flood risk, and the need for using integrated multi-scale modeling of both natural and human systems to quantify risk. Judi will also discuss the creation of a new model for considering future coastal urban development patterns in flood risk.
Sharing Ideas and Data: Town Hall on Open Science
Town Hall: Thursday, 12:30-1:30 PM, Moscone West – 3001, L3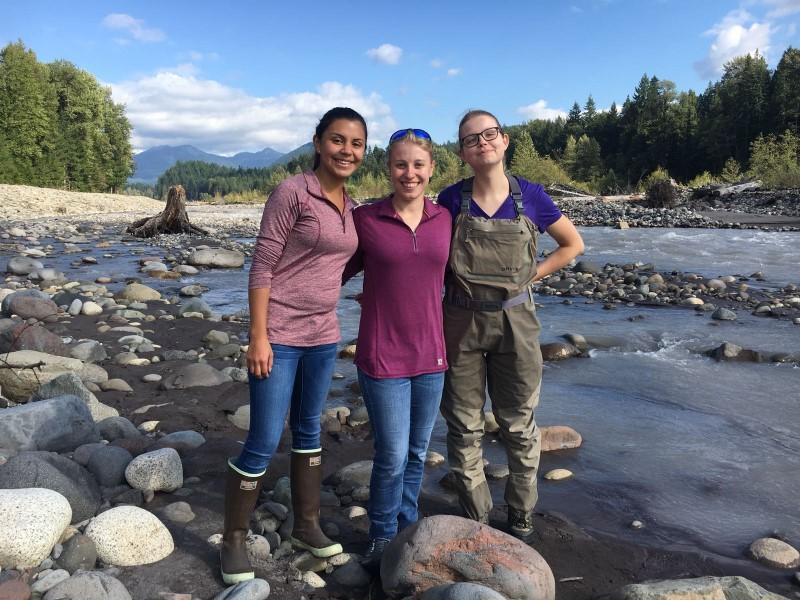 Look what science has now: accelerating innovations, more terabytes of data than ever, the convening power of social media, and fast modern computers boosted by machine learning.
This convergence of capabilities, said PNNL ecologist James Stegen, brings ever more challenging science questions within reach.
But the culture of doing science, he cautioned, still puts impediments in the way of freely sharing ideas and data in the geosciences and elsewhere.
Historically, researchers design studies to answer specific science questions. They pay less attention to enhancing impact by sharing data, co-developing models, or creating outcomes that are interoperable across the world.
In answer, Stegen is leading an AGU 2019 town hall on "coordinated open science by design," a methodology based on integrating processes, regularizing methods across systems, networking efforts across researchers, and making data and models interoperable.
With all the geosciences in mind, Stegen will outline the principles of coordinated open science, present testimonials, and lead a discussion on ways to pursue coordinated open science that protect an individual's identity and needs.
Meanwhile, Stegen is lead scientist for a living model of coordinated open science:  the Worldwide Hydrobiogeochemical Observation Network for Dynamic River Systems (WHONDRS), a global research consortium on river corridors funded by the U.S. Department of Energy.
"The community has embraced WHONDRS," he said, "and is increasingly taking ownership of its trajectory as a mechanism to benefit everyone."
In Search of Global Principles of River-Corridor Processes
Poster: Thursday, 1:40-6:00 PM, Moscone South – Poster Hall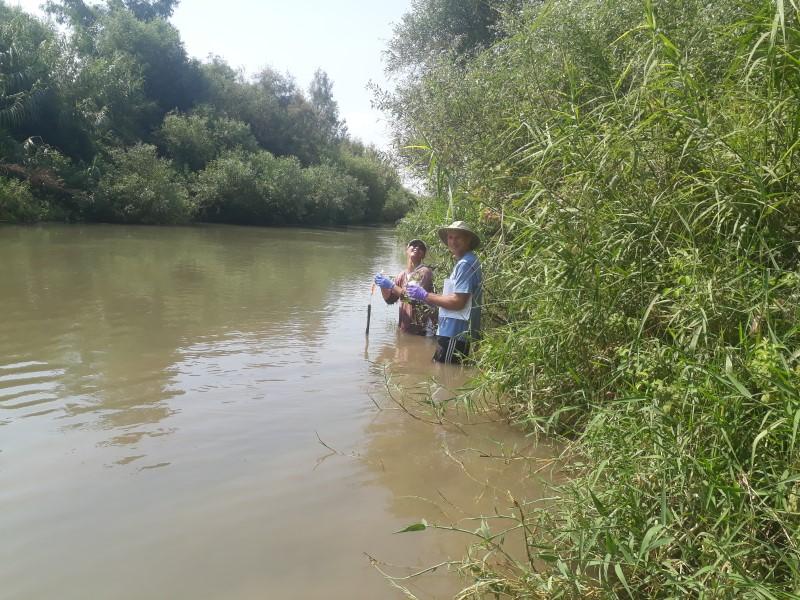 The Worldwide Hydrobiogeochemistry Observation Network for Dynamic River Systems (WHONDRS) is an international consortium of researchers studying the interplay of hydrology, biogeochemistry, and microbiology in river corridors.
Such a globally scaled project needs samples from diverse sites, the subject of an AGU19 poster by PNNL ecologist and WHONDRS co-founder Amy Goldman.
Goldman explains how WHONDRS relies on a distributed sampling approach, which taps a global community of chemists, geologists, hydrologists, microbiologists, ecologists and others to sample diverse environments without having to deploy extensive infrastructure.
Goldman also explains how distributed sampling will help researchers develop a distributed modeling approach.
Meanwhile, WHONDRS researchers have a bigger goal: to establish a set of transferable principles that will apply, in common, to river-corridor systems anywhere in the world.
Since the summer of 2018, affiliated scientists have supplied WHONDRS with samples from about 200 river sites. Among them are Israeli water scientists Edo Barzeev and Shai Arnon, both at the Zuckerberg Institute for Water Research at Ben-Gurion University of the Negev. They took their samples from the Jordan River, which in most places is just 10 meters wide and 3 feet deep.
Goldman's poster outlines the sampling campaign WHONDRS undertook at about 100 river-corridor sites around the world in the summer of 2019. It asked for samples of surface water and shallow sediment, which are being analyzed now for analytically significant factors. They include a broad array of physical, chemical, and biological data needed to inform predictive models.
The design of the sampling campaign allows for the evaluation of how ecosystem features, microbial communities, and metabolomes drive and respond to each other in surface water and riverbed sediments.
All this, said Goldman, "enhances our ability to predict how river corridors will function in the future."
Image: Hip-deep in Israel's Jordan River, Edo Barzeev (left) and Shai Arnon (right) stand by a pole marking a sampling location for WHONDRS. Image credit: Shai Arnon
Methane Moves Out from the Deep and Into the Atmosphere
Poster: Thursday, 1:40-6:00 PM, Moscone South – Poster Hall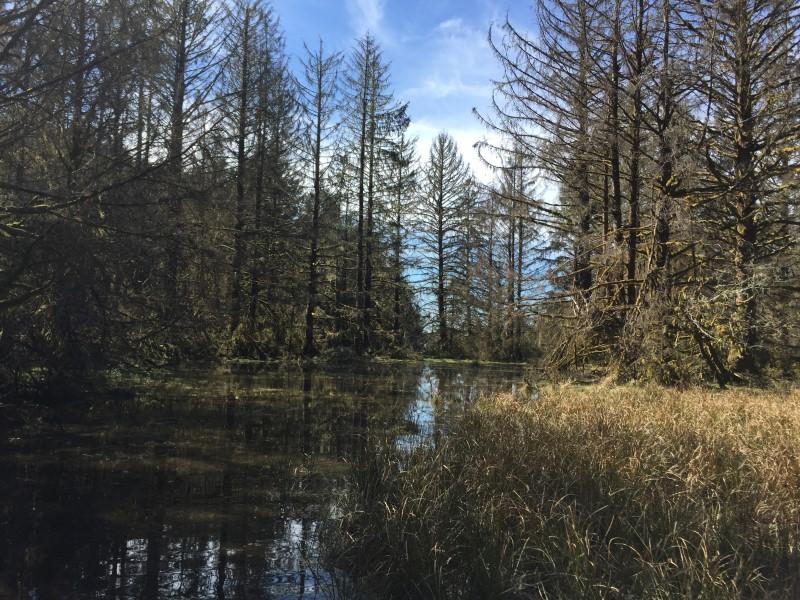 One more reason to love oxygen—it destroys methane before the greenhouse gas escapes to the atmosphere. At least, in very shallow coastal soils it does. That's because the tiny microbes that live in this shallow zone hungrily consume both gases in order to live. But deeper down, where oxygen subsides, methane lies in wait—for a flood.
At AGU 2019, Nick Ward presents new research that refutes a common assumption that seawater inhibits methane production. From measurements taken in a Pacific Northwest watershed, Ward and his colleagues found two new pathways for methane produced deep in coastal soils to reach the atmosphere. Upland tree roots tap into the methane deep down in the coastal soils and release the gas through their foliage. Likewise, tidal surges push methane-rich groundwater up into surface rivers, where the methane bubbles up into the air.
Both pathways circumvent the destructive oxygen layer. These short-circuits result in hot spots which have not been included in watershed-scale conceptual models or methane budgets.
"In some cases, the coastal interface can tip the methane balance of a watershed to be a net positive source of greenhouse gases in the atmosphere," said Ward. "The coastal interface is the missing link in the budget of the whole system."
Researchers plan to examine how the methane balance shifts as floodplain salt exposure continues to increase with sea level rise.
Image credit: Nick Ward, PNNL
---
Wednesday, December 11, 2019
Why Some Trees Live and Some Trees Die
Presentation: Wednesday, 4:15-4:30 PM, Moscone West – 3001, L3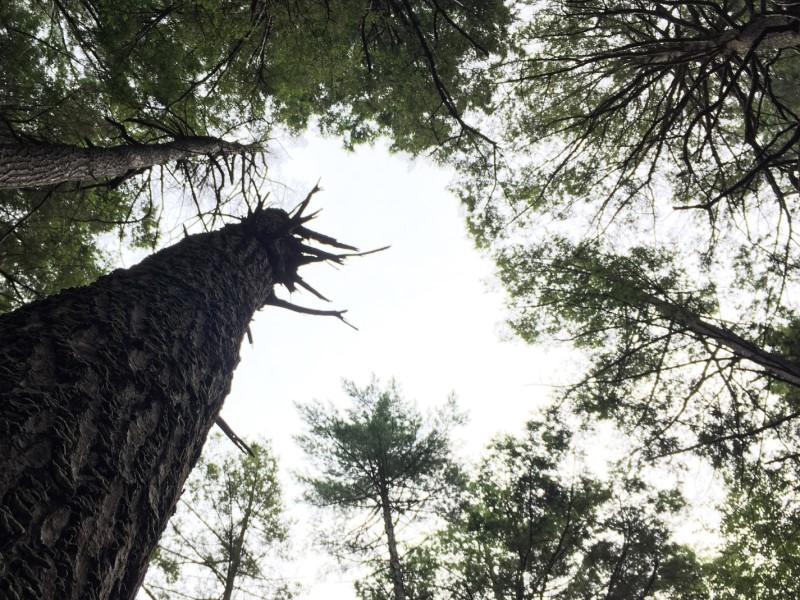 "There aren't a lot of places around that let you kill 4,000 trees," says PNNL research scientist Ben Bond-Lamberty. The University of Michigan Biological Station is one of them.
Bond-Lamberty is participating in an experiment on the 10,000-acre research station in the northern Lower Peninsula of Michigan to measure the effect of stress on trees. A hot, dry climate and wood-eating bugs are common culprits.
In this experiment, however, the trees are being killed slowly and deliberately over a two-year span as scientists seek to better understand what causes carbon sequestration to falter and what factors may influence trees to resist environmental threats. The Forest Resilience Threshold Experiment (FoRTE) in Michigan will be the focus of Bond-Lamberty's AGU 2019 talk, "Linking field, model, and remote sensing methods to understand when tree mortality breaks the forest carbon cycle."
The experimental disturbance that launched in spring 2019 at the research station involves the girdling of trees to achieve 45, 65, and 85 percent tree mortality in forest ecosystems. Girdling is the careful removal of a strip of bark around a tree's circumference, leading to death in the same way that damage from a boring insect might.
Researchers will take measurements in the forest, of course. But Bond-Lamberty notes that data collection will also take place remotely—through terrestrial laser scanning, camera imaging, and airborne and satellite imagery.
Image credit: Chris Gough, Virginia Commonwealth University
Shifting Crops, Growing Regions Would Reduce Fertilizer Use
Presentation: Wednesday, Moscone South – eLightning Theater III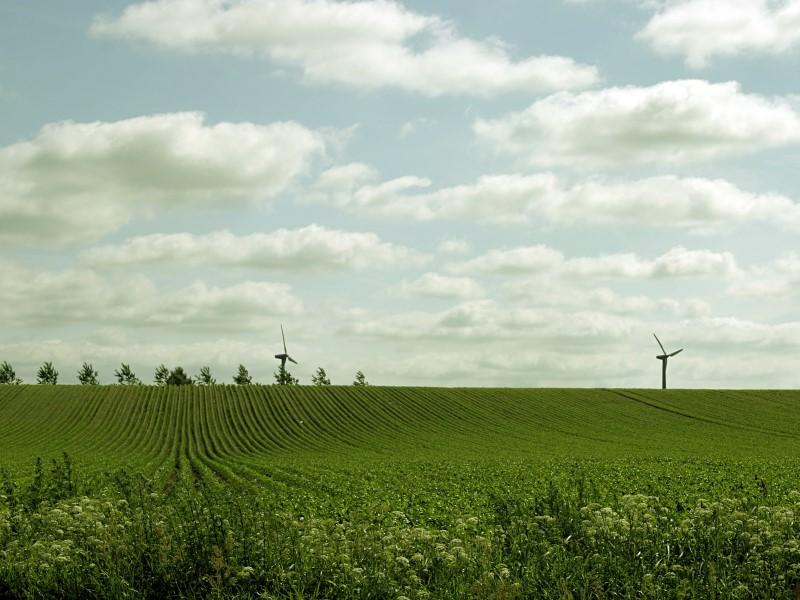 Shifting agriculture production from high fertilizer-intensive regions, such as the United States, China, and India, to low fertilizer-intensive regions, such as Africa, may be a boost to the environment, researchers at AGU 2019 suggest.
Shifting more agriculture production to Africa "could mean you could end up with reduced fertilizer use," says PNNL postdoc Eva Sinha, the lead author of the poster.
Global fertilizer usage has increased by more than 800 percent since the 1950s. Fertilizers assist plant growth but a large fraction of fertilizer is lost to the environment and damages waterways by reducing oxygen content and promoting algae growth.
The United States, China, and India are heavy users of fertilizer while regions of Africa are underutilized for agriculture production where fertilizer is not as commonly used, says Sinha. The findings also suggest that future global fertilizer use can be reduced by shifting bioenergy production from corn and sugar crops to oil crops–particularly soybeans—that can fix nitrogen on their own.
Sinha is one of six researchers who contributed to the poster, which is being presented by Kate Calvin, a scientist affiliated with the Joint Global Change Research Institute.
Image credit: Bjorgvin, Stockvault.net
A Shorter but Stronger Wet Season Likely in Store for California
Presentation: Wednesday, 11:05-11:20 AM, Moscone West – 3002, L3
Californians, accustomed to a wet season that lasts about six month, might want to prepare for a shorter season with more intense precipitation. But the change may not be detectible for decades, according to a PNNL study.
Computer modeling shows a stronger and narrower wet season over California, says PNNL postdoc Lu Dong, who will present her research, "Mechanisms for a sharpened seasonal cycle over California under global warming," at AGU 2019. The findings have also been published in the Journal of Climate.
The typical wet season in California is October through April, with a precipitation arc that peaks between January and February.
But Dong's research projects a wet season starting later and ending earlier, characterized by a precipitation peak midway that would far exceed the existing period of highest precipitation volume in California. These changes can be traced to the states of Pacific Ocean temperatures, California land temperatures, and their changing contrast under warming in different seasons, Dong says.
Oregon and Washington can expect significant change, too. Dong's research shows greater amounts of precipitation over the whole wet season, which is expected to stay about the same duration. It's an example of the "wet get wetter," as the research paper describes it.
---
Tuesday, December 10, 2019
Writing Science via Social Media
Presentation: Tuesday, Moscone South – eLightning Theater III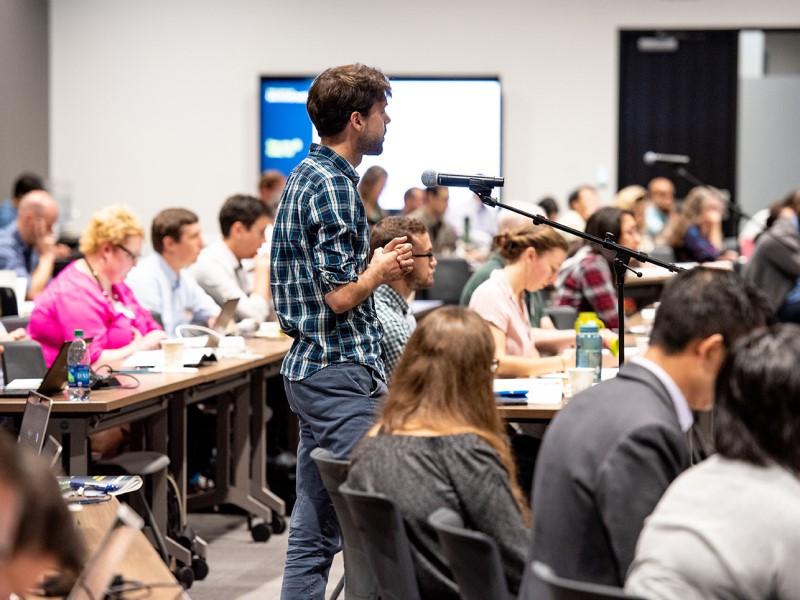 Emily Bonnell Graham, a PNNL scientist who studies environmental microbiology and chemistry, is leading a paper on the ecosystem disturbances induced at every scale by global environmental change.
There is a catch, though: All the authors were recruited via Twitter and make their contributions by way of a flexible writing process on Google Docs.
It is a case of science meeting social media, and writers of peer-reviewed literature joining the open-science movement.
There is more good news. A final draft of the paper is making the internet rounds of the contributors for peer review. There are more than 50 coauthors from 39 institutions in 13 countries.
Graham's secret sauce is crowdsourcing, a way of leveraging global interconnectivity to "gather creative minds from around the world to engage in one of the most pressing issues of our time," she said.
Overseen by an editorial leadership core of eight, led by Graham, this is a first-ever writing project of its kind. It taps collective expertise to write a synthesis paper "completely open for contributions by anyone," she said.
In a talk at AGU 2019, Graham and some of her collaborators will describe their approach, the project's structure, unforeseen challenges and scientific outcomes so far, and pathways for growth in future open-science projects.
She calls her experiment in open science "a first step in learning how to encourage open collaboration in a digital age."
Unprecedented connectivity in the modern world provides opportunities for global scientific engagement, said Graham, yet "truly open and inclusive scientific endeavors are exceedingly rare."
The idea, open and interdisciplinary, fits the subject of the paper: a call to reconsider how to investigate disturbances across disciplines, across ecosystems, and over time and space—culminating in a single unifying framework that is applicable regardless of scientific domain.
Many areas of scholarship address the important causes and consequences of environmental change, said Graham, so "it is critical that these areas share a common language for identifying, discussing, and quantifying disturbances."
Full transparency is the goal, she added, along with "scientific knowledge creation—accessible almost in real time."
The Consequences of Injected Emissions
Poster: Tuesday, 8:00 AM - 12:20 PM, Moscone South – Poster Hall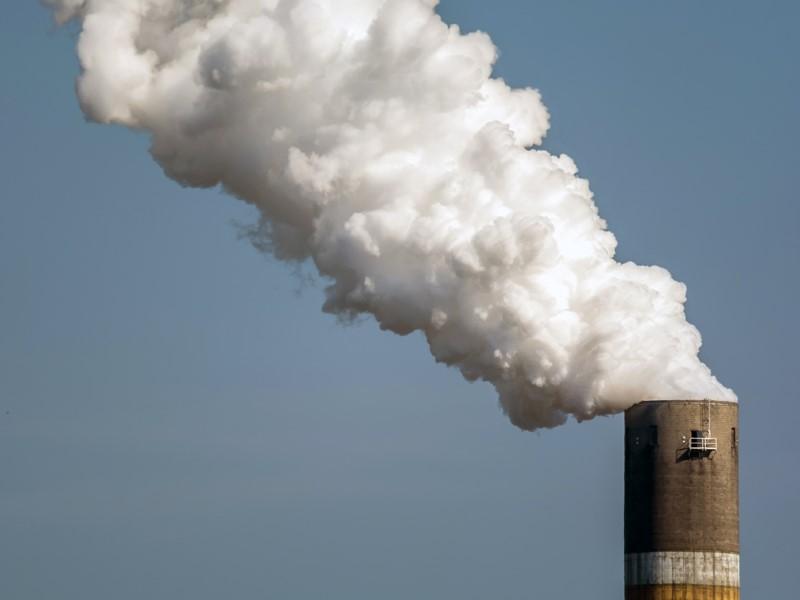 Imagine a giant air cannon shooting gases into the sky.
Now imagine millions of them, scattered all over the Earth's land and oceans.
Scientists call this cannon-like process from power stacks "injection." They refer to the dispensed gases as thermal plumes, which rise from sources like factories and ships.
It turns out that the height of these human-activity-based injections into the atmosphere is a little-studied factor in most climate models
Most models have difficulty predicting concentrations of pollutants near the surface or how related harmful compounds travel through the atmosphere. Scientists call such predictive shortcomings in models "uncertainties." In the case of injection height, uncertainties also make it difficult to compare the behavior of models to actual observations.
In a presentation at AGU 2019, PNNL atmospheric scientist Hailong Wang discusses his research to examine injection-height uncertainties related to sulfur dioxide, an important precursor gas linked to combustion sources like coal and oil.
It reacts with other substances in the atmosphere to form harmful and influential compounds that include sulfuric acid and sulfate particles.
The authors also looked at related aerosols formed in the atmosphere—mostly sulfate, black carbon, and primary organic matter.
To address injection-height uncertainties in their 2019 paper, Wang and his colleagues made assumptions about such heights for sulfur dioxide and aerosol particles. Then they performed a simulation using the Community Atmosphere Model version 5 (CAM5), an aerosol-climate model.
They found that pollutant concentration levels are very sensitive to injection altitude.
Their results also show that evaluating models for the fate of sulfur dioxide will require better model representations of stack height and the way thermal plumes rise.
---
Monday, December 9, 2019
A Sense of WHONDRS
Presentation: Monday, 3:00-3:10 PM, Moscone West – 3003, L3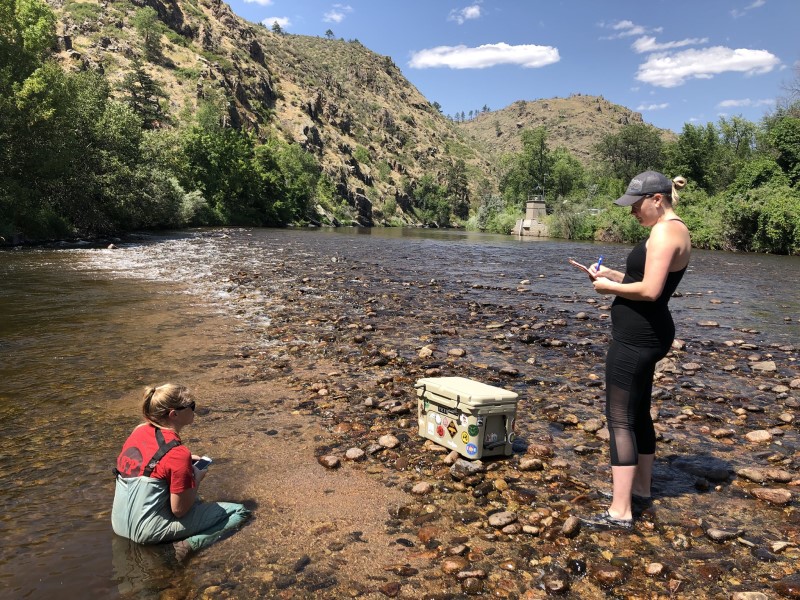 Scientists have much to learn about how river corridors integrate all the physical, chemical, hydrologic, and biologic processes within them.
Ready to fill in that river-corridor knowledge gap is a project called the Worldwide Hydrobiogeochemical Observation Network for Dynamic River Systems (WHONDRS), a global research consortium funded by the U.S. Department of Energy.
The main goal is to reveal scientific principles that are valid across all river corridors through an open, community-enabled effort that emphasizes standardized collection protocols and data-storage formats.
To lay out the big picture and to recruit new collaborators, members of the WHONDRS team are delivering several AGU19 talks, beginning with one on Monday by principal investigator James Stegen and project co-founder Amy Goldman.
PNNL postdoc Robert Danczak will deliver a related talk on metacommunity ecology; both Stegen and Goldman will present posters; and Stegen will present a town hall on coordinated open science by design, an integrative methodology used in the project.
WHONDRS is seeking new collaborators to work with a diverse suite of physical, chemical, and biological data to answer fundamental questions, such as: What is the magnitude of global variation in respiration rates in sediments and surface waters? Can the physical properties of bed sediments—or the molecular properties of microbial communities—explain this variation?
WHONDRS offers free access to sampling kits, molecular analysis, and a growing archive of curated data related to hydrology, biogeochemistry, and microbiology.
Over time, said Stegen, the analysis and modeling of data will lead to a set of general scientific principles that apply to all rivers globally. This will improve the ability of scientists to predict how ever-increasing disturbances have an impact on river corridors.
Since the summer of 2018, project collaborators in six nations and Puerto Rico have collected, analyzed, and archived more than 8,000 samples from 200 river corridors in North America, Europe, the Middle East, and South Korea.
WHONDRS, said Stegen, "will continue to expand."
Polar Plunge: Atmospheric Rivers in the High Latitudes
Presentation: Monday, 10:20-10:35 AM, Moscone West – 3002, L3
Atmospheric rivers aren't only drenching California, Oregon, and Washington State in the winter. These narrow bands of water vapor from the tropics can flow into polar regions as well. At AGU 2019, Phil Rasch, a PNNL atmospheric scientist, is discussing how models and observations capture these moisture transport events in the high latitudes.
A first look at observations and models indicates they often agree on the frequency and location of atmospheric rivers reaching the high latitudes over the last 30 years, said Rasch. However, he added, the models show larger trends than the observations. Syncing up models and observations is especially critical for the Arctic, which is warming more than twice as fast as in other parts of the world.
When atmospheric rivers make landfall on the U.S. West Coast, they usually unleash heavy rain, wind, and snow. But in places such as Alaska, the water vapor in atmospheric rivers could be more concerning than the precipitation they produce.
"Water vapor is a pretty effective greenhouse gas in its own right, and it can change the amount of energy that's radiated to space," said Rasch.
"Also, the water vapor that gets up there can form clouds, and that can also change the amount of energy that gets radiated to space. The atmospheric rivers that reach the high latitudes can be contributing to climate change," he said.
New Integrated Modeling Effort Focuses on Future of Coastal Communities
Presentation: Monday, 10:35-10:50 AM, Moscone West – 2005, L2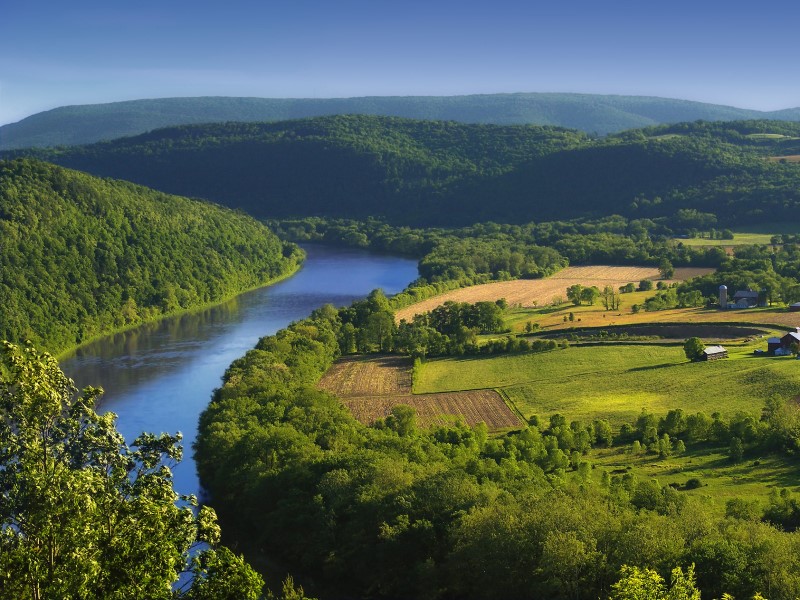 Coastal zones—attractive for both business and pleasure—host the world's largest cities and its most vulnerable populations. Yet, the collision of man and nature is felt nowhere so sharply as in coastal areas. Increasingly, extreme weather events destroy communities and wreak havoc on public infrastructure.
At AGU 2019, Ian Kraucunas presents a new effort around coastal resiliency called the Integrated Coastal Modeling (ICoM) project. The ambitious project, funded by the U.S. Department of Energy, has three main foci: a seamless global-to-coastal Earth system modeling capability; a new model of coastal urban development and land-use changes; and exploration of land-atmosphere, surface-subsurface, and human-Earth system interactions.
The project starts with the mid-Atlantic region of the United States, with an emphasis on the Delaware and Susquehanna River Basins and their estuaries. These areas cover the range of rural to urban centers with differing management systems, and both regions have experienced severe impacts from tropical cyclones and severe storms in the past decade.
As human development continues to spread, the ability to predict how coastal environments may evolve becomes increasingly important. The ICoM project aims to deliver a robust predictive understanding of coastal evolution, accounting for the multiscale interactions among physical, biological, and human systems.
In addition to Kraucunas' presentation on Monday, December 9, this topic and related DOE efforts will be presented during a town hall discussion on Friday, December 13.
Extremes: Weather, the Electric Grid, and Machine Learning
Posters: Monday, 8:00 AM - 12:00 PM, Moscone South – Poster Hall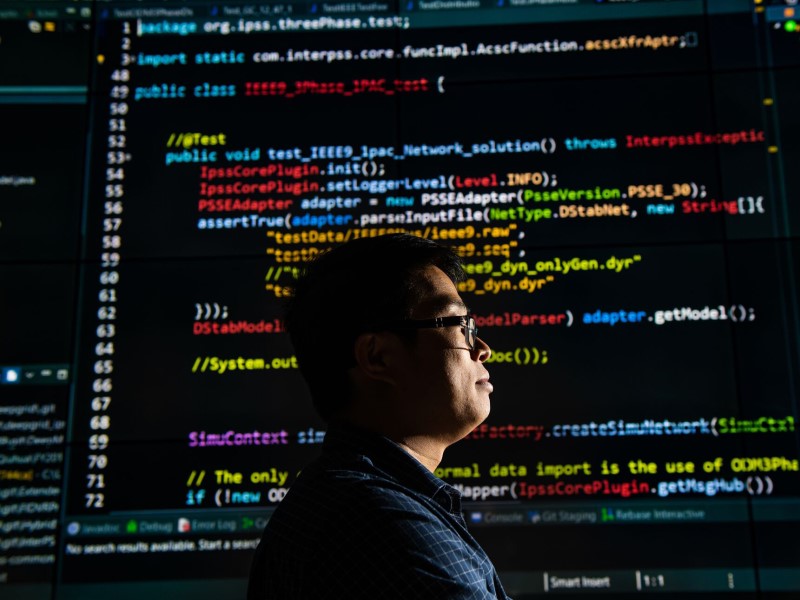 A group of PNNL researchers is working to increase the U.S. electric grid's resilience by using machine learning to reduce grid planning and operation costs and improve risk mitigation.
The team is inputting information about the likelihood, frequency, and duration of power outages and analyzing how extreme weather events correlate to these outages. Those events can include high winds, extreme temperatures, lightning, hurricanes, and other threats to the grid system.
Although not knowing what's coming plays a role in grid instability and outages, the team's work helps reduce the uncertainty. The model takes into account factors like energy demand and consumption under different weather conditions, preparations that occur before extreme events, and classification of energy system anomalies.
Information gleaned from the team's work isn't just valuable for extreme scenarios—it can also be used to estimate daily energy consumption in ways beneficial for everyday power system planning and operation. Further, scientists can integrate the data with the latest Earth system modeling techniques to evaluate power system resilience under present and future climate change conditions.
Diverse Voices, Powerful Science
Presentation: Monday, 12:30-1:30 PM, Moscone West – 3001, L3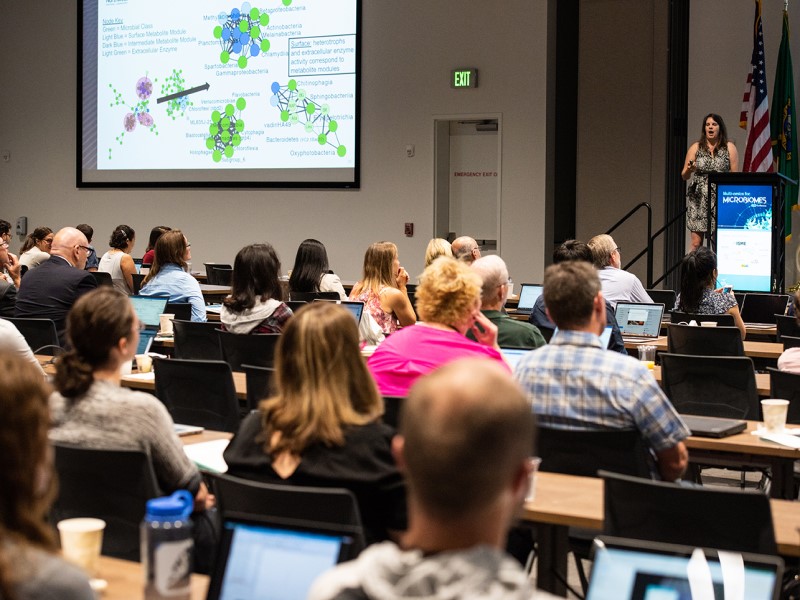 In her free time away from PNNL, postdoc Aditi Sengupta recognized the importance of inclusion through her mentoring of students in southeastern Washington State.
That experience helped motivate Sengupta to organize "Town Hall: Power of Science Lies in Its Diverse Voices" at AGU 2019. Six scientists of varied backgrounds and career stages will be on the panel sharing their experiences. A moderated Q&A will follow. Sengupta hopes attendees are inspired to promote more diversity in science.
Sengupta, a soil microbial ecologist, knew she wanted to inspire students about opportunities in science after she arrived at the Laboratory in spring 2018.
Colleagues connected her with Kimberly Harper, a chemist in the U.S. Department of Energy's Office of Science, Pacific Northwest Site Office in Richland. Harper's own mentoring earned her recognition earlier this year as recipient of Columbia Basin College's Dr. Martin Luther King Jr. Spirit Award. Harper steered Sengupta toward volunteer work in STEM education.
Sengupta is particularly interested in sharing with girls how much science has helped her own life.
"If we start early and share who scientists are and what they do," Sengupta said, "then more girls will identify with our stories and be brave in achieving their dreams of becoming a scientist."