Staff information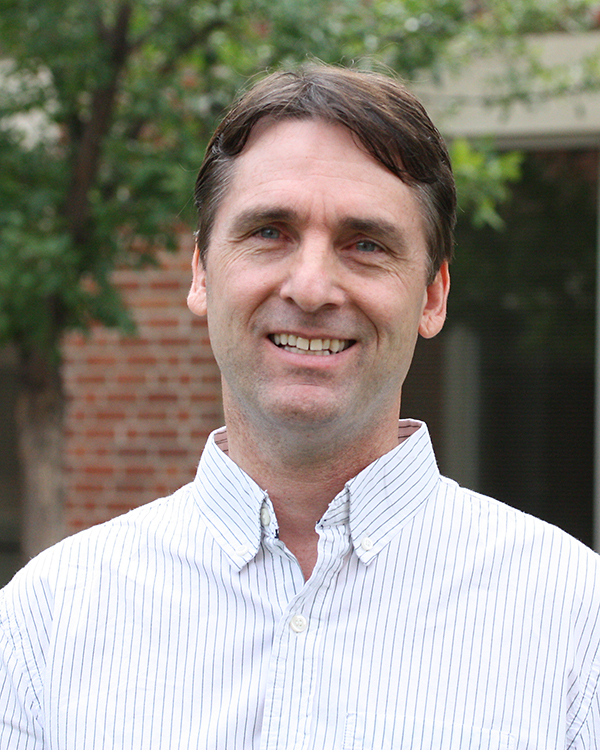 Alex Guenther
Atmospheric Measurement & Data Sciences
Laboratory Fellow
Pacific Northwest National Laboratory
PO Box 999
MSIN: K9-30
Richland, WA 99352
Send Email
Biography
Dr. Alex Guenther received a B.S. in Biology with a minor in Computer Science from the University of Puget Sound and an M.S. and PhD in Civil and Environmental Engineering from Washington State University. After finishing a postdoctoral fellowship at the U. Colorado - Boulder in 1990, he was hired as a scientist in the Atmospheric Chemistry Division of NCAR where he was a senior scientist and section head until he joined PNNL in 2013. He was recently awarded the AGU Kaufman award for unselfish cooperation in research and currently serves as the co-chair of the IGBP iLEAPS activity. Dr. Guenther has investigated the role of trace gases and aerosols in biosphere-atmosphere interactions for more than 25 years and is the author of more than 240 peer reviewed journal articles (H index > 60, total citations > 15000). Dr. Guenther is the lead developer of the MEGAN model that is widely used by the scientific and regulatory communities to simulate biogenic emissions for regional air quality and global earth system modeling. He has also conducted numerous laboratory studies and has led more than 40 integrative field studies on six continents in tropical, temperate and boreal ecosystems to provide observations to advance understanding of biogenic emissions and their role in air quality and climate.
PNNL Publications
2014
Nakashima Y, S Kato, J Greenberg, P Harley, TG Karl, A Turnipseed, E Apel,

AB Guenther

, J Smith, and Y Kajii. 2014.

"Total OH reactivity measurements in ambient air in a southern Rocky Mountain ponderosa pine forest during BEACHON-SRM08 summer campaign."

Atmospheric Environment

85

:1-8.

doi:10.1016/j.atmosenv.2013.11.042

Potosnak M, L LeStourgeon, SG Pallardy, KP Hosman, L Gu, T Karl, C Geron, and

AB Guenther

. 2014.

"Observed and modeled ecosystem isoprene fluxes from an oak-dominated temperate forest and the influence of drought stress."

Atmospheric Environment

84

:314-322.

doi:10.1016/j.atmosenv.2013.11.055
2013
Fares S, R Schnitzhofer, J Xiaoyan,

AB Guenther

, A Hansel, and F Loreto. 2013.

"Observations of Diurnal to Weekly Variations of Monoterpene-Dominated Fluxes of Volatile Organic Compounds from Mediterranean Forests: Implications for Regional Modeling."

Environmental Science & Technology

47

(19):11073-11082.

doi:10.1021/es4022156

Frost GJ, P Middleton, L Tarrason, C Granier,

AB Guenther

, B Cardenas, H Denier van der Gon, G Janssens-Maenhout, JW Kaiser, T Keating, Z Klimont, JF Lamarque, C Liousse, S Nickovic, T Ohara, M Schultz, U Skiba, and Y Wang. 2013.

"New Directions: GEIA's 2020 Vision for Better Air Emissions Information."

Atmospheric Environment

81

(78):710-712.

doi:10.1016/j.atmosenv.2013.08.063

Kaser L, T Karl,

AB Guenther

, M Graus, R Schnitzhofer, A Turnipseed, L Fischer, P Harley, M Madronich, D Gochis, FN Keutsch, and A Hansel. 2013.

"Undisturbed and disturbed above canopy ponderosa pine emissions: PTR-TOF-MS measurements and MEGAN 2.1 model results."

Atmospheric Chemistry and Physics

13

(23):11935-11947.

doi:10.5194/acp-13-11935-2013

Mak JE, L Su,

AB Guenther

, and TG Karl. 2013.

"A novel Whole Air Sample Profiler (WASP) for the quantification of volatile organic compounds in the boundary layer."

Atmospheric Measurement Techniques

6

(10):2703-2712.

doi:10.5194/amt-6-2703-2013

Situ S,

AB Guenther

, XJ Wang, X Jiang, A Turnipseed, Z Wu, J Bai, and X Wang. 2013.

"Impacts of seasonal and regional variability in biogenic VOC emissions on surface ozone in the Pearl River Delta region, China."

Atmospheric Chemistry and Physics

13

(23):11803-11817.

doi:10.5194/acp-13-11803-2013

Unger N, K Harper, Y Zheng, NY Kiang, I Aleinov, A Arneth, G Schurgers, C Amelynck, AH Goldstein,

AB Guenther

, B Heinesch, CN Hewitt, T Karl, Q Laffineur, B Langford, KA McKinney, P Misztal, M Potosnak, J Rinne, S Pressley, N Schoon, and D Serca. 2013.

"Photosynthesis-dependent isoprene emission from leaf to planet in a global carbon-chemistry-climate model."

Atmospheric Chemistry and Physics

13

(20):10243-10269.

doi:10.5194/acp-13-10243-2013
Selected Publications
2012
Guenther AB, X Jiang, CL Heald, T Sakulyanontvittaya, T Duhl, L K. Emmons and X Wang. 2012. "The Model of Emissions of Gases and Aerosols from Nature version 2.1 (MEGAN2.1): an extended and updated framework for modeling biogenic emissions." Geoscientific Model Development 5(6):1471-1492.
2011
Guenther A, M Kulmala, A Turnipseed, J Rinne and T Sunni. 2011. "Integrated land ecosystem - atmosphere processes study (iLEAPS) assessment of global observational networks." Boreal Environment Research 16:321-336.

Hewitt, CN, K Ashworth, A Boynard, A Guenther, B Langford, AR MacKenzie, PK Misztal, E Nemitz, SM Owen, M Possell, TAM Pugh, AC Ryan and O Wild. 2011. "Ground-level ozone influenced by circadian control of isoprene emissions." Nature Geosciences 4(10):671-674.
2010
Karl, T, P Harley, L Emmons, B Thornton, A Guenther, C Basu, A Turnipseed and K Jardine. 2010. "Efficient Atmospheric Cleansing of Oxidized Organic Trace Gases by Vegetation." DOC:10.1126/science.1192534, Science 3(30): 816-819.
2006
Guenther, A, T Karl, P Harley, C Wiedinmyer, P Palmer and C Geron. 2006. "Estimates of global terrestrial isoprene emissions using MEGAN (Model of Emissions of Gases and Aerosols from Nature)." Atmospheric Chemistry and Physics 6:3181-3210. DOI: 10.5194/acp-6-3181-2006.
1995
Guenther, A, CN Hewitt, D Erickson, R Fall, C Geron, T Graedel, P Harley, L Klinger, M Lerdau, W McKay, T Pierce, B Scholes, R Steinbrecher, R Tallamraju, J Taylor and P Zimmerman. 1995. "A global model of natural volatile organic compound emissions." Journal of Geophysical Research 100: 8873-8892. DOI: 10.1029/94JD02950.
1993
Guenther, A, P Zimmerman, P Harley, R Monson and R Fall. 1993. "Isoprene and monoterpene emission rate variability: Model evaluation and sensitivity analysis." Journal of Geophysical Research 98:12609-12617. DOI: 10.1029/93JD00527.