Staff information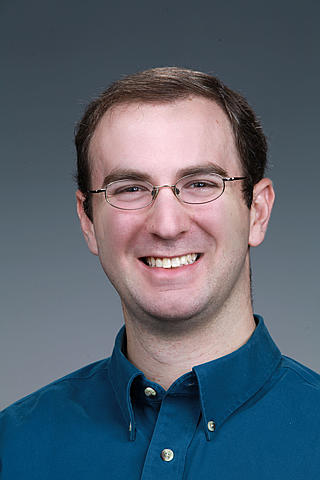 Ryan Comes
Materials Sciences
Scientist
Pacific Northwest National Laboratory
PO Box 999
MSIN: K8-87
Richland, WA 99352
Send Email
Biography
Dr. Comes is a Linus Pauling Postdoctoral Fellow in the Materials Sciences group of the Physical and Computational Sciences Directorate, studying the properties of epitaxial perovskite oxide thin films for applications in photovoltaic solar cells and photocatalysis. Operating under the mentorship of Dr. Scott Chambers, Ryan employs the oxide molecular beam epitaxy system in the Environmental Molecular Sciences Laboratory to grow epitaxial films and characterize them in situ using x-ray photoelectron spectroscopy. Prior to joining PNNL he did his graduate studies in Engineering Physics in the Department of Materials Science and Engineering at the University of Virginia where he studied the directed self-assembly of oxide nanocomposites.
Research Interests
Epitaxial oxide thin films
Oxide nanocomposites
Ferroelectricity
Education and Credentials
University of Virginia, Charlottesville, VA, Ph.D. Engineering Physics, May 2013.
Carnegie Mellon University, Pittsburgh, PA, B.S. Electrical and Computer Engineering, B.S. Physics, May 2008.
Affiliations and Professional Service
American Physical Society
Materials Research Society
Phi Beta Kappa
Tau Beta Pi
Eta Kappa Nu
Awards and Recognitions
Pacific Northwest National Laboratory, Linus Pauling Distinguished Postdoctoral Fellowship, July 2013-Present
Materials Research Society, Graduate Student Silver Award, Spring Meeting, April 2013
University of Virginia, School of Engineering and Applied Science, Graduate Teaching Fellow, Fall 2012
University of Virginia, Dept. of Materials Science and Engineering, Doris Kuhlmann-Wilsdorf Outstanding Graduate Student Award, 2012
University of Virginia, Presidential Research Poster Competition, Finalist, 2012
University of Virginia Engineering Research Symposium, First Place, 2012
University of Virginia Engineering Research Symposium, Fifth Place, 2011
National Defense Science and Engineering Graduate Fellowship, 2010-2013
National Science Foundation, Graduate Research Fellowship Program, Honorable Mention, 2009
University of Virginia, School of Engineering and Applied Science, Dean's Fellow, 2008-2011
University of Virginia, Vice President of Research and Graduate Studies Fellowship, 2008-2012
PNNL Publications
2016
Comes RB,

SR Spurgeon

, SM Heald, DM Kepaptsoglou, L Jones, PV Ong, ME Bowden, QM Ramasse, P Sushko, and SA Chambers. 2016.

"Interface-Induced Polarization in SrTiO3-LaCrO3 Superlattices ."

Advanced Materials Interfaces

3

(6):Art. No. 1500779.

doi:10.1002/admi.201500779

Comes RB,

TC Kaspar

, SM Heald, ME Bowden, and SA Chambers. 2016.

"Infrared Optical Absorption in Low-spin Fe2+-doped SrTiO3."

Journal of Physics: Condensed Matter

28

(3):Article No. 035901.

doi:10.1088/0953-8984/28/3/035901

Li X, CT Ma, J Lu,

A Devaraj

, SR Spurgeon, RB Comes, and JS Poon. 2016.

"Exchange bias and bistable magneto-resistance states in amorphous TbFeCo thin films."

Advanced Functional Materials

108

:012401.

doi:Art. No. 10.1063/1.4939240
2015
Comes RB

, P Xu, B Jalan, and SA Chambers. 2015.

"Band alignment of epitaxial SrTiO3 thin films with (LaAlO3)0.3-(Sr2AlTaO6)0.7 (001)."

Applied Physics Letters

107

(13):Article No. 131601.

doi:10.1063/1.4932063

Comes RB, SY Smolin,

TC Kaspar

, R Gao, BA Apgar, LW Martin, ME Bowden, J Baxter, and SA Chambers. 2015.

"Visible light carrier generation in co-doped epitaxial titanate films."

Applied Physics Letters

109

(9):Article No. 092901.

doi:10.1063/1.4913930

Wang Y,

RB Comes

, S Kittiwatanakul, SA Wolf, and J Lu. 2015.

"Epitaxial niobium dioxide thin films by reactive-biased target ion beam deposition."

Journal of Vacuum Science and Technology A--Vacuum, Surfaces and Films

33

(2):021516.

doi:10.1116/1.4906143

Wang Y,

RB Comes

, SA Wolf, and J Lu. 2015.

"Threshold Switching Characteristics of Nb/NbO2/TiN Vertical Devices."

IEEE Journal of the Electron Devices Society

4

(1):11-14.

doi:10.1109/JEDS.2015.2503922
2014
Comes RB

, P Sushko, SM Heald, RJ Colby, ME Bowden, and SA Chambers. 2014.

"Band-Gap Reduction and Dopant Interaction in Epitaxial La,Cr Co-doped SrTiO3 Thin Films."

Chemistry of Materials

26

(24):7073-7082.

doi:10.1021/cm503541u