Staff information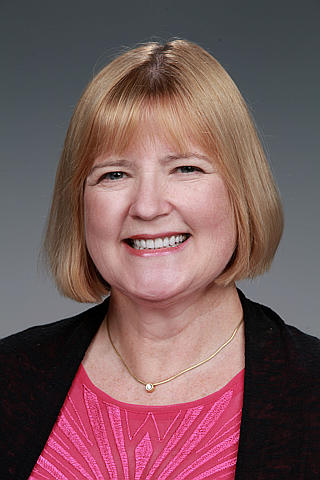 Julie Wiley
Biological Sciences Division
Marketing Communications
Pacific Northwest National Laboratory
PO Box 999
MSIN: K9-80
Richland, WA 99352
Send Email
Biography
Julie Gephart Wiley has been a Senior Communications Specialist at Pacific Northwest National Laboratory since 1986. She provides high-level communications support (strategic planning, program and project development and coordination, facilitation) to the Lab and to its customers. One of her strengths is writing reports for a wide range of meetings and workshops, including Lab initiative advisory committees and workshops for Lab organizations, DOE-HQ, and the National Science Foundation.
She currently is the Communications Lead for PNNL's Biological Sciences Division, the Chemical Imaging Initiative, and the Laboratory Objective "Chemical Conversions for Sustainable Energy." Responsibilities include writing research highlights for her customers' websites and DOE, message development, website content development, workshop report writing, journal article editing, poster and marketing flyer development, scientific meeting exhibits, white papers, and proposals.
Julie also writes feature articles for niche media and award nominations as requested for Lab-wide customers. From 2000 to 2007, she was communications lead for the Biomolecular Systems Initiative--PNNL's largest lab-level initiative to date. She served as PNNL's Awards Specialist for the R&D 100 and FLC Awards from 1997 to 2004; communications lead for DOE Office of Environmental Management's Efficient Separations and Processing Crosscutting Program from 1993 to 1997.
Research Interests
Scientific and technical editing and writing
Research highlights
Stakeholder message development
Workshop planning and conducting
Marketing material development
Awards nominations
Feature writing
Education and Credentials
B.A., Communications, Washington State University
Awards and Recognitions
2008 Gold Winner, Hermes Creative Award for Fundamental & Computational Sciences Web Site creative concept, programming, writing and design (shared with several others)
2006 APEX Awards of Excellence for Fundamental Science Directorate Staff annual report (Special Purpose Brochures, Manuals & Reports--shared with several others). Systems Biology at PNNL; (Web Sites--shared with several others).
2005 Excellence Award, Puget Sound Chapter, Society for Technical Communication for Water: challenges at the intersection of human and natural systems (workshop report)
2004 APEX Award of Excellence for Systems Biology at PNNL (Web Sites)
2002 Outstanding Team Performance Award for the successful Genomes to Life proposal effort
2002 Award of Excellence from The Communications Awards for BioMolecular Networks Brochure and Flyers
2001 Merit Award from the Puget Sound Chapter of the Society for Technical Communication for Radiochemical Processing Laboratory brochure
2000 Woman of Achievement Award, Battelle
Apex'99 Award for Newsletters - Online. Energy Science News (with several others)
1997-98 Award of Achievement from the Puget Sound Chapter of the Society for Technical Communication for Proceedings of the Efficient Separations and Processing Crosscutting Program 1997 Technical Exchange Meeting
Apex'95 Award of Excellence for the ER News, Communications Concepts
1993-94 Awards of Achievement for the ER News from the Washington, D.C. and Puget Sound Chapters of the Society for Technical Communication
Named 1982 Communicator of the Year by the U.S. Treasury for U.S. Savings Bonds publicity campaign
PNNL Publications
2012
2010
2009
2006
2002