Staff information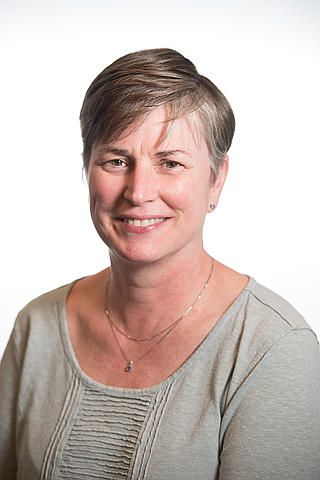 Lee Ann McCue
Computational Biology & Bioinformatics
Scientist
Pacific Northwest National Laboratory
PO Box 999
MSIN: J4-33
Richland, WA 99352
509/375-2912
Send Email
Biography
Dr. McCue's research focuses on the development and application of comparative genomics methods for studies of transcription regulation in bacteria. Her research pioneered the phylogenetic footprinting approach for predicting transcription factor binding sites de novo using multiple bacterial genomes, and contributed to a number of algorithmic advances to the Gibbs sampling technique for multiple sequence alignment. Her research at PNNL has expanded to include the analysis of microbial populations and metagenomes for microbial ecology studies.
Research Interests
comparative genomics
transcription regulation
Education and Credentials
B.S. Microbiology and Biophysics, Iowa State University, 1986
Ph.D. Microbiology, The Ohio State University, 1994
Affiliations and Professional Service
Member of the American Society for Microbiology
Member, Scientific Working Group advising the NIAID Genome Sequencing Centers for Infectious Disease
Awards and Recognitions
2008 Winner, Supercomputing High Performance Computing Analytics Challenge
PNNL Publications
2013
Webb-Robertson BJM

, CD Corley, LA McCue, KL Wahl, and HW Kreuzer. 2013.

"Fusion of Laboratory and Textual Data for Investigative Bioforensics."

Forensic Science International

226

(1-3):118-24.

doi:10.1016/j.forsciint.2012.12.016

Kozubal M, MF Romine, R Jennings, Z Jay, SG Tringe, DB Rusch, J Beam,

LA McCue

, and WP Inskeep. 2013.

"Geoarchaeota: a new candidate phylum in the Archaea from high-temperature acidic iron mats in Yellowstone National Park."

The ISME Journal

7

(3):622-634.

doi:10.1038/ismej.2012.132

Wilkins MJ, KC Wrighton,

CD Nicora

, KH Williams, LA McCue, KM Handley, CS Miller, L Giloteaux, AP Montgomery, DR Lovley, JF Banfield, PE Long, and MS Lipton. 2013.

"Fluctuations in Species-Level Protein Expression Occur during Element and Nutrient Cycling in the Subsurface ."

PLoS One

8

(3):e57819.

doi:10.1371/journal.pone.0057819
2012
Resat H

, VL Bailey, LA McCue, and A Konopka. 2012.

"Modeling microbial dynamics in heterogeneous environments: Growth on soil carbon sources."

Microbial Ecology

63

(4):883-897.

doi:10.1007/s00248-011-9965-x

Bailey VL, CL Bilskis, SJ Fansler, LA McCue, JL Smith, and

A Konopka

. 2012.

"Measurements of Microbial Community Activities in Individual Soil Macroaggregates."

Soil Biology and Biochemistry

48

:192-195.

doi:10.1016/j.soilbio.2012.01.004

Herfort L, TD Peterson, FG Prahl,

LA McCue

, JA Needoba, BC Crump, GC Roegner, V Campbell, and PA Zuber. 2012.

"Red waters of Myrionecta rubra are biogeochemical hotspots for the Columbia River estuary with impacts on primary/secondary productions and nutrient cycles."

Estuaries and Coasts

35

(3):878-891.

doi:10.1007/s12237-012-9485-z

Peterson ES, LA McCue, AC Rutledge, JL Jensen, J Walker, MA Kobold, SR Webb, SH Payne, C Ansong, JN Adkins,

WR Cannon

, and BJM Webb-Robertson. 2012.

"VESPA: Software to Facilitate Genomic Annotation of Prokaryotic Organisms Through Integration of Proteomic and Transcriptomic Data."

BMC Genomics

13

(1):Article No. 131.

doi:10.1186/1471-2164-13-131
2011
McDermott JE

, CS Oehmen, LA McCue, EA Hill, DM Choi, J Stockel, ML Liberton, HB Pakrasi, and LA Sherman. 2011.

"A Model of Cyclic Transcriptomic Behavior in Cyanobacterium Cyanothece sp. ATCC 51142."

Molecular Biosystems

7

(8):2407-2418.

doi:10.1039/C1MB05006K

Cruz-Garza C, AE Murray, JLM Rodrigues, JA Gralnick,

LA McCue

, MF Romine, FE Loffler, and JM Tiedje. 2011.

"Fnr (EtrA) acts as a fine-tuning regulator of anaerobic metabolism in Shewanella oneidensis MR-1."

BMC Microbiology

11

:Article No. 64.

doi:10.1186/1471-2180-11-64

Herfort L, TD Peterson,

LA McCue

, and PA Zuber. 2011.

"Protist 18S rRNA gene Sequence Analysis Reveals Multiple Sources of Organic Matter Contributing to Turbidity Maxima of the Columbia River Estuary."

Marine Ecology Progress Series

438

:19-31.

doi:10.3354/meps09303

Herfort L, TD Peterson,

LA McCue

, BC Crump, FG Prahl, AM Baptista, V Campbell, R Warnick, M Selby, GC Roegner, and PA Zuber. 2011.

"Myrionecta Rubra Population Genetic Diversity and Its Cryptophyte Chloroplast Specificity in Recurrent Red Tides in the Columbia River Estuary."

Aquatic Microbial Ecology. International Journal

62

(1):85-87.

doi:10.3354/ame01460
2010
Webb-Robertson BJM, LA McCue, KM Waters, MM Matzke,

JM Jacobs

, TO Metz, SM Varnum, and JG Pounds. 2010.

"Combined Statistical Analyses of Peptide Intensities and Peptide Occurrences Improves Identification of Significant Peptides from MS-based Proteomics Data."

Journal of Proteome Research

9

(11):5748-5756.
Yang Y,

LA McCue

, AB Parsons, S Feng, and J Zhou. 2010.

"The tricarboxylic acid cycle in Shewanella oneidensis is independent of Fur and RyhB control."

BMC Microbiology

10

:264.

doi:10.1186/1471-2180-10-264
2009
Cannon WR

, BJM Webb-Robertson, AR Willse, M Singhal, LA McCue, JE McDermott, RC Taylor, KM Waters, and CS Oehmen. 2009.

"An Integrative Computational Framework for Hypotheses-Driven Systems Biology Research in Proteomics and Genomics."

Chapter 4 in

Computational and Systems Biology: Methods and Applications

,

pp. 63-85

. Research Signpost, Trivandrum, India.
Konstantinidis K, MH Serres, MF Romine, JLM Rodrigues, JM Auchutung,

LA McCue

, MS Lipton, A Obraztsova, CS Giometti, KH Nealson, JK Fredrickson, and JM Tiedje. 2009.

"Comparative systems biology across an evolutionary gradient within the Shewanella genus ."

Proceedings of the National Academy of Sciences of the United States of America

106

(37):15909-15914.

doi:10.1073/pnas.0902000106

Webb-Robertson BJM, LA McCue, N Beagley, JE McDermott, DS Wunschel, SM Varnum, JZ Hu, NG Isern, GW Buchko, K Mcateer,

JG Pounds

, SJ Skerret, D Liggitt, and CW Frevert. 2009.

"A Bayesian Integration Model of High-Throughput Proteomics and Metabolomics Data for Improved Early Detection of Microbial Infections."

In

Pacific Symposium on Biocomputing

,

vol. 14,

pp. 451-463

. World Scientific Publishing Co., Singapore, Singapore.
2008
Webb-Robertson BJM

, LA McCue, and CE Lawrence. 2008.

"Measuring Global Credibility with Application to Local Sequence Alignment."

PLoS Computational Biology

4

(5):Art. No e1000077.

doi:10.1371/journal.pcbi.1000077

Callister SJ, LA McCue, JE Turse,

ME Monroe

, KJ Auberry, RD Smith, JN Adkins, and MS Lipton. 2008.

"Comparative Bacterial Proteomics: Analysis of the Core Genome Concept."

PLoS One

3

(2):e1542.

doi:10.1371/journal.pone.0001542

Romine MF, T Carlson,

AD Norbeck

, LA McCue, and MS Lipton. 2008.

"Identification of Mobile Elements and Pseudogenes in the Shewanella oneidensis MR-1 Genome."

Applied and Environmental Microbiology

74

(10):3257-3265.
2007
Driscoll ME, MF Romine, FS Juhn, MH Serres, LA McCue,

AS Beliaev

, JK Fredrickson, and TS Gardner. 2007.

"Identification of diverse carbon utilization pathways in Shewanella oneidensis MR-1 via expression profiling."

Genome Informatics

18

:287-298.
Newberg LA, WA Thompson, S Conlan, TM Smith,

LA McCue

, and CE Lawrence. 2007.

"A phylogenetic Gibbs sampler that yields centroid solutions of cis-regulatory sites."

Bioinformatics

23

(14):1718-1727.
Thompson W, S Conlan,

LA McCue

, and C Lawrence. 2007.

"Using the Gibbs Motif Sampler for Phylogenetic Footprinting."

Chapter 25 in

Methods in Molecular Biology: Comparative Genomics

,

vol. 1,

ed. Nicholas H. Bergman

. Humana Press, Totowa, NJ.
Thompson WA, LA Newberg, S Conlan,

LA McCue

, and CE Lawrence. 2007.

"The Gibbs Centroid Sampler."

Nucleic Acids Research

35

(Suppl. 2):W232-W237.

doi:10.1093/nar/gkm265
2006
Conlan S, and

LA McCue

. 2006.

"Software to perform automated comparisons of pairwise percent identities for microbial species."

BioTechniques

40

(5):578-582.