Staff information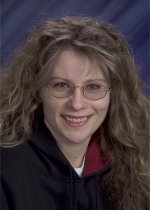 Carina Lansing
Data Sciences
Scientist
Pacific Northwest National Laboratory
PO Box 999
MSIN: K7-90
Richland, WA 99352
Send Email
Biography
Carina is a senior software architect in the Computational Sciences and Mathematics Division at Pacific Northwest National Laboratory (PNNL).
Carina has been at PNNL for the past eight years, specializing in Enterprise Java (J2EE) software architecture and design. With prior experience in chemical engineering, she is able to help domain scientists achieve their software development goals. One of Carina's principal strengths is assimilating new technologies. She uses this skill to better compare/contrast options when making architectural decisions, to better design integration architectures, to reduce redundant software, and to improve quality and productivity.
Currently, Carina is the PNNL lead architect for the U.S. Department of Homeland Security's Science and Technology Biodefense Knowledge Center (BKC) project. The project involves the development of an extensible analytical software environment for integrating suites of domain-specific analysis tools and heterogeneous data sources. This software has attracted interest from several organizations within the intelligence community resulting in five pilot deployments and ongoing discussions for several additional opportunities within the last year.
Research Interests
Enterprise applications and distributed architectures
Software design patterns and architectural frameworks
Enterprise content management and process automation
Education and Credentials
B.S., Computer Science, Washington State University, 2000, summa cum laude.
Course work in Chemical Engineering, University of Washington, 1990 - 1993, 3.8 GPA
PNNL Publications
2015
2014
2013
2012
2011
2005
2004
2003
Selected Publications
1996
K Zhang, C Susiene, M Garry, MG Norman, and CM Velicer. 1996. "Comparison of Similarities and Differences Among Risk Assessment and Risk-Based Cleanup Goals Guidances." Proceedings of the 1996 Society for Risk Analysis Annual Meeting.
1995
Velicer CM, M Norman, and C Susiene. 1995. "Risk-Based Corrective Action for Chemical Release Sites." Proceedings of the 1995 Society for Risk Analysis Annual Meeting.
1994
Johnson DA, C Susiene, and K Johnson. 1994. "Sensitivity Analysis of Screening-Level Vapor Intrusion Models for Residential Basements Overlying Contaminated Groundwater." Proceedings of the 1994 Society for Risk Analysis Annual Meeting.