Staff information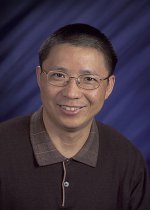 Jian Hu
IO Prototype & Pilot
Scientist
Pacific Northwest National Laboratory
PO Box 999
MSIN: K8-98
Richland, WA 99352
Send Email
Biography
Dr. Jian Zhi Hu is a senior scientist (Level-V) at Pacific Northwest National Laboratory (PNNL) and is a mentor for junior scientist, postdoctor and graduate student research. Dr. Hu joined PNNL in 2000. Prior to then, Dr. Hu was an assistant research professor at University of Utah's Department of Chemistry from 2000 to 2001; and a research professor and associate at several scientific institutions.
Dr. Hu has nearly 30 year's research experience in solid state and liquid state nuclear magnetic resonance (NMR), magnetic resonance spectroscopy (MRS) and imaging (MRI). Dr. Hu has developed, including pioneering, many techniques, including:
Slow and ultra slow magic angle spinning, or magic angle turning (MAT) NMR techniques with sample spinning rate ranged from 1 to about 1000 Hz for enhanced spectral resolution in solids, semi-solids and biological materials
The combined high temperature (up to 240 C or more) and high pressure (up to 50 atm or more) MAS NMR
Constant flow MAS NMR for in situ characterization of heterogeneous catalyst materials and reaction mechanisms
in situ NMR capabilities for energy storage systems such as Li-ion, Li-S, Li-metal and non-aqueous flow batteries
High-resolution proton NMR metabolic profiling in vitro in human body fluids, ex vivo in excised intact tissues/organs, and in vivo in live animals
High-resolution and -sensitivity proton metabolite NMR spectrum on samples with very limited masses and volumes.
Dr. Hu is an author and co-author of about 147 peer-reviewed publications. He holds 6 issued U.S. patents, 3 foreign patents and one R&D 100 award that are all related to NMR technology development and applications.
Research Interests
Developing unique high resolution slow-MAS NMR metabolomics for biosignature discovery in biological tissues with sample volume from less than about 0.2 microliter to more than 1 cubic centimeter using a single probe;
In situ and ex situ NMR characterization of heterogeneous solid catalyst materials, surface functional groups and active cites, molecular dynamics at the interface, reaction mechanisms and pathways;
In situ constant flow and high pressure MAS NMR capability development;
In situ NMR capability development and applications for energy storage systems such as Li-ion, Li-S, Li-Air and non-aqueous flow batteries;
Ultra-high field NMR spectroscopy, quantum chemistry calculations to predict molecular geometry and the principal values of chemical shift tensors, and quadrupolar coupling constants; and NMR lineshape simulation, NMR pulse sequence design, programming, and testing.
Education and Credentials
Ph.D., Applied Physics, Wuhan Institute of Physics, Chinese Academy of Sciences
M.S., Applied Physics, Wuhan Institute of Physics, Chinese Academy of Sciences
B.S., Physics, Lanzhou University, China
Affiliations and Professional Service
Awards and Recognitions
Special Academic President Award of the Chinese Academy of Sciences in 1995.
2012 R&D100 Award on graphene based materials for lithium ion battery application.
PNNL Publications
2015
2014
2013
2012
2011
2010
2009
2008
2007
Lu C,

JZ Hu

, JH Kwak, ZG Yang, R Ren, T Markmaitree, and LD Shaw. 2007.

"Study the Effects of Mechanical Activation on Li-N-H Systems With 1H and 6Li Solid-State NMR."

Journal of Power Sources

170

(2):419-424.

doi:10.1016/j.jpowsour.2007.02.080
2006
2005
2004
2003
2002
Barich DH,

JZ Hu

, RJ Pugmire, and DM Grant. 2002.

"Carbon-13 Chemical-Shift Tensors in Polycyclic Aromatic Compounds: Fluoranthene and Decacyclene."

Journal of Physical Chemistry A

106

:6477-6482.
2001
Hu JZ

, CM Taylor, RJ Pugmire, and DM Grant. 2001.

"A Novel Dipolar Dephasing Method for the Slow Magic Angle Turning Experiment."

Journal of Magnetic Resonance

152

(1):7-13.

doi:10.1006/jmre.2001.2380
2000