Staff information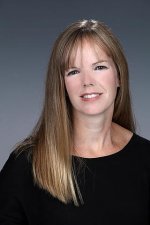 Erin Baker
Prototype & Pilot
Scientist
Pacific Northwest National Laboratory
PO Box 999
MSIN: K8-98
Richland, WA 99352
Send Email
Biography
Dr. Erin Baker is a bioanalytical chemist with 12 years experience utilizing ion mobility spectrometry in conjunction with mass spectrometry (IMS-MS) to study biological systems. Her research involves the development and evaluation of high-throughput LC-IMS-MS analyses to quickly study numerous samples in a short time period without losing valuable biological information. Dr. Baker's technical background includes evaluating short LC gradients for use with IMS-MS in proteomic analyses, as well as studying the number and quality of features detected with LC-IMS-MS and comparing them to existing LC-MS and LC-MS/MS instruments such as the LTQ-Orbitrap and LTQ Orbitrap Velos.
Research Interests
Separation and dynamic range enhancement of peptides from complex plasma mixtures
Development of HPLC methods and mass spectrometry instrumentation
Structural variations between biological molecules in the solution, solid and gas phases
Education and Credentials
Ph.D., Chemistry (specializing in Physical Chemistry), University of California, Santa Barbara, 2001-2005.
B.S., Chemistry (minor in Mathematics), Montana State University, Bozeman, 1997-2001.
PNNL Publications
2014
Baker ES, KE Burnum-Johnson, JM Jacobs, DL Diamond, RN Brown, YM Ibrahim, DJ Orton,

PD Piehowski

, DE Purdy, RJ Moore, WF Danielson, III, ME Monroe, KL Crowell, GW Slysz, MA Gritsenko, JD Sandoval, BL Lamarche, MM Matzke, BJM Webb-Robertson, BC Simons, BJ McMahon, R Bhattacharya, JD Perkins, RL Carithers, S Strom, S Self, MG Katze, GA Anderson, and RD Smith. 2014.

"Advancing the High Throughput Identification of Liver Fibrosis Protein Signatures Using Multiplexed Ion Mobility Spectrometry."

Molecular and Cellular Proteomics

13

(4):1119-1127.

doi:10.1074/mcp.M113.034595

Ibrahim YM,

VBS Garimella

, AV Tolmachev, ES Baker, and RD Smith. 2014.

"Improving Ion Mobility Measurement Sensitivity by Utilizing Helium in an Ion Funnel-Trap."

Analytical Chemistry

86

(11):5295-5299.

doi:10.1021/ac404250z
2013
Crowell KL, ES Baker, SH Payne, YM Ibrahim, ME Monroe, GW Slysz, BL Lamarche, VA Petyuk,

PD Piehowski

, WF Danielson, III, GA Anderson, and RD Smith. 2013.

"Increasing Confidence of LC-MS Identifications by Utilizing Ion Mobility Spectrometry."

International Journal of Mass Spectrometry

354-355

:312-317.

doi:10.1016/j.ijms.2013.06.028

Crowell KL, GW Slysz,

ES Baker

, BL Lamarche, ME Monroe, YM Ibrahim, SH Payne, GA Anderson, and RD Smith. 2013.

"LC-IMS-MS Feature Finder: Detecting Multidimensional Liquid Chromatography, Ion Mobility, and Mass Spectrometry Features in Complex Datasets."

Bioinformatics

29

(21):2804-2805 .

doi:10.1093/bioinformatics/btt465

Merkley ED, ES Baker, KL Crowell, DJ Orton,

T Taverner

, C Ansong, YM Ibrahim, MC Burnet, JR Cort, GA Anderson, RD Smith, and JN Adkins. 2013.

"Mixed-Isotope Labeling with LC-IMS-MS for Characterization of Protein-Protein Interactions by Chemical Cross-Linking ."

Journal of the American Society for Mass Spectrometry

24

(3):444-449.

doi:10.1007/s13361-012-0565-x

Venceslau SS, JR Cort,

ES Baker

, RK Chu, EW Robinson, C Dahl, LM Saraiva, and IA Pereira. 2013.

"Redox states of Desulfovibrio vulgaris DsrC, a key protein in dissimilatory sulfite reduction."

Biochemical and Biophysical Research Communications

441

(4):731-736.

doi:10.1016/j.bbrc.2013.10.116
2012
Baker ES

, T Liu, VA Petyuk, KE Burnum-Johnson, YM Ibrahim, GA Anderson, and RD Smith. 2012.

"Mass Spectrometry for Translational Proteomics: Progress and Clinical Implications."

Genome Medicine

4

:Article No. 63.

doi:10.1186/gm364

Angel TE,

UK Aryal

, SM Hengel, ES Baker, RT Kelly, EW Robinson, and RD Smith. 2012.

"Mass spectrometry-based proteomics: existing capabilities and future directions."

Chemical Society Reviews

41

(10):3912-3928.

doi:10.1039/C2CS15331A

Burnum KE, Y Hirota,

ES Baker

, M Yoshie, YM Ibrahim, ME Monroe, GA Anderson, RD Smith, T Daikoku, and SK Dey. 2012.

"Uterine deletion of Trp53 compromises antioxidant responses in mouse decidua."

Endocrinology

153

(9):4568-4579.

doi:10.1210/en.2012-1335

Hengel SM, EA Floyd,

ES Baker

, R Zhao, S Wu, and L Pasa-Tolic. 2012.

"Evaluation of SDS depletion using an affinity spin column and IMS-MS detection."

Proteomics

12

(21):3138-3142.

doi:10.1002/pmic.201200168
2011
Belov ME

, RT Kurulugama, D Lopez-Ferrer, YM Ibrahim, and ES Baker. 2011.

"New Developments in LC-MS and Other Hyphenated Techniques."

Chapter 47 in

Sample Preparation in Biological Mass Spectrometry

,

ed. AR Ivanov & AV Lazarev,

pp. 981-1030

. Springer, New York, NY.
2010
Baker ES, EA Livesay, DJ Orton, RJ Moore, WF Danielson, DC Prior, YM Ibrahim, BL Lamarche, AM Mayampurath, AA Schepmoes, DF Hopkins, K Tang, RD Smith, and

ME Belov

. 2010.

"An LC-IMS-MS Platform Providing Increased Dynamic Range for High-Throughput Proteomic Studies."

Journal of Proteome Research

9

(2):997-1006.

doi:10.1021/pr900888b

Buchko GW, G Niemann, ES Baker,

ME Belov

, RD Smith, F Heffron, JN Adkins, and JE McDermott. 2010.

"A multi-pronged search for a common structural motif in the secretion signal of Salmonella enterica serovar Typhimurium type III effector proteins."

Molecular Biosystems

6

(12):2448-2458.

doi:10.1039/c0mb00097c

Ibrahim YM, DC Prior, ES Baker, RD Smith, and

ME Belov

. 2010.

"Characterization of an Ion Mobility-Multiplexed Collision Induced Dissociation- Tandem Time-of-Flight Mass Spectrometry Approach."

International Journal of Mass Spectrometry

293

(1-3):34-44.
Shah AR,

K Agarwal

, ES Baker, M Singhal, AM Mayampurath, YM Ibrahim, LJ Kangas, ME Monroe, R Zhao, ME Belov, GA Anderson, and RD Smith. 2010.

"Machine learning based prediction for peptide drift times in ion mobility spectrometry ."

Bioinformatics

26

(13):1601-1607.

doi:10.1093/bioinformatics/btq245
2009
Page JS,

I Marginean

, ES Baker, RT Kelly, K Tang, and RD Smith. 2009.

"Biases in Ion Transmission Through an Electrospray Ionization-Mass Spectrometry Capillary Inlet."

Journal of the American Society for Mass Spectrometry

20

(12):2265-2272.

doi:10.1016/j.jasms.2009.08.018
2008
Baker ES

, K Tang, WF Danielson, III, DC Prior, and RD Smith. 2008.

"Simultaneous Fragmentation of Multiple Ions Using IMS Drift Time Dependent Collision Energies."

Journal of the American Society for Mass Spectrometry

19

(3):411-419.

doi:10.1016/j.jasms.2007.11.018

Metz TO, JS Page, ES Baker, K Tang, J Ding,

Y Shen

, and RD Smith. 2008.

"High Resolution Separations and Improved Ion Production and Transmission in Metabolomics."

Trends in Analytical Chemistry. TrAC

27

(3):205-214.

doi:10.1016/j.trac.2007.11.003
2007
Baker ES, BH Clowers, F Li, K Tang, AV Tolmachev, DC Prior,

ME Belov

, and RD Smith. 2007.

"Ion Mobility Spectrometry - Mass Spectrometry Performance Using Electrodynamic Ion Funnels and Elevated Drift Gas Pressures."

Journal of the American Society for Mass Spectrometry

18

(7):1176-1187.

doi:doi:10.1016/j.jasms.2007.03.031

Shvartsburg AA, SV Mashkevich,

ES Baker

, and RD Smith. 2007.

"Optimization of Algorithms for Ion Mobility Calculations."

Journal of Physical Chemistry A

111

(10):2002-2010.

doi:10.1021/jp066953m