Staff information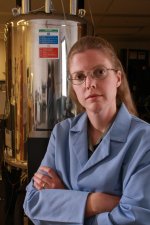 Wendy Shaw
Physical Sciences Division
Scientist, TL
Pacific Northwest National Laboratory
PO Box 999
MSIN: K2-57
Richland, WA 99352
Send Email
Research Interests
Catalysis: Gain a fundamental, molecular-level understanding of the role of the enzyme scaffold, or outer coordination sphere, on molecular catalysts. Investigating the role of proton channels, the environment around the active site, structural stability and dynamics on catalysts for H2 production and oxidation as well as CO2 hydrogenation. The long term goal of these projects is to implement the superior features of enzymes while maintaining the relative simplicity of a homogeneous catalyst.
EFRC: Using 1-, 2-, and 3-dimensional NMR and dynamic NMR techniques to characterize novel catalysts and catalytic intermediates for the interconversion of H+ to H2, O2 to H2O and N2 to NH3, respectively,
Biomineralization Processes: Investigation of biomineralization processes, particularly amelogenin, the protein which forms enamel using solid state NMR, neutron reflectivity and physical chemistry methods.
Education and Credentials
Ph.D. in Physical/Biophysical Chemistry (Sept. 1996 - May 2000), University of Washington, Seattle, WA
Bachelor of Arts: Chemistry (Sept. 1990 - Dec. 1993), Whitman College, Walla Walla, WA
Affiliations and Professional Service
American Chemical Society
Materials Research Society
Awards and Recognitions
Outstanding Performance Awards, PNNL
Recipient of Graduate Fellowship, Associated Western Universities (1996-2000).
PNNL Publications
2015
2014
2013
2012
2011
2010
2009
2008
2007
2005
2004
2003
2002
2001
2000