Staff information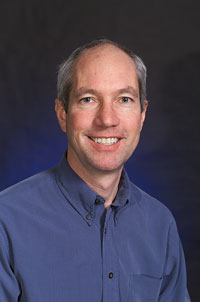 Wayne Hess
Physical Sciences Division
Scientist, TL
Pacific Northwest National Laboratory
PO Box 999
MSIN: K8-88
Richland, WA 99352
Send Email
Biography
My research is centered on laser-excitation of solids and surfaces. We have ongoing research programs in laser desorption from wide-band gap materials, metal oxides, and semiconductors. Many of the key photophysical processes in laser solid interactions, such as electron/hole-pair generation and recombination, exciton relaxation, and electron-phonon interactions, occur on an ultrafast time-scale. Therefore, we have developed femtosecond laser techniques, in addition to nanosecond studies, to clarify the role of ultrafast phenomena involved in laser material interactions and excited-state condensed-phase processes. Recently, we initiated a program to explore dynamics of mesoscopic surface structures. In particular, we are studying localized and propagating surface plasmons using photoemission electron microscopy and both surface and tip enhanced Raman spectroscopy (SERS and TERS). My team and I are actively engaged in collaboration with theory groups to understand the dynamical details of localized and propagating plasmons and their relationship to single-molecule Raman scattering. Our ultimate goal is a broad-based mechanistic understanding of excited-state dynamics of surface structures, plasmonics, and ultrasensitive chemical imaging. We have demonstrated single-molecule detection and designed manipulation (e.g., focusing) of propagating plasmons. Ultimately, our efforts are directed toward providing the radiation and analytical chemistry research needs required by the U.S. Department of Energy's energy and environmental restoration missions.
Currently, I am serving as Interim Director of the Physical Sciences Division.
Research Interests
Laser desorption and surface modification
Surface and tip-enhanced Raman spectroscopy
Localized and propagating surface plasmon dynamics
Education and Credentials
Ph.D. Physical Chemistry, University of Colorado, Boulder, CO, January, 1988
M.S. Chemical Physics, University of Oregon, Eugene, OR, May 1983
B.A. Chemistry, University of Colorado, Boulder, CO, May 1981.
Affiliations and Professional Service
American Chemical Society
American Physical Society
SPIE
Awards and Recognitions
American Physical Society Fellow, 2012
Co-Chairman Eighth International Conference on Laser Ablation (COLA 05)
Associate Editor: Laser Chemistry
International Steering Committee, International Conference on Laser Ablation
Vice-chair Gordon Research Conference: Laser Interactions with Materials
PNNL Publications
2015
2014
2013
2012
2011
2010
2009
2008
2007
2006
2005
2004
2003
2002
2001
2000
1999
1998