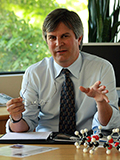 Doug Ray, Ph.D.
Welcome to the Fundamental & Computational Sciences website.
I hope you take the opportunity to explore it and learn about the outstanding people, capabilities and scientific research at the Pacific Northwest National Laboratory.
—Doug Ray, Associate Lab Director
"We strive to make progress on today's important scientific challenges."
Research Highlights
PNNL and Los Alamos National Laboratory scientists devised a new method to identify the chemical composition of sea spray, and how that chemical make-up is affected by ocean biology. The new model provides a better description of microscopic sea organisms affecting ocean chemistry that in turn affects the chemistry of sea spray particles. The far-flung particles can loft high enough to affect cloud-forming droplets.
Coating the mouth with BPA-containing food, like soup, does not lead to higher than expected levels of BPA in blood, a new study in Toxicology and Applied Pharmacology shows. The study authors, including PNNL's Justin Teeguarden, conclude that oral exposure does not create a risk for high exposures.
BPA, also known as bisphenol A, is used to make some plastics and to seal canned food containers against bacterial contamination. Food, which picks up trace amounts of BPA from packaging, is the major source of human exposure.
Research led by Dr. Xiao-Ying Yu, a scientist at Pacific Northwest National Laboratory and her team developed PNNL's System for Analysis at the Liquid Vacuum Interface, or SALVI, allowing—for the first time—imaging of liquid samples reacting in real-time and a realistic environment. They won a prestigious Excellence in Technology Transfer Award in 2015 from the Federal Laboratory Consortium for Technology Transfer (FLC).
The Speed to Solution
Addressing fast community detection and other related problems
For scientists in PNNL's Advanced Computing, Mathematics, and Data Division, their work often crosscuts many domain science sectors within the Laboratory and among external collaborators. In this case, seeking methods to enhance data analytics of biological sequences using algorithmic graph theory led to a distinct intersection with work being done for high-performance computing applications contending with obstacles related to power constraints and massive data movement. For the scientists and their partners involved in this research, one point rings true:
in science, the problems you start with may not be the only ones you solve
.