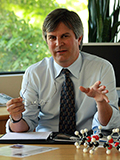 Doug Ray, Ph.D.
Welcome to the Fundamental & Computational Sciences website.
I hope you take the opportunity to explore it and learn about the outstanding people, capabilities and scientific research at the Pacific Northwest National Laboratory.
—Doug Ray, Associate Lab Director
"We strive to make progress on today's important scientific challenges."
Research Highlights
The intensity of post-monsoon tropical cyclones in the Bay of Bengal has increased over the 30-year period from 1981-2010, found scientists at Pacific Northwest National Laboratory and the Atlanta Oceanographic and Meteorological Laboratory. The culprit? Trending increases in certain environmental conditions that brew up these storms: increased sea surface and upper ocean temperatures and atmospheric instability.
Mapping Molecules in the Human Lung
Molecular atlas could reduce mortality in premature infants caused by undeveloped lungs
A team of PNNL scientists will perform an unprecedented, systematic study, mapping the molecular components of normal lung development during late term and early childhood. They recently were awarded $4.5 million over 5 years by the National Heart Lung and Blood Institute to develop a molecular atlas of the developing human lung (LungMAP). Lung development from 4 months before birth through 2 years of age is crucial to the lifelong health of an individual and remains the critical factor in newborn viability. However, little is known of human lung development at this critical period. Thus, expanding understanding of early human lung development is key to promoting proper lung formation in preterm infants and has significant implications toward reducing their high mortality rate.
To understand how cells converse, scientists at Pacific Northwest National Laboratory and Oregon Health & Science University designed an approach that accurately determines the spatial location of molecules and quantifies lipids and metabolites in biological samples. The new approach efficiently accounts for signal suppression or matrix effect (see sidebar) that may significantly alter molecules' distributions obtained in mass spectrometry imaging experiments. Compensation for matrix effects is achieved by adding appropriate internal standards to the solvent used in nano-DESI imaging.
Comm Link
Framework generates communication-optimal algorithms for contracting distributed tensors; may represent new state of the art
Tensor contractions, generalized matrix multiplications that are time-consuming to calculate, make them among the most compute-intensive operations in several
ab initio
computational quantum chemistry methods. In this work,
Sriram Krishnamoorthy
, a research scientist with ACMD's High Performance Computing group, along with scientists from The Ohio State University, developed a systematic framework that uses three fundamental communication operators—recursive broadcast, rotation, and reduction—to derive communication-efficient algorithms for distributed contraction of arbitrary dimensional tensors on the IBM Blue Gene/Q Mira supercomputer. The framework automatically models potential space-performance trade-offs to optimize the communication costs incurred in executing tensor contractions on supercomputers. The paper documenting this work, "Communication-optimal Framework for Contracting Distributed Tensors," is a SC14 Best Paper award finalist.