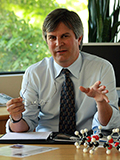 Doug Ray, Ph.D.
Welcome to the Fundamental & Computational Sciences website.
I hope you take the opportunity to explore it and learn about the outstanding people, capabilities and scientific research at the Pacific Northwest National Laboratory.
—Doug Ray, Associate Lab Director
"We strive to make progress on today's important scientific challenges."
Research Highlights
Global Natural Gas Boom Alone Won't Slow Climate Change
Comprehensive analysis shows that natural gas could displace both coal and low-emitting energy sources over the long term
An analysis of global energy use, economics and the climate shows that without new climate policies, expanding the current bounty of inexpensive natural gas alone would not slow the growth of global greenhouse gas emissions worldwide over the long term. The researchers, working at PNNL's Joint Global Change Research Institute and their international collaborators, conducted modeling studies showing a global abundance of inexpensive natural gas would also accelerate economic growth and expand overall energy use.
The 2014 Key Scientific Accomplishments report in fundamental and computational sciences is now available as a downloadable PDF. This 32-page full-color brochure highlights some of the year's most noteworthy science achievements by Pacific Northwest National Laboratory scientists.
While iron catalysts are an inexpensive way to remove oxygen from plant-based materials, the catalyst is not very active and can be readily deactivated due to rusting by the water that comes part and parcel with biofuels production. Precious metal catalysts aren't readily oxidized, but they aren't efficient in removing oxygen from plant-based materials. In addition, the metal is prohibitively expensive. Adding just a touch of the precious metal palladium to earth-abundant iron produces a catalyst that quickly removes oxygen atoms, easily releases the desired products, and doesn't rust, according to scientists at Pacific Northwest National Laboratory and Washington State University.
A Shiny, New Graph Query System
GEMS software provides a scalable solution for graph queries over increasingly large data sets
As computing tools and expertise used in conducting scientific research continue to expand, so have the enormity and diversity of the data being collected. Scientists from PNNL and NVIDIA Research examined how GEMS, a multilayer software system for semantic graph databases developed at PNNL, could answer queries on science metadata then compared its scaling performance against generated benchmark data sets. They showed that GEMS could answer queries over curated science metadata in seconds and scaled well to larger quantities of data. They also demonstrated that GEMS generally outperformed a custom-hardware solution, indicating the viability of using cheaper, commodity hardware to obtain comparable performance.