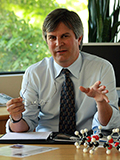 Doug Ray, Ph.D.
Welcome to the Fundamental & Computational Sciences website.
I hope you take the opportunity to explore it and learn about the outstanding people, capabilities and scientific research at the Pacific Northwest National Laboratory.
—Doug Ray, Associate Lab Director
"We strive to make progress on today's important scientific challenges."
Research Highlights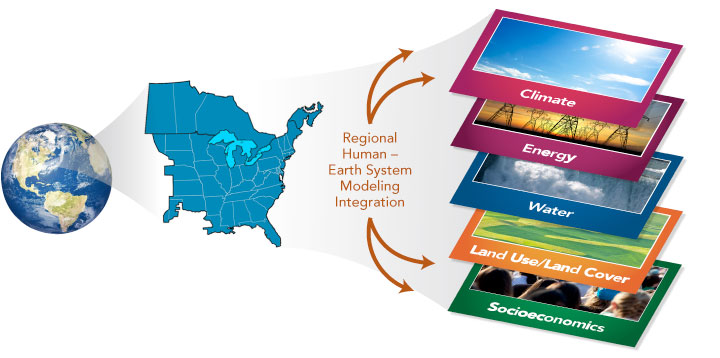 Full Story
|
March 2014
A five-year collaboration between PNNL scientists and engineers spanning multiple disciplines, the Platform for Regional Integrated Modeling and Analysis is a unique framework simulating complex interactions among climate, energy, water, land, and related systems at decision-relevant spatial scales. By linking various component models, PRIMA simulates a broader range of human and environmental system processes and interactions, delivering more robust and comprehensive results.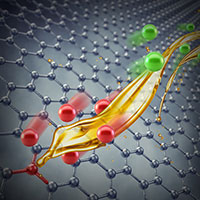 Full Story
|
February 2014
The Myth of Perfection
Defects on graphene electrode alter behavior of electrode-electrolyte interface in next-generation energy storage devices
Graphene, a single layer of carbon atoms, potentially has the highest surface area among the carbon material and thus has the potential to significantly improve supercapacitors for energy storage and delivery. Yet, it is difficult to understand and control how the charged ionic species are incorporated and transported in the graphene electrodes. Scientists at PNNL and Princeton University found that surface defects alter the liquid's interaction with the graphene surface. The study provides a basic understanding to create better materials for energy storage.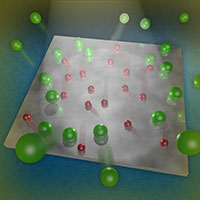 Full Story
|
March 2014
Krypton Reporter Uncovers Oxygen's Antics
On the surface of a popular catalyst, certain atoms and molecules flee when light appears
Despite being part of numerous devices and industrial processes, photocatalytic reactions on metal oxides are not well understood. For example, negatively charged oxygen ions stuck to the catalyst's surface, known as oxygen adatoms, were thought to be unresponsive, when actually the adatoms do respond to light, according scientists at PNNL. The researchers made this discovery by coating the surface of the common catalyst titanium dioxide with krypton reporters. When light strikes the catalyst, the oxygen adatoms become electronically excited and cause the krypton reporters to exit.
Full Story
|
February 2014
Surpassing Boundaries in Fluid Dynamics
Novel mathematical method provides computationally efficient way to model boundary conditions in fluid flows
To improve the numerical methods and algorithms used to analyze and model physical phenomena associated with fluid flows and the forces that affect them at various scales and boundary conditions, scientists from PNNL and the University of South Florida demonstrated the viability of a new method: smoothed particle hydrodynamics-continuous boundary force, or SPH-CBF. Their novel method solves Navier-Stokes equations subjected to Robin boundary conditions using an SPH method for solving partial differential equations, providing a significant advancement to existing SPH theory. The formulation also uses SPH strengths in modeling diverse physics problems, such as those involving atmospheric systems, energy materials and processes, subsurface flow and transport, and high-strength materials, which are relevant to important DOE mission objectives.