Department of Defense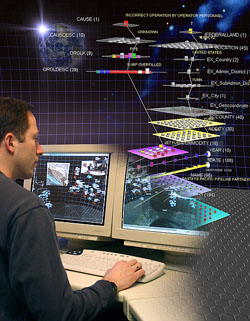 PNNL's Department of Defense (DOD) Program provides innovative technology solutions to help transform our military to a strategically responsive force and deter, reduce and counter the threat of weapons of mass destruction.
PNNL has played an integral role in national defense since the 1940s as the research arm of the Hanford Site. Over time, PNNL's capabilities and contributions have evolved and diversified. Our legacy of defense-related research puts us in an excellent position to address a new generation of military needs and challenges.
We are supporting the military in numerous, important ways. The Laboratory's substantial capabilities portfolio spans the scientific and technical disciplines, ranging from fundamental science research to the development of technologies and strategies to enhance detection and prevention of concealed chemical and biological agents.
The state-of-the-art Environmental Molecular Sciences Laboratory at PNNL, for example, and the Laboratory's strengths in chemistry and biology are producing key scientific knowledge that can be applied to developing new chemical and biological detection technologies.
In other areas, PNNL is applying its capabilities in fuel cells, materials and other disciplines to provide small power sources for soldiers and deliver energy-efficient applications that reduce energy consumption at military installations.
PNNL is developing capabilities for the U.S. Army Common Logistics Operating Environment (CLOE). The CLOE is aimed at developing an overarching integrated architecture for Army Logistics that fuses information, logistics processes and sensor-based technologies embedded on platforms to increase mission readiness, reduce the size of logistics support structure in the field, and lower lifecycle costs of Army systems.
We also are investing in new and emerging sensing capabilities at the Laboratory to develop technologies that will detect improvised explosive devices, enabling better protection of our troops in Iraq and other battlefields.
And, our researchers are supporting efforts to deploy and operate radiation portal monitors at DOD installations to help deter and prevent terrorist acts. This effort includes integrating, testing, calibrating and training development. PNNL's strengths connect well to the nation's defense challenges. Many of the researchers at PNNL who are exploring these challenges are scientists and engineers who themselves were in the military. Our priority is to develop next-generation science that will protect our country and achieve our military objectives around the globe.
Our capabilities are in:
Microtechnology and energy systems
Logistics science and technologies
Environmental technologies
Cyber security.
Our clients include:
For more information, contact:
Mark Slonecker, Director of Defense, Homeland and Special Programs Sector
Phone: (509) 372-6609