Staff Highlights Archive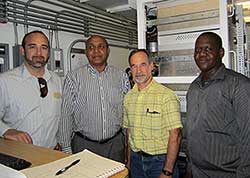 Supporting the Nuclear Test Ban Treaty
PNNL's Ian Cameron, Lance Lidey, and Tim Stewart, all NSD, were the first to make trace measurements of radioactivity in the tiny country of Burkina Faso in western Africa. As part of a program to measure trace airborne radioactivity for the Nuclear Explosion Monitoring and Policy program (NEMP), PNNL staff worked to make trace background measurements needed for the Comprehensive Nuclear-Test-Ban Treaty, and also train local scientists and engineers on how to make these specialized measurements.
---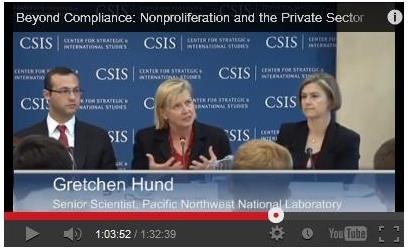 Research Underscores Industry Nonproliferation Role
Led by Gretchen Hund, PNNL researchers are catalyzing discussions in government and the private sector about industry's role in nonproliferation. The goal: to influence approaches and policies that will discourage and reveal would-be proliferators. The May/June 2013 issue of Bulletin of the Atomic Scientists published an article by Gretchen and Andrew Kurzrok on integrating nonproliferation into corporate sustainability. In June, the Center for Strategic and International Studies hosted a webcast where the two scientists discussed their research on private sector outreach for nonproliferation. Gretchen, Andrew, and others are now convening discussions to help dual-use industries consider self-regulation approaches. The National Nuclear Security Administration sponsors this work.
---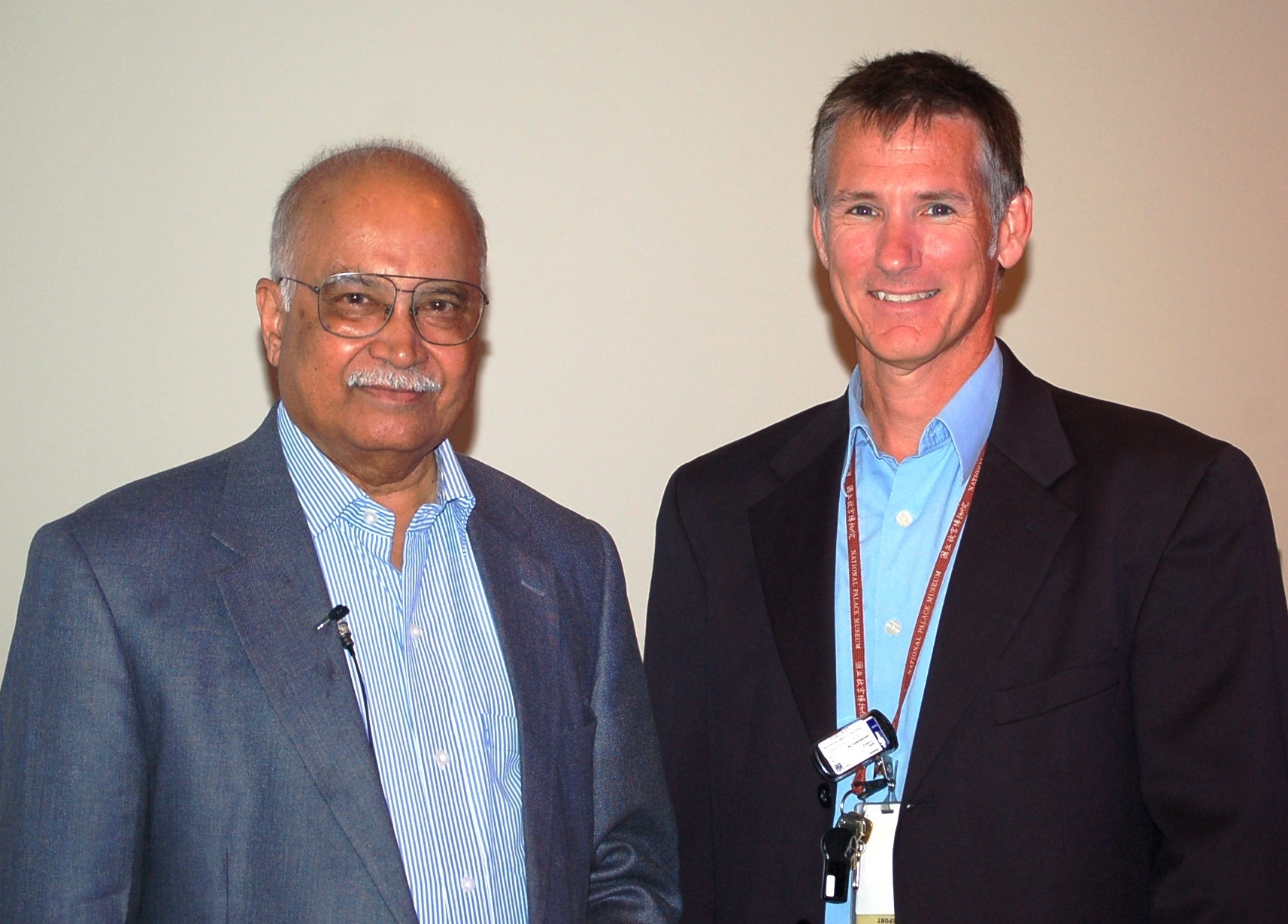 India nuclear expert shares insights
PNNL's National Nuclear Security Administration Sector hosted Professor R. Rajaraman, an expert in nuclear disarmament and civilian nuclear energy technology, the week of June 17. Prof. Rajaraman co-chairs the International Panel on Fissile Materials and is Emeritus Professor of Physics at the Jawaharlal Nehru University, New Delhi. At PNNL's Seattle and Richland offices, he spoke on the status of India's civilian nuclear power program and the U.S./India nuclear cooperation agreement. In separate discussions, Prof. Rajaraman met with PNNL staff on fissile material production in South Asia and ways to further engage with India to advance nonproliferation goals.
---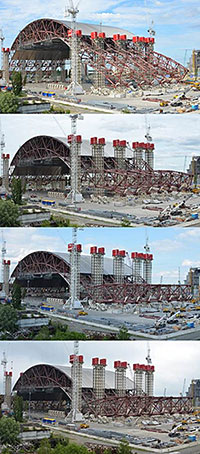 Securing Chernobyl
On Friday, June 14th, the second lifting stage of the New Safe Confinement (NSC) structure was completed at the Chernobyl Nuclear Power Plant site. PNNL's Shelter Implementation Plan (SIP) Project Manager, Joel Hoyt, provided a series of images which show where the NSC stood at the start of the jacking, and where it currently stands at 85 meters. After completion, the NSC will be 109 meters tall, 150 meters wide, have an arch span of 257 meters and will weigh 29,000 tons. The NSC will then be slid from its current location to over the damaged nuclear reactor.
PNNL has been instrumental in contributing to safety and sustainability at Chernobyl. The Lab was involved with the development of the SIP and additionally participated in the conceptual design of the NSC structure. For more information on the NSC, watch this video overview.
---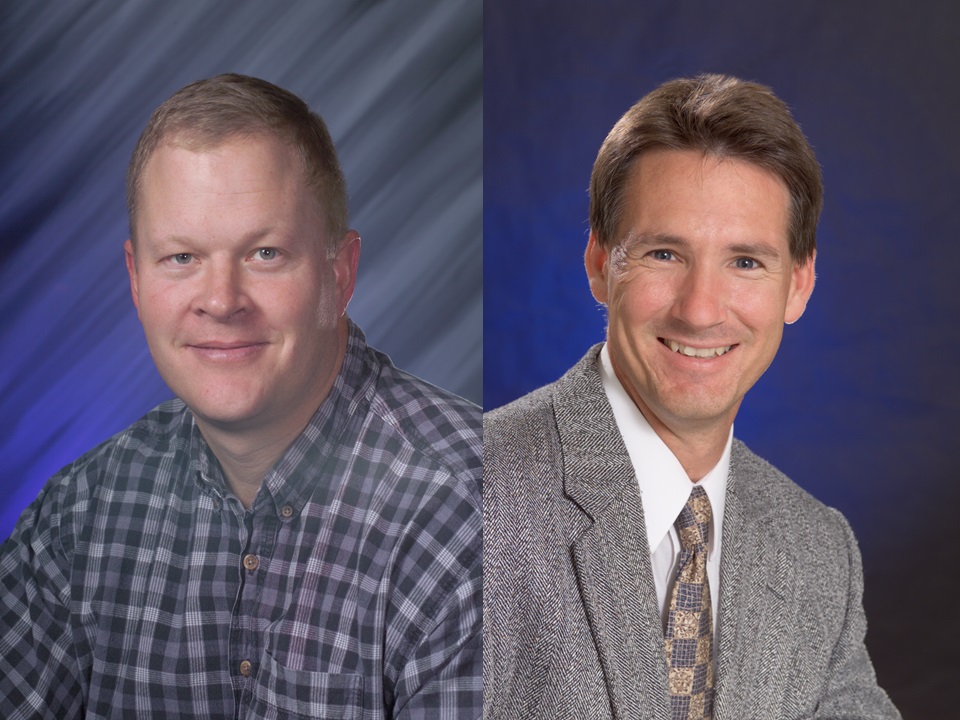 Newest Fellows Prepare for Seminar XXI
Chris Aardahl and Kevin Whattam (NSD) were selected as two of 88 Fellows participating in the Massachusetts Institute of Technology 2013-2014 Seminar XXI Program: Foreign Politics, International Relations and the National Interest.
Seminar XXI is an educational program for senior military officers, civilian government officials and staff members of nongovernment organizations in the national security and international economic policy communities. The nine-month program explores key policy issues involving countries and problems critical to the United States interests.
---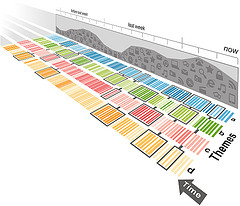 Accessing the Social Media Data Mine
PNNL's Court Corley, Chase Dowling and Stuart Rose's paper "SociAL Sensor Analytics: Measuring Phenomenology at Scale," received the overall best paper award at the IEEE Intelligence and Security Informatics (ISI) conference, from a pool of 100 long and short papers. Intern Taylor McKenzie also contributed.
The paper highlights Corley's social media analysis tool, "SALSA" (SociAL Sensor Analytics), which allows Corley to examine trends in social media among billions of Tweets and other social media. The benefit being this tool can analyze data previous inaccessible data due to the volume of social media information being created. For more information, check out the PNNL News Center.
---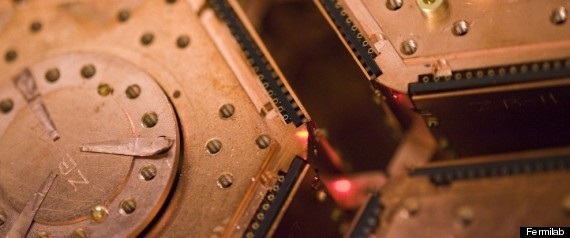 Searching for Dark Matter
Jeter Hall was quoted in a New Scientist article in reference to his work with the CDMS detector, an experiment seeking to sense weakly interacting massive particles (WIMPs), which is the favored form of dark matter. "It can keep you up at night that the thing you're searching for might not be there at all," says Hall. "But it's compelling enough for me to vote with my feet and work on it anyway."
The CDMS detector consists of eight layers of shielding, surrounding the array of supercooled silicon and Germanium crystals. This detector caught a hint of a WIMP in 2011, but the signal was inconclusive.
---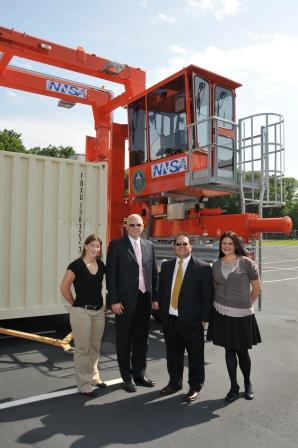 Scanning Ship Cargo
Two of the world's most strategically important shipping ports now are better equipped to counter illicit nuclear smuggling activities. PNNL staff were instrumental in deploying the first radiation-detection systems for scanning transshipped cargo in Balboa, Panama and Salalah, Oman.
The Mobile Radiation Detection and Identification System (MRDIS) scans containerized cargo being transferred from one ship to another, or transshipped. MRDIS integrates radiation detection and identification capabilities onto a mobile platform that can be strategically positioned near container offloading operations without adversely affecting the flow of commerce through the port.
"PNNL's role was to bring these technologies from concept to implementation, through integration of commercial equipment," said PNNL project manager Mario Pereira. "We also trained in-country operators, maintenance, and information technology staff to sustain this capability over the long term." The team devised an innovative method to minimize the bandwidth needed to collect data from the systems, using the ports' wireless infrastructures.
The work was funded by the National Nuclear Security Administration. PNNL will deploy a similar cargo screening system in the Brussels, Belgium airport this summer.
---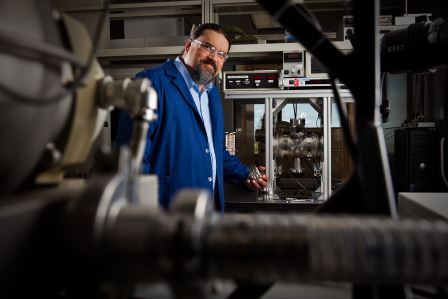 Revolutionizing Explosive Sensing Technology
David Atkinson and Robert Ewing are featured twice this month on popsci.com for their work in Trace Explosive Detection. Atkinson and Ewing proved for the first time last fall that a machine could perform direct vapor detection on common explosives, such as RDX and PETN. The machine "sniffs" the air and is able to identify explosive molecules – a long-sought "canine-like" detection ability. Now, the machine is able to detect C-4 and Semtex as well. Atkinson says "It could change the way we do screening for explosive threats." Read more online or pick up the June issue of Popular Science on newsstands now.
---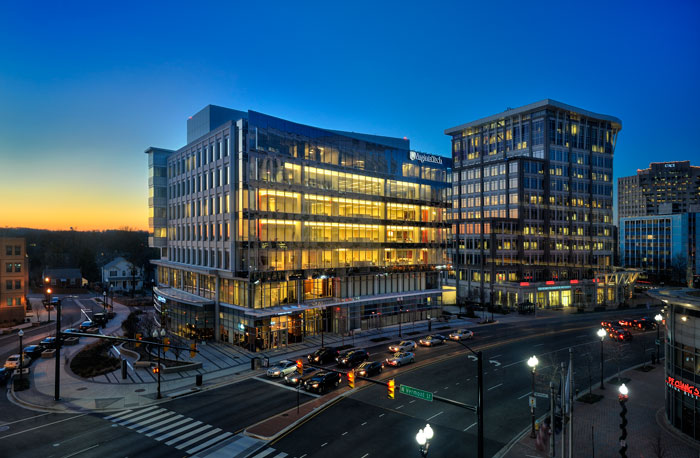 Virginia Tech Research Center
PNNL celebrated the formal opening of a new cyber lab at the Virginia Tech Research Center – Arlington in Ballston, VA during a ceremony on March 18. The lab, built on the success of the "CASCADE" project, provides NIU with state of the art student and faculty research capabilities, as well as experiential courses in advanced analytics and cyber engagement. It will also serve as a venue for PNNL, NIU, VT, and others to conduct collaborative research and development, and demonstrate PNNL's advanced analytical capabilities in the National Capitol area.
---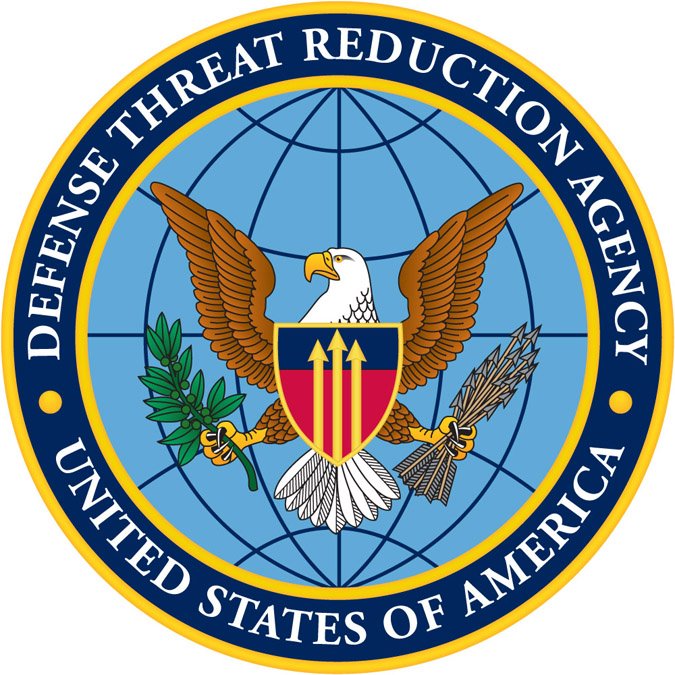 Reducing biological threats abroad
A team of Laboratory staff were lauded recently for their best-in-class biological threat reduction work in post-Soviet Georgia funded by the Defense Threat Reduction Agency (DTRA) for the U.S. Department of Defense. Roger Anderson, Laura Denlinger, and Mary Lancaster, Jamie Lovaglio, James Morris, Charles Timchalk, and Dick Weller have been engaging with Georgian stakeholders in a Biological Threat Reduction Integration Contract for Georgia in DTRA's Cooperative Biological Engagement Program. Dick Weller coordinates PNNL's efforts with the consortium that includes Battelle Columbus and CH2M HILL.
---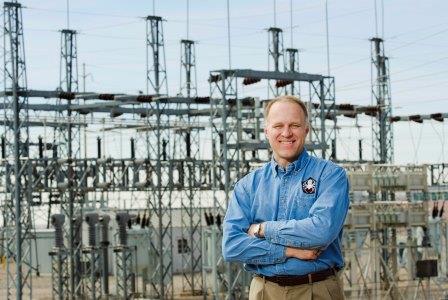 Energy reliability for the U.S. military
The SPIDERS Microgrid Project, a Joint Command Technology Development project between the Department of Energy, Department of Defense, and Department of Homeland Security, was featured recently on CleanTechnia.com. The project aims to secure energy installations on military bases. PNNL is participating as an independent testing agency, advisor for concepts of operation, and in aiding the transition into commercialization. Read more at cleantechnica.com.
---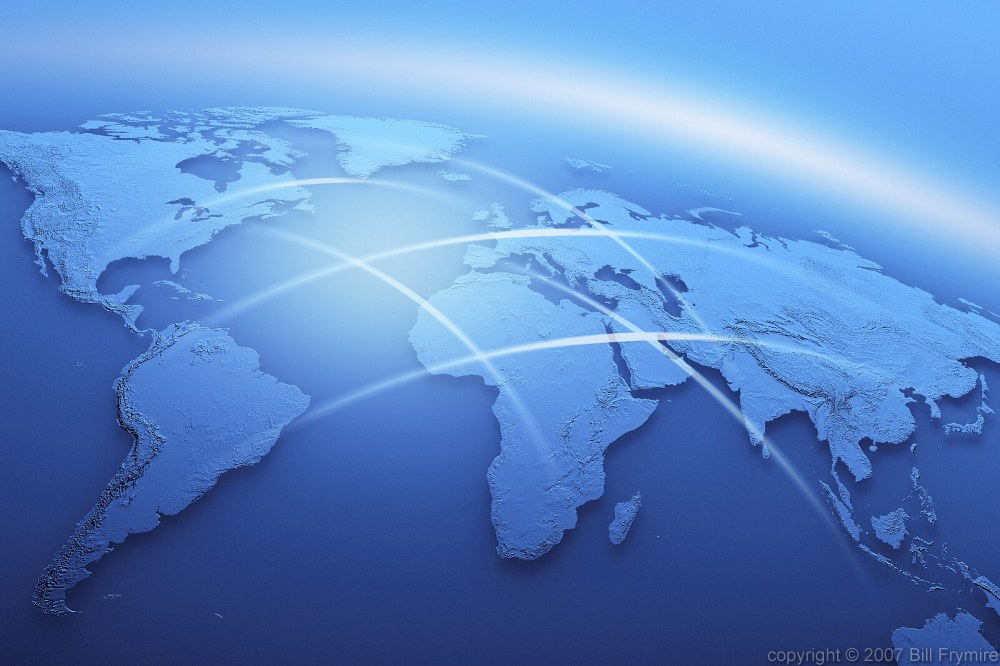 Economic analysis and U.S. policy
Tom Wood and Chris Toomey, both NSD, conducted an economic analysis on export control that was instrumental to a change in U.S. export control policy. The PNNL researchers showed that a proposed change in country categorization would have an overall positive economic impact for U.S. industry. The policy change is slated to become law this year.
---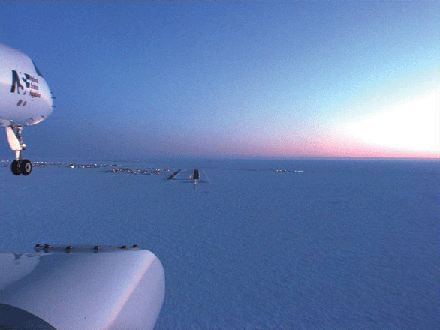 Arms-Control Monitoring
Ted Bowyer, with colleagues from the University of California, Berkeley, Stanford University, and Harvard University authored "Beyond Arms-Control Monitoring", published in the February issue of AAAS Science Journal. The article articulated the various issues with arms-control treaty monitoring and suggested two different opportunities towards advancing arms-control monitoring: CTBT IMS technology and the Open Skies Treaty
---

Professional Engineering Certifications
Jonathan Barr, Nick Lombardo, and Cody Hostick, were recently named Certified Systems Engineering Professionals by the International Council on Systems Engineering (INCOSE). INCOSE is a "not-for-profit membership organization founded to develop and disseminate the interdisciplinary principles that enable the realization of successful systems." The certification process involved demonstration of systems engineering experience and applied systems engineering knowledge.
---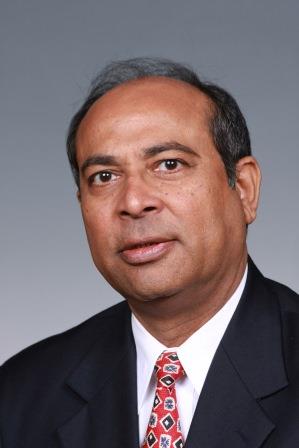 American Nuclear Society
Sam Savani, NSD, has been appointed Chair of the American Nuclear Society's (ANS) Professional Development Coordination Committee (PDCC). The PDCC is responsible for coordinating professional development activities of the ANS, including the development and delivery of workshops, special seminars and sessions at ANS meetings. The one-year term begins June 20, 2013.
---


Client Kudo
Congratulations to Mark Dillner and Patricia Godoy-Kain, PNNL Sustainability Managers for the Second Line of Defense Program. They received special recognition from DOE's National Nuclear Security Administration for exemplary work in Bulgaria and Argentina. Mark oversaw computer hardware upgrades in seven port and border crossing locations in Bulgaria. At the same time, he coordinated the acceptance test campaign of a new radiation detection system at the Sofia airport. Patricia coordinated and briefed a 10-member Congressional delegation that toured the nuclear detection installation in Buenos Aires, Argentina.
---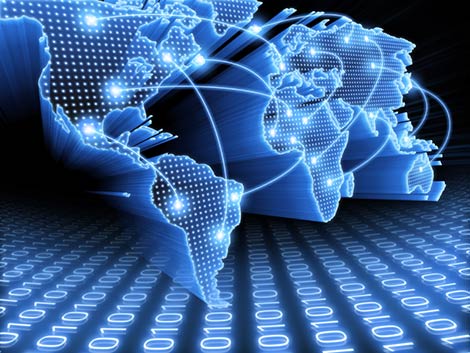 PNNL economic analysis supports U.S. policy change
A PNNL economic analysis on export control was instrumental to a change in U.S. policy that is slated to become law this year. Tom Wood and Chris Toomey analyzed the economic impact of a proposed policy change related to nuclear technology exports. Their customer: DOE's National Nuclear Security Administration, which is responsible for reviewing U.S. nuclear technology exports for potential proliferation concerns. Export trade for these kinds of items represents from $2 to $3 billion annually for U.S. industry. Using several nuclear industry forecasts as benchmarks, Tom and Chris showed that a proposed change in country categorization would have an overall positive economic impact for U.S. industry. Economists at the Department of Commerce and the National Security Council agreed with the PNNL analysis and approved the policy change for adoption. In follow-on research, PNNL has begun exploring ways to streamline the NNSA export control review process.
---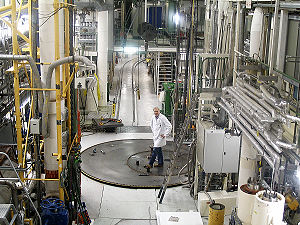 PNNL signs contract for MOX fuel tests
PNNL and Global Nuclear Fuels – America, a subsidiary of General Electric, signed a contract in January 2013 to develop and qualify mixed oxide (MOX) fuel for licensing. Planned MOX fuel tests will generate operating data that Global Nuclear Fuels – America needs to license the MOX fuel design with the Nuclear Regulatory Commission for use in boiling water reactors. Obtaining test results on MOX fuel performance is an important step in building a commercial market for MOX fuel in the United States. PNNL manages this work for the National Nuclear Security Administration.
---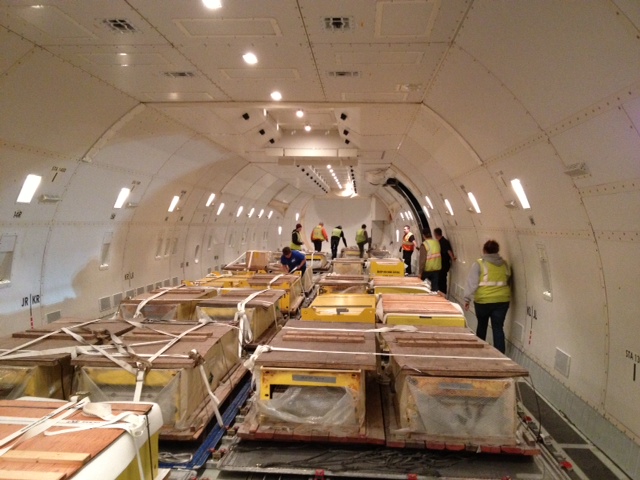 PNNL assists in Sandy recovery
When Hurricane Sandy hit the East Coast, flooding and high winds at the Port of New York/New Jersey shut down the terminals and brought trade and transportation to a standstill. Customs and Border Protection and the Domestic Nuclear Detection Office (DNDO) reached out to PNNL Radiation Portal Monitor Project staff to assist with the damage assessment and recovery efforts. PNNL's team worked long hours to identify interim solutions to bring port scanning operations back online and to develop longer-term plans to permanently restore, replace or rebuild the radiation portal monitor systems and supporting infrastructure.
---
Canopy: Making sense of data
PNNL has developed Canopy, a visual analytic software tool, to help decision makers make sense of massive amounts of data to identify threats and take action. Canopy incorporates cutting-edge extraction techniques, computer vision algorithms, text analysis and interactive visualizations allowing intelligence analysts to quickly explore and comprehend connections within large amounts of data in multiple formats including video, image and text.
---

Kudos: Mikey Brady Raap
Mikey Brady Raap has been selected as the Vice President/President Elect of the American Nuclear Society (ANS). She will be installed into her new position at the annual meeting in June. The 11,000-member society was established in 1954 to "promote the awareness and understanding of the application and of nuclear science and technology."
Mikey is currently finishing her term as ANS Treasurer and has been previously recognized by the society for her distinguished service to the ANS Criticality Safety Division.
---

Kudos: Steve Stein
PNNL is part of a consortium preparing a proposal for the Federal Aviation Administration. In a recent letter to Laboratory Director Mike Kluse, Director of the State of Washington's Governor's Office of Aerospace, Alex Pietsch, stated: "I am grateful for the assistance of Steve Stein and his colleagues at PNNL… Frankly, it is difficult to imagine where we would be if Steve had not stepped up from the very beginning to help organize our collective efforts."
---

PNNL staff in Wired magazine
Battelle's effort to design and implement a new safe confinement to cover the damaged Chernobyl reactor in Ukraine appears in December's Wired (UK) magazine. The article "Containing Chernobyl" features several PNNL staff assigned to the project, including Eric Schmieman, Michael Smith, and Don Kelly.
---

Kudos: Mikey Brady Raap
Mikey Brady Raap was appointed a member of the DOE Criticality Safety Support Group, which supports the DOE Nuclear Criticality Safety Program. Members provide operational and technical expertise involving experiments, nuclear data, methods, training, organizational structures, and criticality safety evaluations. Mikey was selected for her 25 years of exceptional experience and knowledge in criticality safety and nuclear engineering.
---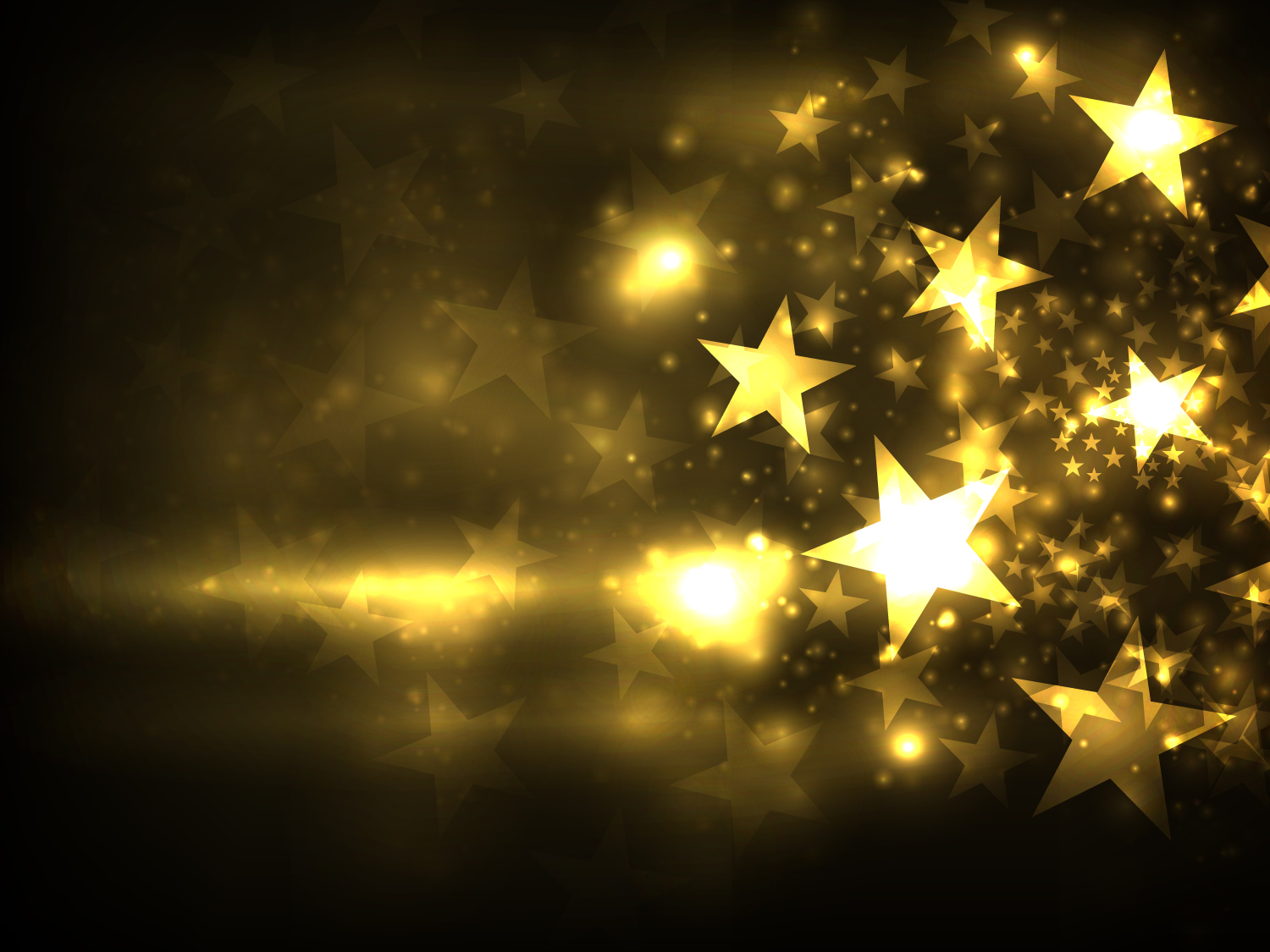 Kudos: Jim Spracklen
Jim Spracklen coordinated the response of eight volunteers from the HAMMER facility, PNNL and DOE to respond to Hurricane Sandy relief efforts. He was sent to Washington DC as an energy specialist to help organize and prioritize resources.
---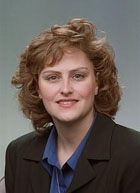 Gracio, Gorton publish new book
Deborah Gracio and Ian Gorton are co-editors of a new book, Data-Intensive Computing, Architectures, Algorithms, and Applications, released in November by Cambridge University Press and available on Amazon.com.
---

Kudos: George Muller
George Muller presented the outcome of a CSA Division Innovations project on infrastructure resilience at the Complex Adaptive Systems Conference, held November 14-16 in Washington, DC. The conference focuses on cyber security, big data analytics, and complex systems from healthcare to infrastructure.
---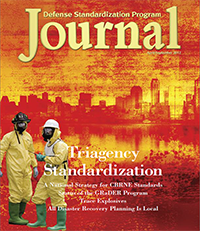 Disaster Preparedness articles published
Ann Lesperance, Jessica Sandusky and Steve Stein authored "All Disaster Recovery Planning is Local – How Grassroots Efforts Can Inform Federal Disaster Recovery "The invited article was published in the April/September issue of Defense Standardization Program Journal. Ann also authored "Addressing Key Policy Issues Before the Next Catastrophe," published in the October 2012 issue of DomPrep Journal, Medical Emergencies edition.
---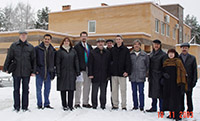 Client Kudos for a Job Well Done
PNNL staff received a letter of commendation from DOE's National Nuclear Security Administration in October 2012.
NNSA praised PNNL's work in helping Russia and other countries increase the security of their nuclear weapons and weapons-usable nuclear materials.
"We recognize the valuable contribution of the PNNL staff to ensure progress and [to] succeed in helping reduce the risk posed by nuclear proliferation and terrorism," said Art Atkins, Acting Assistant Deputy Administrator of NNSA's Office of International Material Protection and Cooperation.
PNNL also helped NNSA achieve key financial performance metrics by committing more than $146 million of program funding on 20 projects in FY 2012.
---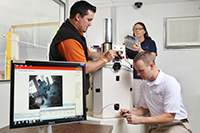 Securing Facilities Against Nuclear Theft
PNNL staff have applied physical security measures to 1,051 commercial facilities worldwide that house nuclear and radiological materials, hitting the 1,000 mark at the end of FY12. The nuclear and highly radioactive materials in these buildings, such as hospitals, food irradiation companies, and universities with nuclear engineering programs, could be targets for theft by terrorists. PNNL's work ensures that nuclear and radiological materials in those places remain readily available to workers but also protected from getting into the wrong hands. PNNL is the recognized leader of this multi-year program for the National Nuclear Security Administration's Global Threat Reduction Initiative in 80 countries, including the United States.
---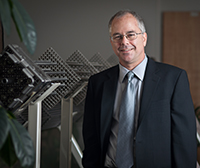 Four PNNL scientists elected AAAS Fellows
Four Pacific Northwest National Laboratory scientists have been elected fellows of the American Association for the Advancement of Science for their efforts to advance science or its applications.
The PNNL honorees and the AAAS sections that elected them are: Nigel Browning, physics; Allison Campbell, chemistry; Anthony Peurrung, physics; and Douglas Ray, chemistry.
The four will be honored at an induction ceremony Feb. 16, 2013 at the AAAS annual meeting in Boston, Mass. The four selections bring the Richland-based Department of Energy national laboratory's total of AAAS fellows to 56.
Read more: http://www.pnnl.gov/news/release.aspx?id=955
---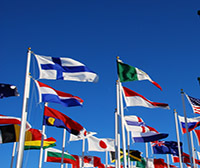 Keeping Nuclear Commodities Secure
PNNL planned and orchestrated the 22nd Plenary Meeting of the Nuclear Suppliers Group in Seattle on June 18-22, 2012. This group is the leading global forum for establishing standards for the transfer of nuclear and dual-use commodities. The goal: Keep nuclear-related exports out of the wrong hands. For the meeting, PNNL coordinated across ten government offices and managed 20 subcontracts.
---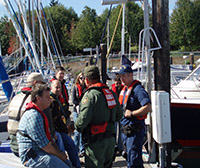 Thwarting Waterborne Nuclear Smuggling
In an exercise led by the Coast Guard, PNNL worked with 22 agencies to conduct training in Puget Sound, off the coast of Washington state. The team practiced drills to find and stop radiological and nuclear "threats" carried on boats. The goal: maintain the security of the nation's maritime transportation system.
PNNL staff involved included Bill Peterson, Ofelia Bredt, Tom Coyle, Tim Quinton, Melanie Godinez, James Ely, Jason Shergur, Mitch Woodring, Tom Sparks, Rhonda Karls, and Sue Southard.
---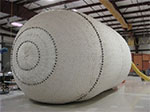 Hurricane Spotlights Tunnel Plug Concept
Huge inflatable tunnel plug under development got a lot of attention after Hurricane Sandy hit the east coast in late October. PNNL, West Virginia University, and ILC Dover are designing and testing plug prototypes for the Department of Homeland Security.
The plug inflates like a balloon to fit the contours of a tunnel and can reduce leakage. CNN and The New York Times were among the media outlets who interviewed PNNL's Greg Holter for stories about the plug.
---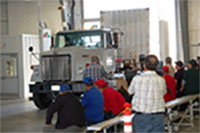 New Nuclear Security Training Facility
PNNL and others are using a new, customized building for training personnel to detect and interdict weapons of mass destruction worldwide. The 17,000-sq-ft Field Exercise Building was dedicated at DOE's HAMMER Training and Education Center in Richland on September 13, 2012. The State Department funded the $2.9 million building. The National Nuclear Security Administration will fund additional equipment for nuclear safeguards training. Since 1997, PNNL has trained thousands of border enforcement, military, and law enforcement personnel from 67 countries.
---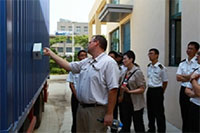 Nuclear Security in China
PNNL worked with China's Customs organization to open the new Radiation Detection Training Center in Qinhuangdao, China in September 2012. PNNL staff in the Second Line of Defense Program were instrumental in designing, equipping, and developing the training curriculum for the Center.
"This is a significant achievement in the fight against nuclear terrorism," said an official from the U.S. National Nuclear Security Administration. PNNL staff members involved with the Center included Jeff Ace, Pat Kolbas, Dave Kostorowski, Jan Reilly, Ryan Slaugh, Brian Tucker, Rhonda Walker, and Jay Wertenberger.
---

At the completion of the 14th Annual Northwest Section Meeting of the American Physical Society, Brian Milbrath became the Chair of the Section – a group comprised of over 1200 physicists from across the northwestern USA and western Canada. Prior to becoming Section Chair, Brian served as Program Chair of the meeting, which featured a record number of abstracts and approximately 250 participants. As Chair, Brian will lead the Section's Executive Committee until the end of the next Section meeting. PNNL's John Orrell is also on the Executive Committee, having completed the first year of a four-year term as Secretary-Treasurer.
---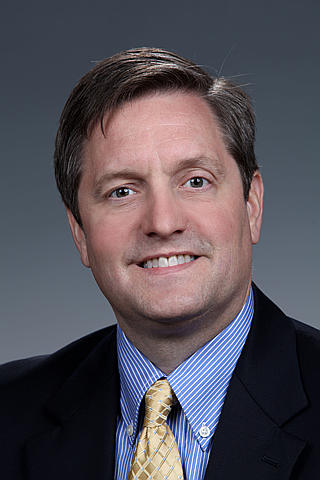 Dennis Nelson Selected as Seminar XXI Fellow
Prestigious MIT Program Helps Fellows Develop Crucial Skills to Address Problems in National Security and International Relations
Dennis Nelson, Special Programs Sector Leader in the National Security Directorate, was selected as one of 88 Fellows participating in the Massachusetts Institute of Technology 2012-2013 Seminar XXI Program: Foreign Politics, International Relations and the National Interest. Seminar XXI is an educational program for senior military officers, civilian government officials, and staff members of nongovernment organizations in the national security and international economic policy communities.
"It is an honor and a privilege to be selected as a Seminar XXI Fellow, and I am pleased to represent PNNL," Dennis said. He began the curriculum in September by attending the first of eight conferences entitled Ethnic and Religious Conflict. He is looking forward to the next topic, Islam and Democracy in Iran and Turkey, which will also cover how these nations view the current conflict in Syria.
Through its conferences, Seminar XXI Fellows focus on developing the analytic skills crucial to identify and comprehend disparate perspectives and evaluate the range of available options to address problems in national security and international relations.
Dennis notes that the conferences also offer tremendous networking opportunities, and he has already interfaced with special programs clients as a result of his participation in Seminar XXI.
---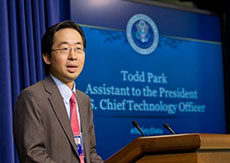 Datapalooza Rocks Applications for Secure, Clean Energy Future
PNNL was well-represented at the White House's Energy "Datapalooza," the latest in a series of White House-sponsored events designed to showcase innovative applications using government-sponsored, publicly available large data sets. The invite-only event on October 1 brought together dozens of senior government leaders, including hosts Federal Chief Technology Officer Todd Park and Energy Secretary Steven Chu, and private sector entrepreneurs to demonstrate how energy data is fueling new products and services aimed at energy efficiency and grid modernization. Jason Fuller, project manager in the Energy and Environment Directorate, demonstrated a GridLAB-D application involving solar penetration via a new graphical interface developed by staff in the National Security Directorate, including Oriana Love, Joe Bruce, and Art McBain, and reported significant interest in the tool at the event.
---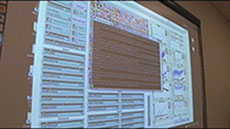 PNNL technologies were featured on local NBC affiliate station KNDU's newscast on September 21. The story, "Battelle and CBC partnering on cyber security program to meet growing need for specialists" highlights Battelle's recent generous donation and partnership with Columbia Basin College to launch a cybersecurity program at their Pasco campus.See article and video.
---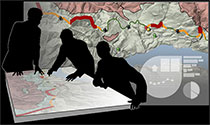 PNNL's Precision Information Environment (PIE) was recently featured on the Aol Government blog in the article "DOE Wants Big Data To Mix, Blend Information For Users." The article also prominently displayed the PIE video.
---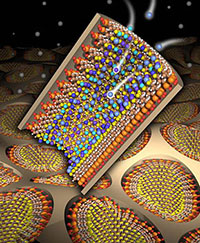 PNNL Wins ACS Team Innovation Award
Recognized for its research collaboration and creativity, a PNNL team will receive the American Chemical Society 2013 Award for Team Innovation for the Advanced Carbon-dioxide Removal Unit (also known as the ACRU). The award, which has gone to teams from corporate giants like DuPont, 3M, and Pfizer in the past, will be presented at the ACS Spring Meeting in New Orleans in April for first-time recognition for a national laboratory in this competition. The award-winning team applied PNNL's SAMMS® technology to create a new and effective solution to the critical challenge of removing carbon dioxide from breathing air aboard U.S. Navy submarines.
April Carman, project manager from the National Security Directorate, and Ken Rappé and Dustin Caldwell, both of the Energy and Environment Directorate, will share the award with former staff members Glen Fryxell and Tom Zemanian. Earlier this year, ACRU won an R&D 100 award and a Federal Laboratory Consortium Interagency Partner Award. April, Ken, and Dustin all expressed gratitude for the ACS honor and for the capabilities of the many past and present staff members who contributed to ACRU's success. "Hard work pays off," Dustin said.
PNNL's solution to the U.S. Navy's challenge began ten years ago when researchers applied SAMMS® technology to develop a granular sorbent material to target and remove carbon dioxide from breathing air. Staff members whose expertise in chemistry, chemical engineering, materials science, nanomolecular structures, mechanical engineering, and systems and controls collaborated to take the ACRU from a concept in the laboratory to a deployable system (being manufactured by the Hamilton Sundstrand Corporation ) that is scheduled for installation (testing and evaluation) in a Navy submarine in 2014.
---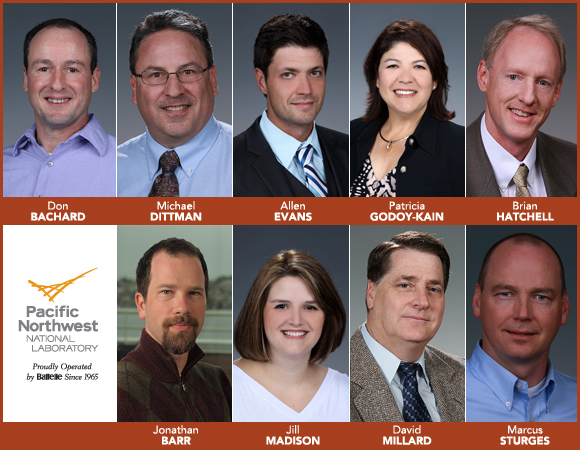 PNNL Staff Members Achieve Systems Engineering Certification
Pacific Northwest National Laboratory congratulates nine staff members who earned professional certification with the International Council on Systems Engineering. Mike Dittman, David Millard and Mark Sturges earned the Certified Systems Engineering Professional certification, recognizing their career project and academic expertise. Don Bachand, Jon Barr, Allan Evans, Patricia Godoy-Kain, Brian Hatchell, and Jill Madison earned the Associate Systems Engineering Professionals certification. All the newly certified staff members now join the growing cadre of trained and qualified professionals at PNNL who use the key process activities performed by systems engineers to solve their customer's problems, from development through deployment.
---
Nuclear Security Summer School
Preparing the next generation of nuclear security experts
PNNL hosted the Radiation Detection for Nuclear Security Summer School. The course offered students hands-on training in detecting nuclear materials across a range of nuclear security missions. The goal: prepare future leaders in science and engineering for careers within the U.S. national laboratory system or federal government agencies responsible for nuclear security.
The course, jointly sponsored by PNNL and the National Nuclear Security Administration, emphasized laboratory and field demonstrations, including direct measurements of special nuclear material and tours of nuclear facilities. Training activities also addressed issues faced by policy makers who negotiate nuclear treaties and agreements, as well as technical seminars given by leading U.S. scientists in nuclear security.
---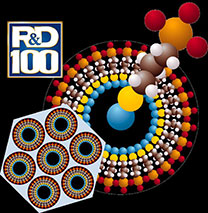 PNNL Garners Two R&D 100 Awards
Both technologies offer significant implications for the nation's security
The Advanced Carbon-dioxide Removal Unit–or ACRU–is an air-purification system that uses a granular sorbent material developed at PNNL, to target and remove CO2 from breathing air in confined spaces (e.g., submarines). Due to the sorbent's longevity, the system can effectively operate for long periods of time. from breathing air in confined spaces (e.g., submarines). Due to the sorbent's longevity, the system can effectively operate for long periods of time.
New battery materials based on small quantities of graphene–ultra-thin sheets of carbon atoms– can dramatically improve the performance and power of lithium-ion batteries. The batteries allow electric vehicles and other products to recharge in a fraction of the usual time. The award is shared with Princeton University and Vorbeck Materials Corp.
---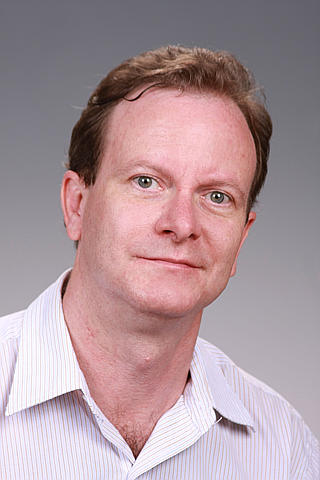 Staff Influencing Policy
PNNL's Kyle Bunch received the IEEE-USA Engineering & Diplomacy Fellowship; he will spend one year working in Washington D.C. serving as a technical adviser to the U.S. Congress and to key U.S. Department of State decision-makers.
The fellowship links science, technology and engineering professionals with government, and provides a mechanism for IEEE's U.S. members to learn first-hand about the public and foreign policy process while imparting their knowledge and experience to policymakers.
(Sept.,2012)
---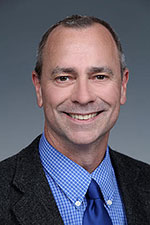 Hats Off to an Exceptional Engineer
Jim Hayes was recognized with the Laboratory Director's Award for Exceptional Engineering Achievement for his leadership in international treaty monitoring and as a technical resource in non-proliferation research.
(Sept. 2012)
---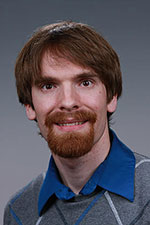 Outstanding Contributions to STEM Education
Eric Bell received the Fitzner-Eberhardt Award for Outstanding Contributions to Science and Engineering Education through research experiences for students, teachers, and faculty; curriculum development and enhancement; career guidance and mentoring; and enhancement of public understanding of science.
The award celebrates staff who have made significantly deep and broad impacts to the Laboratory's Science, Technology, Engineering and Mathematics (STEM) education programs. Eric has been heavily involved with Delta High school as well as scholastic math competitions, science fairs, and other activities.
(Sept. 2012)
---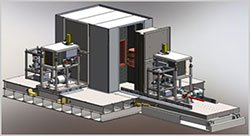 Underground research receives national media exposure
The Sanford Underground Research Facility (SURF) laboratory, located in South Dakota, has recently received a flurry of national press. Located almost a mile underground, the SURF laboratory is a host to many projects focused on advancing our understanding of the universe. The Majorana DEMONSTRATOR experiment, one of two early science experiments at the facility, is a collaborative effort consisting of PNNL and eighteen institutions from four countries in search of an ultra-rare nuclear decay (neutrinoless double beta decay) that may shed light on the matter-antimatter asymmetry of the universe.
PNNL staff lead the production of ultra-pure copper for the Majorana experiment. Ultra-pure copper is required to reduce the backgrounds from naturally occurring radioactive isotopes and is produced both at PNNL's Shallow Underground Laboratory as well as at the SURF laboratory's Temporary Clean Room located 4850 feet below ground near the Ross shaft. Additionally, a significant portion of the cooling systems and detector housing designs for the Majorana experiment were developed at PNNL. Currently, PNNL staff are involved in the setup of the Majorana experiment in the Davis Campus at the SURF laboratory. The Davis Campus is named for the Nobel Prize scientist Raymond Davis, Jr. who pioneered neutrino science underground at what has become the SURF laboratory. Data collection and analysis from the Majorana experiment are expected to begin in 2013.
(Sept. 2012)
Read more at the Wall Street Journal Online or listen to NPR's recent coverage.
---
National Security Directorate research team credited with 2011's third most downloaded article
The publication, Nuclear Instruments And Methods In Physics Research Section A (NIM-A), has credited a team of researchers within NSD for having the third most downloaded NIM-A article in 2011. Congratulations to Dick Kouzes, James Ely, Azaree Lintereur, Mitchell Woodring, Daniel Stephens, and Emily Mace on this notable achievement.
The research paper focuses on the shortage of Helium-3 used in neutron detection applications – namely radiation portal monitor systems – and how this shortage has triggered the search for effective alternative neutron detection technologies for national security and safeguards applications. It was the culmination of a team effort in this area of research of significance to national security.
---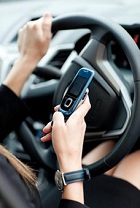 Paper accepted for IEEE conference
PNNL Technology to Address Deadly Texting While Driving Epidemic
Driving while texting has been described as a deadly epidemic. A team of scientists and engineers at PNNL have discovered a "distracted driver" signature with the potential to help mitigate this significant problem.
IEEE has selected the team's paper "Autonomous Detection of Distracted Driving by Cell Phone" for presentation and publication at its October conference on Intelligent Transportation Systems in Washington, D.C. Written by Michael Watkins, Ivan Amaya, Michael Hughes, Paul Keller, National Security Directorate; and retiree Edward Beck, the paper fits with the conference theme of safe, secure and sustainable transportation. Watkins has been invited to co-chair the session on "Driver Assistance Systems."
"This technology can be used to program a commercial cell phone to recognize when it's being used by a distracted driver," said Michael Watkins, principle investigator and project manager.
The new algorithm reveals the level of cognitive distraction or attention deficit associated with the act of texting while driving. The approach combines texting and global positioning dynamics to provide a reliable signature that the cell phone user is actually driving and not a passenger.
The new technology could be used to warn a phone user, disable the texting function, switch to voice recognition texting, or report the texting activity to an employer for mass transit, cargo or commercial drivers. The technology also has potential for being used as a research tool for better understanding the dynamics of distracted driving. Additional applications include using the technology to assess how fatigue impacts performance of tasks.
Go to the IEEE website to read the article.
View the following news coverage:
(March 2012)
---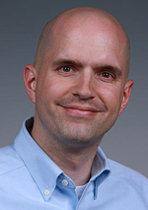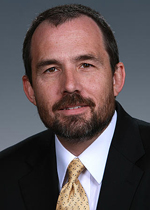 Five PNNL scientists, including NSD's Nathan Baker and Ted Bowyer, have been elected AAAS Fellows.
Nathan is the chief scientist for Signature Sciences and the Signature Science Initiative. Ted is internationally recognized in nuclear proliferation and nuclear physics and manages the Nuclear Explosion Monitoring and Policy program. These new selections bring PNNL's total of AAAS Fellows to 52. (December 2011)
---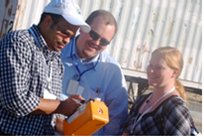 PNNL Hosts Safeguards Networking Group
Early-career safeguards professionals from across the DOE complex converged on PNNL in September for an intense, four-day learning experience about safeguards inspection challenges and resources. The event was designed to increase the National Nuclear Security Administration's future safeguards capacity by building a strong network and diverse skills of young professionals. The event also increased their familiarity with the facilities, capabilities, and resources available at PNNL, thus laying the groundwork for future collaboration.
---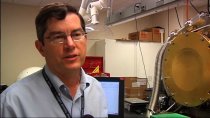 MARS on the move
PNNL is adapting the Multi-Sensor Airborne Radiation System (MARS) for first-time deployment on a helicopter in late 2011. Researchers have been developing and testing the system to support nonproliferation objectives of the... Read more...(October 2011)
---

Schematic logic-flow diagram of computational approach adopted for the detector response research
The detection of gamma-rays emitted by radionuclides is a fundamental technique for radioactive material detection, identification, and assay. And although several detector materials currently exist, the search for novel materials remains a priority. The Energy Resolution Study, now underway, is examining the variation of gamma-ray spectroscopic performance as a function of several detector material properties, including energy resolution and intrinsic efficiency. The assessment is intended to help guide the formulation of performance goals for new detector materials and will provide guidance to the sensor design community.
(September 2011)
---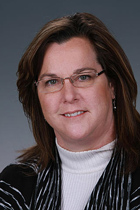 Mikey Brady Raap Recognized for Fukushima Support
Michaele "Mikey" Brady Raap, an engineer in the Nuclear Systems Design, Engineering and Analysis group, has been recognized by the American Nuclear Society (ANS) with a Special Recognition Award for her contribution to the ANS Fukushima, Japan Rapid Response Effort.
The citation was for, "her contributions supporting the response to events in Fukushima, Japan, in order to ensure credible nuclear science and technology information was provided to the media, decision makers and general public. It is the dedication of members such as Michaele who enable the Society to be relevant and a strong advocate for the nuclear community as a whole."
As the ANS Chair for the Professional Divisions Committee, Mikey coordinated efforts to harness the technical expertise of the ANS professional divisions to help address the Fukushima situation. This broad range of expertise made it possible to collect and share credible information for understanding the incident and concerns related to radiation exposure and impacts. "I also was able to engage the Health Physics Society on some of these responses due to my working relationship with PNNL staff member, Kathy Pryor who is now president of the Health Physics Society" Mikey added.
Mikey also was involved with the development of the ANS technical brief, "The Impact of Mixed Oxide Fuel Use on Accident Consequences at Fukushima Daiichi."
(August 2011)
---
Majorana Project in Search of Rare Radioactive Decay
Working as part of a collaborative team, PNNL is bringing its signature capability in ultra-low-level counting to help search for a rare form of radioactive decay, never before detected, called "neutrinoless double-beta decay." The team is managed by Oak Ridge National Laboratory.
The Majorana Demonstrator project could help determine the mass and understand the properties of neutrinos, one of Nature's fundamental sub-atomic particles.
The project requires the lowest possible radioactive background environment, so copper used to shield the experiment will be manufactured underground in an ultra-pure form, a PNNL-developed technology, to protect against any naturally occurring radioactive impurities. The copper made underground, shortly, will be the highest purity copper in the world.
Sponsored by the DOE Office of Science, Office of Nuclear Physics, the Majorana Demonstrator project will be one of two experiments conducted in the Sanford Underground Laboratory (SUL) at the 4850 foot level of the Homestake mine in South Dakota. The location deep underground in the mine shields against the cosmic radiation always present on the earth's surface.
Staff members from PNNL involved in the Majorana project include Tani Aguayo, Jim Fast, Eric Hoppe, Brian LaFerriere, Jason Merriman, John Orrell, Nicole Overman, National Security Directorate; Dick Kouzes, Fundamental and Computational Sciences Directorate; and Doug Reid, Energy and Environment Directorate.
(August 2011)
---
Modeling the Impact of Science Policies on Scientific Workforce Growth
The National Institutes of Health has awarded a grant to NSD of $1.3M over four years to develop an evidence-based model of how science and innovation policies affect the scientific workforce to help policymakers and other stakeholders design and test interventions that are more effective in promoting sustainable growth of jobs in science and engineering.
The project, led by Antonio Sanfilippo, Knowledge Discovery & Informatics, will concentrate on the biomedical field to evaluate how research and educational investments by sponsoring institutions have favored or inhibited the growth of the scientific workforce within the past 10 years.
The proposal came out of the NSD Technosocial Predictive Analytics Initiative (TPAI) research. Antonio is the initiative lead.
(August 2011)
---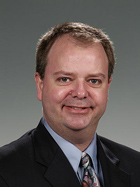 Low Noise Quantum Cascade Laser Current Controller receives regional technology transfer award
The Federal Laboratory Consortium (FLC) Far West Region has bestowed a 2011 award for Outstanding Commercialization Success upon the Low Noise Quantum Cascade Laser Current Controller (QCL). The award recognizes the creativity and effectiveness of federal laboratories in using various mechanisms to help transfer lab-developed technology to market.
The QCL is a laser power source that when used in laser-based gas sensors enables scientists to more accurately detect smaller levels of trace gases than would otherwise be possible. Matthew Taubman, National Security Directorate, was instrumental to its transfer, diligently pursuing a number of commercialization possibilities for over five years before approaching Wavelength Electronics Inc (WEI) of Bozeman, Mont. Funding from PNNL's Technology Assistance Program enabled a critical product demonstration that led to WEI's decision to license the technology, followed immediately by an order of seven prototypes by a major WEI customer.
In addition to the 2011 FLC Far West Region Award, the technology was recognized earlier this year as a winner of a national 2011 FLC Awards for Excellence in Technology Transfer.
(August 2011)
---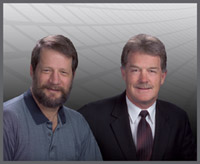 Barinaga, Koppenaal Receive R&D 100 Award
Charles Barinaga, NSD, along with David Koppenaal, FCSD, have been honored with an R&D 100 Award for their technology Array Detection Technology for Mass Spectrometry. Sponsored by R&D Magazine, the prestigious R&D 100 Awards are widely regarded as the Oscars of invention, and recognize the 100 top innovative technologies of each year.
Array Detection Technology for Mass Spectrometry represents a breakthrough in mass spectrometry detectors. Advances enabled by this technology allow an entire composition of a test sample to be analyzed in a single run, which saves time, increases efficiency, and considerably simplified the analysis process. This technology is licensed to Spectro/Ametek.
(July 2011)
---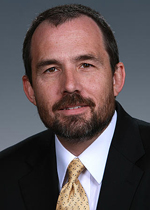 Bowyer Selected as Laboratory Fellow
Ted Bowyer has been selected as one of seven 2011 Laboratory Fellows. Ted is an internationally recognized expert in nuclear physics, specifically the detection at extraordinarily remote locations of extremely low level airborne radioactive emissions that are definitive signatures for nuclear explosions.
Laboratory Fellows have made significant contributions to their field and are internationally recognized by their peers for their leadership and creativity. The newly selected Fellows will be recognized along with winners of the Laboratory Director's Scientific and Engineering Achievement Awards at an upcoming ceremony.
(July 2011)
---

Mobile Radiation Detection Systems Rolled Out for INTERPOL Members
PNNL staff and their DOE National Nuclear Security Administration (NNSA) program manager displayed a mobile detection system at a conference on preventing global radiological and nuclear terrorism in Lyon, France, in May 2011. INTERPOL, the International Criminal Police Organization, invited the team to display the system to coincide with the launch of INTERPOL's Radiological and Nuclear Terrorism Prevention Unit.
The system includes a high-tech van, backpack, and other portable equipment for detecting radiological materials. NNSA developed the systems and makes them available to partner countries worldwide. PNNL experts in radiological science and systems engineering lead the deployment, providing tailored, hands-on training with realistic scenarios for each country's law enforcement officials. PNNL also works with NNSA to develop transition strategies that the countries use to sustain the mobile detection capabilities over time.
Eight countries now use the mobile equipment, with 17 more at the conference expressing interest, paving the way for deployment in more countries.
(June 2011)
---

David McKinnon: 2011 Fitzner-Eberhardt Award Winner
David recently received the Fitzner-Eberhardt Director's Award for Outstanding Contributions to Science and Engineering Education. David is very active in IEEE, and is currently the Richland Section Chair. He is an important contributor to regional and state First LEGO League events, helping organize the initial regional tournament. David was recognized as being a dedicated mentor and advocate for PNNL.
The Fitzner-Eberhardt Award celebrates staff who have made significantly deep and broad impacts to the Laboratory's STEM education programs. EED's Darrell Fisher was also a 2011 Award recipient.
Congratulations to David and Darrell!
(May 2011)
---
Bridges recognized as a Distinguished Woman in Chemistry
Novella Bridges, a chemist who has helped develop processes to reduce diesel emissions in vehicles and create therapeutic agents for cancer treatments, has been named one of 14 Distinguished Women in Chemistry/Chemical Engineering by the International Union of Pure and Applied Chemistry, or IUPAC.
The awards were made by IUPAC to mark the 100th anniversary of the Nobel Prize in chemistry awarded to Marie Sklodowska Curie. Bridges, who has worked at PNNL since 2000, and the other international recipients will be honored at a ceremony during the IUPAC World Congress in San Juan, Puerto Rico, Aug. 2.
(May 2011)
---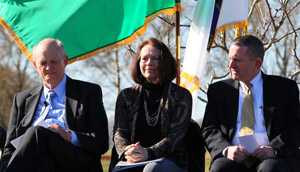 PNNL, federal leaders, community celebrate completion of $300 million replacement facilities project
A state-of-the-art nuclear detection laboratory, large detector laboratory, outdoor test track, and other new facilities at Pacific Northwest National Laboratory (PNNL) will play a crucial role in support of national security efforts to implement President Obama's ambitious nuclear agenda.
PNNL, federal leaders, and the Tri-Cities community celebrated the completion of the Capability Replacement Laboratory (CRL)—the largest construction project in PNNL's 46-year history. About 750 staff are now at work in renovated buildings or in state-of-the-art offices and laboratories designed to provide space for the nation's cutting-edge science for decades to come. A ceremony marking the completion of the CRL was held at PNNL on April 19, 2011. PNNL news release.
The CRL will allow PNNL to maintain and grow vital science, energy and national security programs funded by the Department of Energy, National Nuclear Security Administration, Department of Homeland Security, National Institutes of Health, and others.
The Physical Sciences Facility is a 200,000-square-foot laboratory jointly funded by the National Nuclear Security Administration, DOE's Office of Science, and the Department of Homeland Security. This $224 million complex comprises several separate buildings containing unique, state-of-the-art equipment.
At the Radiation Detection Laboratory and the Ultra-Trace Laboratory, PNNL scientists develop and apply radiation detection methods needed for identifying weapons of mass destruction and terrorist activities, and in support of international treaties and agreements.
The Large Detector Laboratory and accompanying Radiation Portal Monitoring Test Track are used, in part, to develop and test radiation detection technologies designed to be deployed at U.S. borders and ports of entry. The Underground Lab is located 40 feet below ground and supports important homeland and national security missions including the development and advancement of radiation detection technologies.
The CRL is an essential piece of the 'security puzzle' to develop technologies and applications for securing vulnerable nuclear material around the world; to working to end the use of highly enriched uranium; to preventing terrorists from stealing and smuggling nuclear and radiological material; to strengthening the nuclear nonproliferation regime; and to strengthening export controls.
The National Nuclear Security Administration, Homeland Security and Defense and Special Programs sectors played a significant role in hosting clients during the celebration. Through multiple facility and laboratory tours, visitors received a sampling of PNNL's extensive science, technology, and testing infrastructure and research projects that support the Laboratory's national security mission.
(April 2011)
---
Article published in Journal of Water and Health
An article by PNNL scientists Timothy M. Straub, Rachel A. Bartholomew, Nancy B. Valentine, Alice Dohnalkova, Richard M. Ozanich, and Cynthia J. Bruckner-Lea, along with researchers at Washington State University, has been published in the Journal of Water and Health.
"Human norovirus infection of Caco-2 cells grown as a three-dimensional tissue structure" is the result of a study of human norovirus (hNoV) infectivity studied using a three-dimensional model of large intestinal epithelium.
(June 2011)
---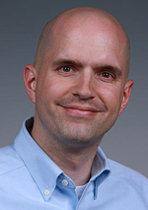 Nathan Baker featured on DOE's Energy Blog
Nathan was featured in a recent edition of DOE's Energy Blog in the post: "10 Questions for a Signature Scientist: Nathan Baker." Throughout the blog article, which is in a Q&A format, Nathan discussed how an early fascination with computers and really fantastic college professors sent him down the path of research science that led him to where he is today. He goes on to discuss his current role at the Laboratory, as well as projects he is involved with.
Chief Scientist for Signature Science and the Signature Discover Initiative since 2010, Nathan's research expertise is in the areas of computations biophysics, nanotechnology, and informatics. He is the lead for the National Cancer Institute Cancer Biomedical Informatics Grid (caBIG®) Nanotechnology Working Group and Chair for the ASTM E56.01 Subcommittee on Nanotechnology Informatics.
(June 2011)
---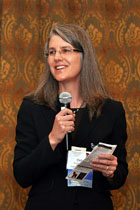 Deb Frincke chairs IEEE Symposium
Deb recently chaired IEEE's Symposium of Security and Privacy. In its 32nd year, the symposium is "the premier forum for presenting developments in computer security and electronic privacy, and for bringing together researchers and practitioners in the field." The symposium was co-sponsored by the IEEE Computer Society Technical Committee on Security and Privacy and The International Association for Cryptologic Research.
In the week following the symposium, there were more than a dozen articles published worldwide covering papers or work presented at the symposium in media outlets including the New York Times, New Scientist, IEEE Spectrum and PhysOrg.com.
(June 2011)
---

Laser-powered chemical analysis of hair featured in Wired, ScienceNOW
PNNL scientists, including NSD's Jim Moran and Helen Kreuzer, have developed a new technique that can take dozens of samples from a single piece of hair and distinguish between the signatures in each sample. This method, which utilizes an ultraviolet laser, allows for measurements of carbon isotopes over time instead of the standard method in which measurements from entire samples are averaged.
This technique will be useful for forensic scientists Moran said. "The carbon you eat goes into your hair, so hair is a record of carbon ratios. If you've been traveling, I could guess which countries you've been to or what you ate." The team is also working to develop techniques that would work with other isotopes including nitrogen, oxygen and sulfur.
The research was featured in the April 12 issue of Rapid Communications in Mass Spectrometry and has additionally been covered online at Wired and ScienceNOW.
(April 2011)
---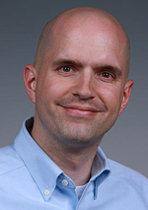 Baker selected as editor-in-chief
Nathan Baker has been appointed editor-in-chief of Computational Science & Discovery. In his role Nathan will oversee peer review, lead the editorial board, and take responsibility for the scientific content and development of the journal. Nathan has served on the CSD editorial board since 2009 and will take up his new role May 1.
Nathan's diverse research background and interests make him a natural fit to lead CSD — an international, multidisciplinary computational science journal. As PNNL's chief scientist for Signature Science, Nathan is also well known for his Adaptive Poisson-Boltzmann Solver software, which is freely available to the scientific community and now has more than 15,000 registered users.
(April 2011)
---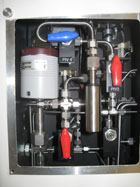 Adsorption analyzer improves efficiency of advanced gas processing systems
Advanced gas processing systems are used for important national security applications, such as nuclear explosion monitoring. There is an ongoing need to reduce the size, weight, and power consumption of these systems in order to facilitate their use. To address this need, PNNL has researched gas processing methods that would significantly improve the overall efficiency of the systems, and was awarded GRE funding to procure a state-of-the-art adsorption analyzer.
The adsorption analyzer is used to measure the various physical properties of adsorptive materials used in gas processing systems. It will significantly impact the development of new gas processing systems and help our basic science efforts by providing fundamental physical property measurements of a wide range of adsorbent materials. With this fundamental data in-hand, researchers can accurately simulate the performance of different gas processing systems before they are built; increasing efficiency of time and resources.
---
PNNL Physicist and the Belle Collaboration First to Observe the Sub Atomic Particle Hb
PNNL physicists working with the Belle Collaboration were the first to observe two long-sought quantum states in the bottomonium, Hb, family of sub atomic particles. The result will help researchers better understand one of the four fundamental forces of the universe—the "strong force"— that helps govern interactions of matter.
Most people have heard of gravity and electromagnetism but these are only two of the four forces studied by physicists. Researchers need to explore the other two, the so-called strong and weak forces. Dr. David Asner, a member of the Belle Collaboration, and the lead physicist from PNNL has focused on exploring the "strong force" to get a better understanding of the universe.
The result of the measurements that Asner and his collaborators have made represent a significant advance in the understanding of the bottomonium system. Understanding how these systems operate will help collaborations and other scientists test the strong force and its role in the universe.
(April 2011)
---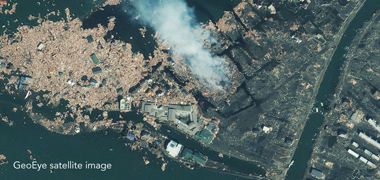 PNNL Technology Detects Fukushima Radiation
The article "Elevated radioxenon detected remotely following the Fukushima nuclear accident" is slated to run in the July issue of the Journal of Environmental Radioactivity. PNNL contributors include Ted Bowyer, Matt Cooper, Paul Eslinger, Harry Miley, Daniel Strom, and Vincent Woods.
Radiation Fears Cloud Japan's Recovery, New York Times


(March 18, 2011)

PNNL detects more minute radiation from Japan, Tri-City Herald.


(March 18, 2011)

Radiation risks unknown
Scientists struggle to calculate long-term effects of low-dose exposures in Fukushima. Nature Magazine


(March 22, 2011)

KNDU-TV (NBC affiliate from Tri-Cites) visited PNNL on Tuesday to do a story about the technology that resides and was developed here. The reporter interviewed PNNL's Chris Aardahl.


(March 22, 2011)
Learn more about PNNL's radiation detection capabilities from the Fukushima nuclear reactor.
---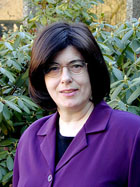 Evelyn Hirt Awarded University of Detroit Mercy 2011 Engineering Alumna of the Year
Evelyn's multi-disciplinary career in engineering and management spans over 37 years, 16 years at PNNL. She is the immediate Past-President of IEEE-USA, and has served on the American Association of Engineering Societies' and IEEE's Board of Directors. In 2010 alone, she was a guest speaker at numerous gatherings covering topics such as STEM education, Systems Engineering, and volunteerism. Evelyn is also active in Team Battelle's For the Love of Giving and Delta High School projects.
Most recent recognition includes:
Scientific and Technical Achievement Recognition Award, PNNL, 2009
IEEE Nanotechnology Council's Distinguished Service Award for dedicated and enthusiastic service and contributions to the Nanotechnology Council, 2008
IEEE-USA's Robert S. Walleigh Engineering Professionalism Award for enthusiastic leadership and contributions in a wide range of IEEE-USA professional activities, 2008
Scientific and Technical Achievement Recognition Award, PNNL, 2008
Congratulations Evelyn!
(April 2011)
---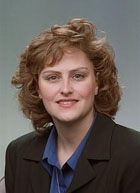 Deb Gracio selected as WSU's 2011 Woman of Distinction
Congratulations Deb Gracio, Washington State University's 2011 Alumni Woman of Distinction. Deb joined PNNL in 1990, shortly after acquiring her Electrical Engineering degrees from WSU. She serves on the executive advisory board for WSU's School of Electrical Engineering and Computer Science, and is a dedicated mentor to engineering students and interns.
Deb has a passion for helping others as demonstrated through her philanthropic service with Habitat for Humanity. As the project manager for a recent Women Build project, "Deb was a role model, promoting team spirit and emphasizing synergy," stated Theresa Richardson, Executive Director for Habitat for Humanity Tri-Cities.
(March 2011)
---
Zentner and Blackburn interviewed on KONA radio
On March 16, Michael Zentner and Tye Blackburn were invited to speak on KONA 610 Information Radio about issues related to the safety of nuclear power plants. The goal of the interview was to help inform listeners about nuclear reactor issues in an emergency situation.
Michael and Tye addressed topics as they apply to US nuclear power plants including:
The safety features nuclear power plants
Upgrades to safety performed after 9/11
How nuclear plants are licensed
How plant systems work in an emergency like a quake or tsunami
Information about radiation levels and worker safety
(March 2011)
---
PNNL Praised for work with KPD
The Kennewick Police Department (KPD) commended Terence Critchlow and his team for their work in support of their Analysis Deployment project. Their work enabled increased functionality on the BI-county Police Information Network's Everest system and is already paying dividends in the form of directed investigative efforts and increased arrests.
"We are pleased that DHS and the PNNL / LLNL team have chosen to work with us to develop and deploy this novel, impactful, analysis capability," stated Chief Ken Hohenberg, KPD. "We have greatly benefited from your support of this engagement, and have enjoyed working with the Lab team."
(March 2011)
---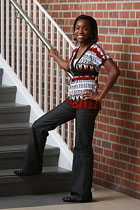 Jewel Adgerson featured on DOE's Energy Blog
In honor of Women's History Month, DOE's Energy Blog is featuring a weekly story about a woman involved in engineering or science. Recently, Jewel Adgerson was featured in the post: From Gadgets to Labs: Morgan State Alum Jewel Adgerson. The article covered how Jewel decided early that she wanted to be an electrical engineer and, with the support of her mom, and good amount of hard work, she succeeded.
The article also features Baltimore's Morgan State University, where Jewel received her undergraduate degree and also where Secretary Chu recently visited to discuss the importance of STEM education. Morgan State is a participant in DOE's Minority Educational Institutions Student Partnership Program as well as the Department's Energy Innovation Lab. The school rates first in the state of Maryland at awarding science and engineering degrees to African American students.
(March 2011)
---

Deb Frincke, Chief Scientist of Cybersecurity, was invited to participate in the National Academy of Sciences, Government-University-Industry Research Roundtable (GUIRR) on Cyber Security.
The meeting, Cybersecurity in the Coming Decade: Using Security to Support the Value of Intellectual Property was held in February 2011. GUIRR provides a forum for federal science and technology leadership to have an open dialogue and informal exchange of ideas. Their thrice-yearly Roundtable meetings seek to stimulate new approaches by engaging leaders in government, university and industry.
(March 2011)
---

Terrorists taunts may tell attack timing
PNNL at the 2011 AAAS Annual Meeting. USA Today.
(February 2011)
---
PNNL recognized for food safety technology
PNNL has been recognized with the 2010 Cluster Partner of the Year Award by the Northwest Food Processors Association (NWFPA) for its work to convert rapid detection technology for food processing. Tests currently available to detect the food pathogen, Listeria monocytogenes, can take up to 36 hours to produce results. The NWFPA hopes to reduce this detection time to only eight hours with the use of PNNL's technology.
Additionally, PNNL is working with the NWFPA to increase energy efficiency within the food processing industry. Food processors within the northwest have set an aggressive goal of reducing their energy usage by 25% within the next ten years.
(February 2011)
---
Susan Senner accepts co-chair position
Susan Senner has been selected as the co-chair of Kadlec Medical Center's Patient Advisory Council. Sue has been volunteering as part of the Council for a number of years, and in her new role will help provide leadership to the growing Council and its evolving mission.
"I'm most excited about your passion for helping to lead this committee and bring better care for our patients," stated Brian Payne, Kadlec's Planetree Coordinator. "As a bonus, I think that you have some great qualifications in management and communication that will be invaluable to the success of our team."
(February 2011)
---
PNNL visualization tool on Jeopardy
Screen shots of PNNL's GreenGrid power grid visualization tools were shown in a video during the February 15th episode of the Jeopardy game show featuring IBM's Watson super computer. An Electricity Infrastructure Operations Center (EIOC) image is also included in the same section of the video.
The screen shots appear between seconds 16 and 19 of the video titled "Jeopardy! IBM Watson Day 2 (Feb 15, 2011) Part 2/2," which can be found on YouTube along with a host of related videos. The cameo appearances of PNNL's tools are likely from an IBM training video about the Smart Grid.
(February 2011)
---
PNNL jointly sponsors CyberCARD 2011
PNNL recently participated in CyberCARD 2011, a workshop on Cooperative Autonomous Resilient Defenses in Cyberspace. Co-chairs Mohamed Eltoweissy and David Aucsmith (Microsoft Corporation), provided the vision and direction for a program is attracting industry experts and thought leaders in the field of cyberspace defense. Members from PNNL's Cybersecurity team also actively participated in the workshop and are currently working on a closely related Laboratory initiative.
Cyberspace defense is vital in today's world, and CyberCARD 2011 was successful in launching the development of a national research agenda and unifying framework. A major theme that emerged from the workshop is the need for new science and engineering for defining, evaluating, and verifying secure and resilient computing, communication, and control systems to prevent cyber-attacks.
(February 2011)
---
SVRAM tool aids in port security
The Operations Research Team recently provided a brief and demo of the Small Vessel Resource Allocation Model (SVRAM) tool in Seattle. Held in conjunction with a debrief on the Puget Sound Small Vessel PRND Pilot, the Team met with the Domestic Nuclear Detection Office (DNDO) Project Manager in the Mission Management Directorate.
An ongoing project, SVRAM provides a tool for determining a resourcing baseline to conduct small vessel Preventive Rad/Nuc Detection (PRND) for Port Security. The tool is designed to be used by Area Maritime Security Committees comprised of Federal, State, local, Tribal, and industry representatives throughout the US. The Project is funded by the Department of Homeland Security Domestic Nuclear Detection Office.
(February 2011)
---
Bayesian framework for monitoring of unexploded ordnance published in popular risk assessment and environmental journal
Stephen Walsh, Kevin Anderson, John Hathaway, and Brent Pulsipher had an article accepted for publication in Springer's Stochastic Environmental Research and Risk Assessment. The journal publishes research papers, reviews and technical notes on stochastic and probabilistic approaches to environmental sciences and engineering, including interactions of earth and atmospheric environments with people and ecosystems.
The article, "A Bayesian Approach to Monitoring and Assessing Unexploded Ordnance Remediation Progress from Munitions Testing Ranges," concludes that "We have developed a rigorous Bayesian framework which allows for assessing the progress of site remediation by computing the probability that no TOI's remain among the undug sensor observed anomalies as well as an associated lower confidence bound and these improvements are intended to augment current sensing and analysis routines."
(February 2011)
---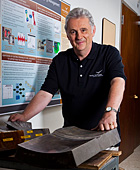 Leonard Bond named AAAS Fellow for contributions to engineering

(January 2011)
Read more...
---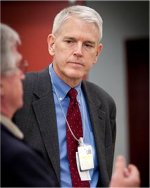 Ambassador Steven Pifer Visits PNNL, Discusses Arms Control Verification Issues
On November 19th, Ambassador Steven Pifer, Director of the Arms Control Initiative at the Brookings Institution, visited PNNL to present "New START, Next START and the Verification Challenges," summarizing his recently-released policy analysis paper. In his presentation, and subsequent round-table discussion with PNNL's National Security Directorate staff, Pifer discussed the technical and policy requirements of the newly-ratified New START bilateral nuclear arms reduction treaty between the United States and the Russian Federation—and the possible requirements of follow-on arms control agreements, whether bilateral or multilateral.
The visit by Ambassador Pifer, former Ambassador to Ukraine and former National Security Council staff member and Senior Director for Russia, Ukraine and Eurasia, is part of the Speakers Forum series of PNNL's Center for Global Security. The Center catalyzes the development of leading-edge national solutions that integrate science & technology, policy, and implementation expertise from across the global security community. (Contact: Jana Fankhauser, (206) 528-3264.)
---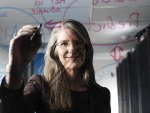 PNNL Chief Scientist joins National Media Advisory Board
November 2010: Deb Frincke joins the GovInfoSecurity Advisory Board, bringing a research perspective to the editorial content on this highly visible website for Information Security professionals. GovInfoSecurity.com is an educational portal specializing entirely on information technology risk management. GovInfoSecurity has 15,000 registered users, representing all walks of government, primarily senior management and technical personnel from local, state and federal agencies of the U.S. government.
Deb Frincke is a Chief Scientist in Cyber Security at PNNL, and is the Initiative Leader on the Information and Infrastructure Integrity Initiative. The goal of this research is to extend the Laboratory's research and development capability related to the resilience of large-scale digital computer and control infrastructures, the communications within those infrastructures, and the soundness of information contained/ transported by the infrastructures.
---

Everest Prototype Installed at Kennewick Police Department
May 2010: An initial prototype of the Everest visual analytics software, a tool used to analyze complex network structures to recognize patterns in events, places, and actions, was successfully installed at the Kennewick Police Department (KPD). Crime analysts are using Everest to better identify relationships between criminals, recognize criminal patterns, and stop criminal activities.
For the next two months, this prototype will be used by KPD analysts to generate reports and perform analysis in support of active cases. Feedback received from this small-scale pilot will be incorporated into the final, regional deployment expected this summer.
This software deployment is a collaboration between PNNL and LLNL funded by the Knowledge Management Tools Thrust Area in the DHS S&T Command, Control, and Interoperability Division.
---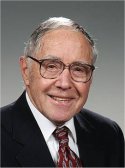 PNNL's Posakony Honored with AAES 2009 John Fritz Medal
April 2010: Considered highest award in the engineering profession for scientific achievement
Jerry Posakony, scientist at the Department of Energy's Pacific Northwest National Laboratory has been honored by the American Association of Engineering Societies for his pioneering contributions to the fields of ultrasonics, medical diagnostic ultrasound and nondestructive evaluation technologies. More...
---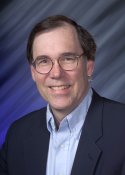 John Wacker Elected AAAS Fellow
April 2010:Congratulations to John Wacker on being selected as a Fellow in the American Association for the Advancement of Science (AAAS). The AAAS is the world's largest general scientific society and publishes the journal Science. The association gives the honor of Fellow to members who have made particularly distinguished scientific contributions.
Wacker's insights into the field of nuclear signature analysis are highly sought after by government and scientific leaders alike. Nuclear signatures--or chemical and radiological indicators of nuclear processing--are of particular interest to national security officials monitoring nuclear activities and in the emerging area of nuclear forensics. His research has supported the cleanup of radioactive contamination in the environment. He often serves as an advisor in radioanalytical chemistry and nuclear forensics for government leaders.
---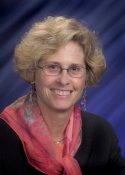 Carol Kessler Selected to National Academies Committee
April 2010: Carol Kessler, Director of PNNL's Center for Global Security, has been selected to participate on a National Academy of Sciences panel on Homeland Security and Export Controls. The first meeting was held March 2-3, 2010. The committee will be reviewing suggestions from several studies on modernizing U.S. export controls from the standpoint of the Department of Homeland Security.
---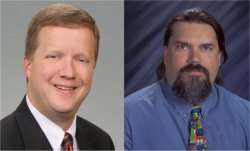 NSD Staff Appointed to Key Roles in Homeland Security
April 2010: In support of Homeland Security programs, Dave Atkinson and Dave Thurman have been appointed leadership roles in multi-lab, aviation security working groups established in response to the December 25 airline bombing attempt. Atkinson is co-leading the emerging technology team of the Interagency Aviation Security Working Group. Thurman is a key member of a multi-lab data & information analysis team supporting the National Counterterrorism Center.
---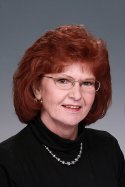 Debbie Dickman Appointed to INMM Committee
April 2010: Debbie Dickman, Deputy Director, Defense Nuclear Nonproliferation Sector, has been appointed Chair of the Institute of Nuclear Materials Management's (INMM) newly established "Education and Training Committee." PNNL's leadership role in nonproliferation and international safeguards/security education and training was recognized by Dickman's recent appointment to this position. The INMM created the committee to address long and short-term strategies to grow and sustain core competencies in the nonproliferation and nuclear materials management workforce. The newly created committee has a number of components, including international education and training collaboration, student career fairs and INMM student chapter initiatives, student scholarship programs, and student paper competitions.
---
Deb Frincke Delivers Keynote on Cyber Security in Seattle

April 2010: Deb Frincke, chief scientist and Information Infrastructure and Integrity Initiative Lead, presented the keynote address at the Institute for National Security Education & Research/ University of Washington iSchool's 2010 Intelligence Community Colloquium in Seattle. Her presentation was titled "Meeting Face(book) to Face, Cyber Security in our Brave New World."
---
Dave Niesen Promoted to Lieutenant Colonel in the Army
April 2010: Dave Niesen, Operations & Process Information group, was selected for promotion to Lieutenant Colonel in the Army. Dave has 25 years of service in the Army as an engineer. He has served as a Platoon Leader/Company Executive Officer, Company Commander, Observer/Controller/Trainer, Battalion Adjutant, and Battalion Operations Officer. He currently is serving as a Systems Automation Engineer in an Army Reserve unit at Ft Lewis, WA, and has been selected for battalion command. He also was on a military leave of absence from PNNL for 19 months in 2006-2007 while deployed to Al Anbar, Iraq, where his task force was responsible for hunting and clearing roadside bombs for the Marine Corps.
---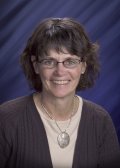 Detector Program Team Led Major Effort to Ship BF-3 Tubes
April 2010: Vicki Heimbigner, Radiation Detection &Nuclear Sciences group, successfully led an effort to ship a large stockpile of BF-3 tubes in January. Rather than dismantling and disposing of the supply, the tubes were donated to Idaho State University where they will be put to good use. Congratulations to Heimbigner and her team for their enormous effort and success!
---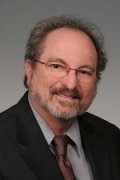 Frank Greitzer Authored Book Chapter on Combat Identification
April 2010: Frank Greitzer, Knowledge Systems group, authored a book chapter titled "Training Strategies to Mitigate Expectancy-Induced Response Bias in Combat Identification: A Research Agenda" in Human Factor Issues in Combat Identification, which was published in January 2010.
---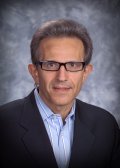 Antonio Sanfilippo Presented Results on Radical Rhetoric to DHS
April 2010: Antonio Sanfilippo, Technosocial Predictive Analytics Initiative Lead, presented results of the radical rhetoric project on "Violent Frames in Action" at the Content Analysis Project Meeting that the Department of Homeland Security Human Factors Division held in Washington, D.C., on February 5.
---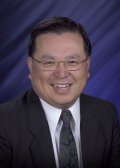 Pak Wong Co-chaired Visualization Conference
April 2010: Pak Chung Wong, Information Analytics group, co-chaired the SPIE Conference on Visualization and Data Analysis held on January 18-21 in San Jose, Calif.
---
NSD Research Recognized for Atomic Spectrometry
April 2010: PNNL's research using ion selective electrodes to tailor the selectivity of EMS separations for Cs was awarded the Journal of Analytical Atomic Spectrometry's Poster Prize for the Most Outstanding Work in Atomic Spectrometry at the 2010 Winter Conference on Plasma Spectrochemistry. The prize recognized Katy Fordyce, Kate Ziegelgruber, Michael Green, Shane Peper, and Douglas Duckworth, all of NSD. Their work is titled, "Evaluation of Ion Selective Electrode Surfaces for Electrochemically Modulated Separations (EMS) Coupled with ICP-MS Detection."
---
Patent Application Submitted for Information Storage Technology
April 2010: A patent application was submitted for "Storing and Managing Information Artifacts Collected by Information Analysts Using a Computing Device," a technology derived from the NVAC Active Products project, by inventors Bill Pike, Dan Best, Rick Riensche, Norm Carr, Michelle Hart, Marie Whyatt, Ian Roberts, and Jim Thomas.
---
PNNL's Role in Columbia River Project Earns Praise
April 2010: The Department of the Army has recognized PNNL's environmental monitoring efforts that supported the U.S. Army Corps of Engineers' Columbia River Channel Improvement Project. Over the course of the project, 4,000 holes were loaded with explosives and 542,000 square feet of rock were blasted. PNNL monitored mammal and fish movement through the blasting safety zone to avoid negative impacts on wildlife and prevent potential project delays or termination. PNNL received kudos for on- time execution and ensuring safety of all personnel and equipment despite many challenges.
---
RSA Conference: Cybercriminals Filling the Research Gap
March 2010: A disconnect between the primary research sectors and a lack of appropriate funding in each is leading to decreased technological progress, exposing a huge gap in security that is happily being exploited by cybercriminals. That was the consensus from a panel at Wednesday's RSA Conference ... Panelists included PNNL's Deborah Frincke, chief scientist, cybersecurity. More...
---
National Security Directorate Reaches Major Safety Milestone
March 2010: The National Security Directorate staff have worked seven million hours without a lost or restricted work day due to injury! Given the diversity and complexity of NSD work, which includes field work in remote locations, experiments with nuclear and other hazardous materials and project activities in more than 100 countries last year—the accomplishment is particularly impressive and unprecedented at PNNL. This record of safety success is attributable to the emphasis NSD staff place on embracing individual safety in the their everyday work.
---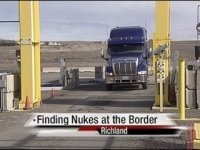 PNNL finishes installation to detect dirty bombs at our borders
February 2010: Recently the Lab and the Department of Homeland Security finished installing nuclear radiation monitors at all road border crossings. KNDO/KNDU Tri-Cities, Yakima, WA | www.kndu.com
---
PNNL's Visual Analytics Research and Development Activities Featured at the Supercomputing Conference
January 2010: PNNL's visual analytics research and development activities were featured in both a digital kiosk and exhibit talk at the Lab's booth at Supercomputing 2009 in Portland, OR. SC09 is the international conference for high performance computing, networking, storage, and analysis. Exhibit content on "Visual Analytics for Data Intensive Computing" presented a selection of research activities, supported by DICI and DHS S&T CID, which resulted in new analysis capabilities for extremely high volume text, cyber network, graph, and video data. The event, held November 14-20, drew over 11,000 attendees.
---
Radiation Portal Monitor Project (RPMP) Achieves Milestone
January 2010: Two months ahead of schedule, RPMP recently completed the deployment of scanning equipment at all northern (Canada and U.S.) border land ports of entry. The scanning equipment detects radiation emanating from material used in nuclear devices. The commissioning of 104 sites (93 land border sites and 11 ferry crossings) and 210 radiation portal monitors involved more than 700 staff across PNNL and drew on resources of multiple research and support teams. PNNL was able to address the unique challenges of this project to deploy the monitors without impacting commerce.
---

Michaele (Mikey) Brady Raap Recognized
Raap, a Chief Engineer in Nuclear Materials & Engineering Analysis, was recognized by the American Nuclear Society (ANS) for "Distinguished Service to the American nuclear Society Nuclear and Criticality Safety Division in governance and international work." Raap has served as the NCSD Vice Chair and Chair. She is a long-time member of the Education Committee and was a contributor to the development of the white paper process. Raap has led international NCS technology studies and serves in the development of ANS and ISO NCS standards. She has served on the Program Committee of several ICNC meetings and recently as the General Chairman of the 2009 NCSD topical meeting.
---
8 Abstracts Featured at the IAEA/JAEA Workshop
The International Atomic Energy Agency and the Japan Atomic Energy Agency hosted a workshop on "Advanced Safeguards Technology for the Future Nuclear Fuel Cycle" on November 10-13, 2009, at Tokai-mura, Ibaraki, Japan. Out of the 18 DOE laboratories that submitted abstracts, the agency selected 8 abstracts from PNNL staff (Norm Anaheier, Samual Bryan, Michael Curtis, Steven Miller, Matthew O'Hara, John Schwantes, and Eric Smith). This is a remarkably significant achievement.
---

David Atkinson served as vice-chair of the Gordon Research Conference entitled: "Detecting Illicit Substances: Explosives and Drugs"
PNNL's leadership role in explosives technology became evident once again when Atkinson, a research scientist in the Chemical and Biological Sciences group at PNNL recently served as vice-chair of the Gordon Research Conference entitled: "Detecting Illicit Substances: Explosives and Drugs" held in June in Les Diablerets, Switzerland. Because of the seminal nature of the research, the Gordon Conference is very highly regarded in the scientific community.
---
NNSA Participates in WCO's First Technology and Innovation Forum
The National Nuclear Security Administration (NNSA) participated in the World Customs Organization's (WCO) First Technology and Innovation Forum this week. NNSA's International Nonproliferation Export Control Program (INECP) presented technologies developed by the U.S. National Laboratories and deployed globally by NNSA to prevent the illicit transfer of materials, equipment and technology related to weapons of mass destruction (WMD). Joined by experts from the Department of Energy's Pacific Northwest National Laboratory and Argonne National Laboratory, NNSA's Director of INECP, Todd Perry, highlighted how the use of these technologies at home and with our partner countries overseas in response to the global WMD proliferation challenge represents is an important example of the benefits that come from NNSA's investment in President Obama's nuclear security agenda.
---
Cargo Security Technology Demonstrations a Success
A team of staff representing PNNL (Messrs Ivan Amaya, Brion Burghard, Tony Cinson, Fredrick Mauss, Kurt Silvers, and Juan Valencia) successfully developed and demonstrated a wireless network showcasing the Container Security Device's (CSD) capability to network with external add-on sensors at the Science & Technology Cargo Demonstrations held August 17-28, 2009 at Sandia National Laboratories. The purpose of the demonstration was to show S&T's progress in supply chain security, highlighting programs such as CSD, Advanced Container Device, the Marine Asset Tag Tracking System, the mLock, and the Composite Container. A key CSD requirement is its ability to wirelessly network with external sensors. As a result, PNNL's work was one of the highlights of a very successful event. The PNNL team worked with all other participants to ensure a smooth running event. The event attracted over one hundred individuals including members of Congress, eight government agencies, national and international cargo security and port operations leaders, and nine S&T International bilateral partners. The demonstrations created a better understanding of, and appreciation for, the complexity of supply chain security programs. Letter of appreciation.
---

PNNL's Kurt Silvers supports the Army's Joint Attack Munitions Systems Program Office
The Pacific Northwest National Laboratory (PNNL), in support of the Army's Joint Attack Munitions Systems (JAMS) Program Office, has developed a state-of-the-art, autonomous, electronic device that resides on the HELLFIRE II Missile to capture, record, analyze and report environmental exposure data experienced by specially equipped missiles. Referred to as the HELLFIRE II Captive Carry Health Monitor (CCHM), this qualified sensor monitoring device is the next generation in high value asset monitoring and protection. Used to assess missile readiness, the CCHM provides a simple user interface to communicate missile health to soldiers prior to loading on an attack helicopter. Using "Red Light, Green Light" LED indicators, a quick push of the control switch, provides immediate feedback to the soldier allowing only "Healthy" missiles to be used. The CCHM's are now a critical part of the JAMS Program Office, Condition Based Maintenance Program for the HELLFIRE II Missile. Silvers is the project manager.

Robert Brigantic Led Workshop on Modeling Approaches for Preventing Swine Flu
On November 3-4, 2009, PNNL hosted a workshop with participants from the Centers for Disease Control and Prevention (CDC) and the Quarantine and Border Health Services Branch, Division of Global Migration and Quarantine. The workshop also was supported by the Oak Ridge National Laboratory and the Los Alamos National Laboratory. The purpose of the workshop was to layout the framework for a new round of modeling and simulation that will be led by PNNL to assess the overall effectiveness and resource requirements to conduct screening of passengers for pandemic influenza on international airline flights inbound to the United States. This work will build upon similar work completed last year for the CDC by PNNL and ORNL, but modifications to modeling parameters will be incorporated to mimic characteristics of the current H1N1 (swine flu) pandemic. The modeling also will assume various different geographic origins for the modeled pandemic and its regional and global progression.
Brigantic, NSD, was the PNNL PI for this effort. During the workshop PNNL also presented briefings to the CDC on other laboratory infectious disease-related modeling and research including biological network analysis for investigation of infectious disease by Jason McDermott and Influenza surveillance through data-mining web and social media by Courtney Corley.
---

NSD staff at PNNL featured in NNSA News and information
Ted Bowyer, Frank Greitzer and Steve Mladineo were featured in NNSA News and Information for their leadership across scientific domains at PNNL. Bowyer's membership on the National Academy of Sciences Comprehensive Nuclear Test Ban Treaty panel, Greitzer's invitation by the National Science Foundation and the National Institute of Standards and Technology to participate in and present a workshop on Usability, Security and Privacy of Computer Systems at NAS, and Mladineo's election as a Fellow of the Institute of Nuclear Materials Management were featured.
---

Steve Mladineo Named Fellow of the Institute of Nuclear Materials Management
Steve Mladineo, National Security Directorate, joined Pacific Northwest National Laboratory (PNNL) in 1993 and has managed the Nuclear Arms Control and Nonproliferation Product Line, has been the PNNL account manager for DOE Nonproliferation Offices and has also provided technical support to nonproliferation programs at DOE Headquarters. He is currently senior advisor within PNNL's Defense Nuclear Nonproliferation Programs Sector and provides technical support to the Office of National Infrastructure and Sustainability within the Office of International Material Protection and Cooperation at the National Nuclear Security Administration. More...
---

Ted Bowyer Appointed Member on National Academy of Sciences Comprehensive Nuclear Test-Ban Treaty Panel
With the Obama Administration already pushing for Senate ratification of the Comprehensive Nuclear Test-Ban Treaty (CTBT), the National Academy of Sciences has again convened a panel to study technical issues related to the treaty. The 10-member NAS panel, chaired by University of Maryland physics professor Ellen Williams, has been tasked by the National Nuclear Security Administration and the State Department to update the 2002 NAS study on the CTBT. The CTBT bans all nuclear explosions in all environments for military or civilian purposes. More...
---
PNNL Researchers Praised by Regional Responder Agencies
Pacific Northwest National Laboratory (PNNL) Seattle staff Steve Stein and Ann Lesperance of the National Security Directorate were recently thanked by regional emergency response organizations to support emergency management and public safety at the local level. More...
---

Frank Greitzer Invited to Present at the National Academies Workshop on Usability, Security, and Privacy of Computer Systems
Frank Greitzer, National Security Directorate, was invited to be one of six "provocateurs," selected internationally by the National Science Foundation (NSF) and the National Institute of Standards and Technology (NIST), to participate in planning of, and present to a National Academies workshop on Usability, Security, and Privacy of Computer Systems Workshop held July 20-22, 2009 in Washington D.C. The workshop was organized by the Computer Science and Telecommunications Board (CSTB) of the National Research Council of the National Academies. More...
---
PNNL Staff Invited to Showcase Explosives Detection Capabilities at DHS Workshop
On September 1 and 2, 2009, Pacific Northwest National Laboratory (PNNL) staff presented research results at the Department of Homeland Security (DHS) Science and Technology Directorate's Counter-Improvised Explosive Devices seminar. The seminar showcased innovative approaches to detecting and mitigating explosives threats, with participation from a number of government agencies, national laboratories and academia. More...
---

Jim Thomas Receives Christopher Columbus Fellowship Foundation 2009 Homeland Security Award
Jim Thomas, NSD, was recently awarded the Christopher Columbus Fellowship Foundation 2009 Homeland Security Award. This significant honor recognizes his international leadership and outstanding scientific achievements in establishing the growing science of visual analytics and the numerous associated technologies that aid in detecting, predicting, preventing, and responding to acts of terrorism. More...
---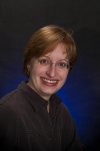 Sandy Thompson Selected to Participate on the National Academy of Sciences Committee
Sandy Thompson, NSD, has been selected to participate on the committee for persistent surveillance: a critical tool for the counter-Improvised Explosive Device (IED) mission for the National Academy of Sciences... More
---

Marvin Warner Selected to Attend the 2009 U.S. Frontiers of Engineering Symposium
Marvin Warner, NSD, was one of the 88 engineers selected to take part in the National Academy of Engineering's (NAE) 15th annual U.S. Frontiers of Engineering symposium. The participants—from industry, academia, and government—were nominated by fellow engineers or organizations and chosen from approximately 240 applicants... More
---

Recent Journal Issues Highlight DHS-Funded NVAC and RVAC Research
Two special volumes of prominent visualization journals highlight DHS-funded visual analytics research. The publishing of these articles indicates that the technical community recognizes the high quality of the VAC enterprise's work and contributes to a key success measure for the impact of VAC research. The May/June issue of IEEE Computer Graphics and Applications is a special issue on Visual Analytics Evaluation, edited by Catherine Plaisant, Georges Grinstein, and PNNL's Jean Scholtz. The issue features articles on "Generating Synthetic Syndromic Surveillance Data for Evaluating Visual Analytics Techniques" by researchers at the Purdue RVAC and on "Recovering Reasoning Processes from User Interactions" by a team from the UNCC RVAC. Computer Graphics and Applications articles are available online.
---

Rob Farber: Validation is Essential to Finding Truth
Rob Farber, National Security Directorate, wrote a column for the May issue of Scientific Computing magazine on the importance of validating computational results.
---

Deb Frincke Discusses Cybersecurity on Podcast
Deb Frincke, National Security Directorate, lead scientist on PNNL's Information Integrity and Infrastructure Initiative, shared her thoughts on cyber security and four key areas for research and development during a Gov Info Security podcast last week.
---

Jerry Posakony has been named the recipient of the 2009 IEEE Honorary Membership "for pioneering contributions in ultrasonic techniques for medical diagnosis and nondestructive evaluation." Jerry received the honorary membership in IEEE at the award ceremony on June 25. The event was televised and is available to view on IEEE.tv via the web... More
---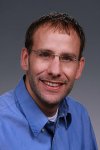 Jon Schwantes Published in Analytical Chemistry
Jon Schwantes, NSD, recently wrote an article that was published in Analytical Chemistry. The article titled, "Nuclear Archeology in a Bottle: Evidence of Pre-Trinity U.S. Weapons Activities from a Waste Burial Site," encompasses the finding of plutonium at a Hanford waste trench. "State-of-the-art instrumental analyses, reactor model simulations, and investigative science techniques were used to provide insights as to the origin of this unknown sample, a process collectively termed as nuclear archeology." View the full article.
---

Rob Farber Published in CIO India
Ron Farber, NSD, wrote an article that was published in CIO India. The article titled, "Solid State Drives: Coming to a Data Center Near You," encompasses a 2007 story about solid state drives. "Solid-state devices such as flash drives can use a RAID striping technique to achieve high streaming bandwidth—just like [hard] disk drives—while also maintaining very low latency for random access," says Farber. "This is a very exciting combination."
---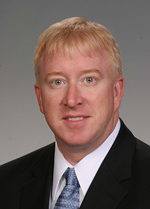 David S. Smith Elected ASCE Fellow
David S. Smith, NSD, was elected Fellow of the American Society of Civil Engineers (ASCE). The ASCE Fellow award is a prestigious honor held by fewer than 6 percent of its 75,000 regular members and another 60,000 associate, affiliate, or student ASCE members. Smith was recognized for being an outstanding "practitioner, educator, mentor, and most of all leader." The ASCE is a non-profit organization dedicated to having engineers positioned as global leaders who strive toward building a better quality of life.
---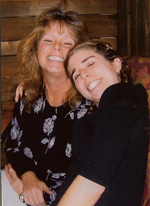 Linda Fastabend receives American Red Cross Hero Award
Linda Fastabend, NSD, received the Hero Award from the American Red Cross for her volunteer efforts for "The Every 15 Minutes" program. This program is designed to dramatically instill teenagers with the potentially dangerous consequences of drinking alcohol. Based on statistics, every 15 minutes someone in the United States dies from an alcohol-related traffic collision. The program challenges students to think about drinking, personal safety, and the responsibility of making mature decisions when lives are involved.
Fastabend's daughter was killed by a drunk driver in 2006 and since then she has dedicated her life to speaking to others about drinking and driving, hoping her words will save the lives of others. She helps the local police and fire departments with "The Every 15 Minutes" program that is given at the local high schools to graduating seniors. Fastabend's part is to help get the message out by telling the story of her loss to alert them of the ramifications of drinking and driving.
The event includes the participation of the local police and fire departments, high school staff, local hospital, video production crew, community officials, the District Attorney's Office and a wide cross-section of the community at-large.
---
IEEE Officers elected for 2009
The following NSD staff have been elected as the 2009 officers for the IEEE Richland section and associated chapters:
IEEE Richland Section Officers:
Section Chair: Hong (Amy) Qiao
Professional Activities (PACE) Chair: David McKinnon
IEEE Richland Computer Chapter Officers:
Computer Society Chapter (C 16) Chair: Patrick O'Connell
Computer Society Chapter (C 16) Secretary: Kim Ferris
IEEE Richland Sensors Chapter Officers:
Sensors Council Chapter (SEN 39) Chair: Megan Lerchen
Sensors Council Chapter (SEN 39) Vice Chair Administration & Programs: Morris Good
Sensors Council Chapter (SEN 39) Vice Chair Technical Operations & Conferences: Kayte Denslow
IEEE is the world's leading professional association for the advancement of technology. Most IEEE members choose to add value to their membership by joining one or more IEEE societies. The benefits include access to current information, opportunities to network with peers, and enhancement of the worldwide value of their profession.
---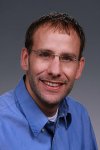 John Schwantes
Discovery Channel interviewed Jon Schwantes, National Security Directorate, regarding techniques enlisted to prevent plutonium retrieved from chemical separation from being used for weapons purposes.
---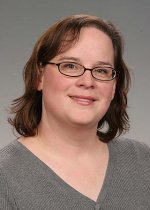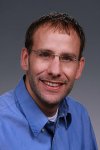 The U.S. National Committee (USNC) sends U.S. Observers under the age of 45 from industry, academia, and national laboratories to the International Union of Pure and Applied Chemistry (IUPAC) World Chemistry Congress and General Assembly, held every two years. The IUPAC will hold its 45th General Assembly and 42nd Congress in Glasgow, Scotland in August 2009... More
---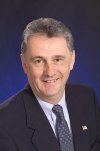 Leonard Bond, Laboratory Fellow, National Security Directorate, has succeeded to the position of director, IEEE region 6 (Western USA). In this position he has leadership of the nearly 60,000 members of IEEE in 12 western states. He also serves as a director for IEEE (09-10), the world's largest technical society with near 400,000 members worldwide and on the board of directors for IEEE-USA, the U.S. IEEE Regions... More
---

PNNL's scientific partnership with the Center for Information Assurance and Cybersecurity (CIAC) at the University of Washington has secured its spot as one of the first centers in the United States to be designated as a National Center of Academic Excellence in Information Assurance Research by the National Security Agency and the Department of Homeland Security... More
---
A PNNL-authored article by Richard Kouzes, Gordon Anderson, Stephen Elbert, Ian Gorton, and Deb Gracio on the "Changing Paradigm of Data-Intensive Computing" was selected as the cover feature for the January IEEE Computer Society journal.
The article describes PNNL's leading-edge research to develop new classes of software, algorithms and hardware to provide timely and meaningful analytical results from an exponentially growing tidal wave of complex scientific, energy, environmental and national security related data in the new information-dominated age. Technical leadership in data-intensive computing is a cornerstone of our strategy for growing major new National Security programs in information analytics and decision support.
---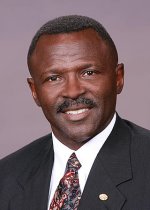 Wayne Martin has been recognized as one of America's 2008 most accomplished African American Engineers by the Black Equal Opportunity Employment Journal. Dr. Martin is a manager for the Chemical, Biological & Nuclear Surety Product Line, which provides a broad suite of science and engineering products and solutions... More
---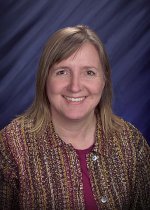 Cindy Bruckner-Lea has been elected Fellow of the American Association for the Advancement of Science (AAAS). The AAAS is an international non-profit organization dedicated to advancing science around the world by serving as an educator, leader, spokesperson and professional association... More
---
On November 5, 2008, Donna Magruder and Casey O'Leary were formally recognized by Secretary Bodman during the Department of Energy Secretarial Honor Awards ceremony in Washington, D.C. "for their extraordinary achievement in identifying and neutralizing cyber threats to the Department of Energy."... More
---
Congratulations to Justin Almquist and Scott Dowson, National Security Directorate; and Lee Ann McCue, Jason McDermott, Christopher Oehmen and Bobbie-Jo Webb-Robertson, all of the Fundamental and Computational Sciences Directorate, for winning this year's Supercomputing HPC Analytics Challenge!... More
---
Publisher Recognizes Paper from PNNL Staff as Representative Sample of the Best of Content
The paper titled, "A dynamic multiscale magnifying tool for exploring large sparse graphs" submitted by Pak Chung Wong, Harlan Foote, Patrick Mackey, Georgia Chin, Heidi Sofia, and Jim Thomas was selected by Palgrave Macmillian and editorial team as a set of papers from the archive of the journal to provide a representative sample of the best of their content. Palgrave Macmillan is a global academic and business publisher, serving learning and scholarship in the academic and professional worlds. The paper is available to read and download.
---
In December 2008, Mike Cantaloub and a team of staff from the Operational Systems Directorate and Business Systems Directorate received an award from the Academy of Certified Hazardous Materials Managers (ACHMM)... More
---

Greg Piepel, PNNL Lab Fellow, and Fellow of the American Statistical Association, was elected as a Fellow of the American Society for Quality (ASQ) in recognition of his significant contributions to quality... More
---

Frank Greitzer authored chapters in two recently published books: Augmented Cognition: A Practitioner's Guide (a Human Factors Society publication) and Intelligent Information Technologies: Concepts, Methodologies, Tools, and Applications (one of 8 volumes in the Encyclopedia of Information Science and Technology, Second Edition)
... More
---

Antonio Sanfilippo awarded 2008 Laboratory Director's Award for Exceptional Scientific Achievement. One of only nine researchers whose outstanding contributions in science and technology earned Pacific Northwest National Laboratory's (PNNL's) highest internal honors this year... More
---

PNNL's scientific partnership with the Center for Information Assurance and Cybersecurity (CIAC) at the University of Washington has secured their spot as one of the first centers in the United States to be designated as a National Center of Academic Excellence in Information Assurance Research (CAE-R) by the National Security Agency and the Department of Homeland Security... More
---

Richard May has been unanimously approved by the IEEE VAST (Visual Analytics Science and Technology) Steering committee as the IEEE VAST symposium co-chair with Jörn Kohlhammer from Fraunhofer in Germany. IEEE VAST is one of the fastest growing national and international scientific communities... More
---

This month, the Data-Intensive Computing Initiative's Chief Architect, Ian Gorton, is Guest Editor of a special issue in IEEE Computer, the flagship publication of the 85,000-member IEEE Computer Society. Ian led the team of editors... More
---

DHS Scholarship and Fellowship Programs were established for students interested in pursuing the basic science and technology innovations that can be applied to the DHS mission... More
---

Congratulations to NSD's Chris Aardahl, Aaron Diaz and Mark Whiting for being selected again this year as judges at the Intel International Science and Engineering Fair... More