Visitor Information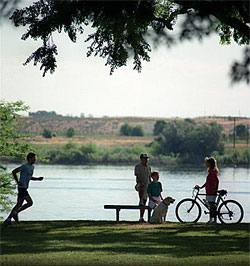 Richland, Washington, enjoys more than 300 days of sunshine a year and one of the lowest costs of living in the state.
The Pacific Northwest National Laboratory is located in north Richland, Washington, and is served by the Tri-Cities Airport in Pasco. Richland, Pasco and Kennewick make up the Tri-Cities, where the Columbia, Snake and Yakima Rivers meet before heading to the Pacific Ocean.
Directions
Maps
Badging
Invited U.S. citizens will need valid photo identification to receive access badges. Foreign nationals should arrange with their hosts for appropriate approval procedures (please allow two weeks). All foreign nationals must present passport, visa, and other U.S. Citizenship and Immigration Service (USCIS) information prior to access that documents identity, citizenship, authority to work (where applicable) and eligibility to be in the U.S.
The Guest House at PNNL
The Guest House at PNNL is located on the campus of PNNL and is open and available for reservations. The 28,000-square-foot facility can house about 80 guests.
Local Information
Note: The links below leave this site.

You may contact the local visitors organizations:
Visit the online version of our local newspaper, Tri-City Herald, for information about the region and what it has to offer.
Visit the Tri-City Industrial Development Council (TRIDEC) to learn more about local efforts to diversify the economy.
We hope you find the resources noted above useful. It's by no means comprehensive. We limit our list to associations and intentionally don't include individual companies. Like all government organizations, at PNNL we don't endorse or recommend one vendor over another. We're simply providing you with a quick reference of area services provided by our wonderful Tri-Cities community.
Airline Information
The Tri-Cities Airport is serviced by:
Local Transportation
Bus Service
Car Rental
Limousine Service
A Royal Limousine Service, (509) 545-1662
Affordable Limousine/Event Shuttle Service, (509) 539-9552 or (509) 521-2476
Celebrity Limousine, (509) 586-7810
Desert Wave Limousine, (509) 735-7358
Taxi Service
A-1 Tri-Cities Cab, (509) 547-7777
A+ Transportation NW, Inc (509) 586-0212
Housing
Real Estate (Purchasing)
Rental Property