Staff information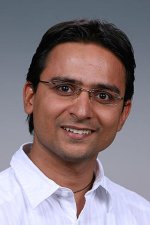 Sumit Purohit
Data Sciences
Scientist
Pacific Northwest National Laboratory
PO Box 999
MSIN: J4-30
Richland, WA 99352
509/372-6714
Send Email
Biography
Sumit serves as Computer Scientist for PNNL's Data Intensive Computing Initiative. He works on Collaborative distributed knowledge management tools and Inference tools based on semantic knowledge base.
Research Interests
Knowledge Discovery
Knowledge Management
Semantic Association
Ontology
Software Architecture
Web Development
Education and Credentials
MS, Computer Science, Northeastern University Boston, 2009
B.E., Information Technology, MBM Engineering College, Jodhpur, India, 2006
Affiliations and Professional Service
Member of Association of Computing Machinery
Member of IEEE
PNNL Publications
2015
White SK,

S Purohit

, and LW Boyd. 2015.

"Using GTO-Velo to Facilitate Communication and Sharing of Simulation Results in Support of the Geothermal Technologies Office Code Comparison Study."

In

Proceedings of the 40th Workshop on Geothermal Reservoir Engineering, January 26-28, 2015, Stanford, California

,

pp. Paper No. SGP-TR-204

. Stanford University, Stanford, CA.
2014
Freedman VL, X Chen, SA Finsterle, MD Freshley, I Gorton, LJ Gosink, E Keating, C Lansing, WAM Moeglein, CJ Murray, GSH Pau, EA Porter,

S Purohit

, ML Rockhold, KL Schuchardt, C Sivaramakrishnan, VV Vesselinov, and SR Waichler. 2014.

"A high-performance workflow system for subsurface simulation."

Environmental Modelling & Software

55

:176-189. doi:10.1016/j.envsoft.2014.01.030
Weaver JR, VG Castellana, A Morari, A Tumeo,

S Purohit

, AR Chappell, DJ Haglin, O Villa, S Choudhury, KL Schuchardt, and JT Feo. 2014.

"Toward a Data Scalable Solution for Facilitating Discovery of Science Resources."

Parallel Computing

40

(10):682-696. doi:10.1016/j.parco.2014.08.002
2013
Chappell AR, S Choudhury, JT Feo, DJ Haglin, A Morari,

S Purohit

, KL Schuchardt, A Tumeo, JR Weaver, and O Villa. 2013.

"Toward a Data Scalable Solution for Facilitating Discovery of Scientific Data Resources."

In

DISCS-2013: Proceedings of the International Workshop on Data-Intensive Scalable Computing Systems, November 18, 2013, Denver, CO

,

pp. 55-60

. Association for Computing Machinery , New York, NY. doi:10.1145/2534645.2534655
Gorton I, J Yin, BA Akyol, S Ciraci, T Critchlow, Y Liu, TD Gibson,

S Purohit

, P Sharma, and M Vlachopoulou. 2013.

"GridOPTICS(TM) A Novel Software Framework for Integrating Power Grid Data Storage, Management and Analysis."

In

Proceedings of the 46th Hawaii International Conference on System Sciences (HICSS-46), January 7-10, 2013, Maui, Hawaii

,

ed. RH Sprague, Jr.,

pp. 2167 -2176

. IEEE Computer Society, Los Alamitos, CA. doi:10.1109/HICSS.2013.243
Scheibe TD, MD White, SK White, C Sivaramakrishnan,

S Purohit

, GD Black, R Podgorney, LW Boyd, and BR Phillips. 2013.

"Simulation of Enhanced Geothermal Systems: A Benchmarking and Code Intercomparison Study."

In

MODFLOW and More 2013: Translating Science into Practice, June 2-5, Golden, Colorado

. Integrated Ground Water Modeling Center, Golden, CO.
White SK, LJ Gosink, C Sivaramakrishnan, GD Black,

S Purohit

, DH Bacon, Z Hou, G Lin, I Gorton, and A Bonneville. 2013.

"Implementations of a Flexible Framework for Managing Geologic Sequestration Modeling Projects."

Energy Procedia

37

:3971-3979. doi:10.1016/j.egypro.2013.06.296
2012
Gorton I, C Sivaramakrishnan, GD Black, SK White,

S Purohit

, CS Lansing, MC Madison, KL Schuchardt, and Y Liu. 2012.

"Velo: A Knowledge Management Framework for Modeling and Simulation."

Computing in Science & Engineering

14

(2):12-23. doi:10.1109/MCSE.2011.116
2011
Gorton I, C Sivaramakrishnan, GD Black, SK White,

S Purohit

, MC Madison, and KL Schuchardt. 2011.

"Velo: Riding the Knowledge Management Wave for Simulation and Modeling."

In

4th International Workshop on Software Engineering for Computational Science and Engineering (SECSE 2011), Co-located with the 33rd International Conference on Software Engineering (ICSE 2011) May 21-28, 2011, Honolulu, Hawaii

,

pp. 32-40

. Association for Computing Machinery, New York, NY. doi:10.1145/1985782.1985788
Yin J, AV Kulkarni,

S Purohit

, I Gorton, and BA Akyol. 2011.

"Scalable Real Time Data Management for Smart Grid."

In

Proceedings of the Middleware 2011 Industry Track, part of the 12th ACM/IFIP/USENIX International Middleware Conference, December 12-16, 2011, Lisbon, Portugal

,

p. Article No. 1

. Association for Computing Machinery, New York, NY. doi:10.1145/2090181.2090182