Staff information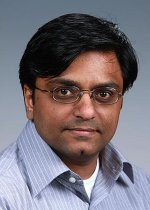 Mahantesh Halappanavar
Data Sciences
Scientist
Pacific Northwest National Laboratory
PO Box 999
MSIN: J4-30
Richland, WA 99352
509/372-5987
Send Email
Biography
Dr. Mahantesh Halappanavar joined Pacific Northwest National Laboratory in December 2009. His work focuses on parallel graph algorithms and spans several applications including contingency analysis of electric power grids, statistical textual analysis, numerical linear algebra, information security and fault tolerance. He explores the interplay of algorithm design, architectural features, and input characteristics targeting massively multithreaded architectures such as the Cray XMT and emerging multicore (Intel, AMD) and manycore (nVIDIA) platforms.
Mahantesh graduated in 2009 with a Ph.D. in Computer Science from the Old Dominion University, Norfolk, Virginia. His doctoral research was in the emerging interdisciplinary field known as combinatorial scientific computing (CSC) that employs combinatorial algorithmic techniques to solve scientific computing problems. He developed new approximation algorithms for graph matching â€" a fundamental combinatorial problem with numerous applications in science and engineering. He also developed software targeting the Department of Energy's leadership class machines for the approximate graph matching problem and demonstrated scalability across tens of thousands of processors.
Research Interests
Graph Algorithms
Parallel Computing
Combinatorial Scientific Computing
Electric Power Grids
Statistical Textual Analysis
Education and Credentials
Ph.D., Old Dominion University
M.S., Old Dominion University
B.E., Karnataka University, India
Affiliations and Professional Service
Member of the Society of Industrial and Applied Mathematics (SIAM)
Member of the Association for Computing Machinery (ACM)
Awards and Recognitions
Recipient of Old Dominion University Graduate Fellowship for year 2005-2006 with the distinction of being best-of-the-best doctoral students
Recipient of Dean's Education Abroad Award in June 2005
Second rank in the University for Bachelors degree (B.E.)
PNNL Publications
2014
Lu H, A Kalyanaraman,

M Halappanavar

, and S Choudhury. 2014.

"Parallel Heuristics for Scalable Community Detection."

In

28th IEEE International Parallel & Distributed Processing Symposium Workshops (IPDPS 2014), May 19-23, 2014, Phoenix, Arizona

,

pp. 1374-1385

. IEEE Computer Society, Los Alamitos, CA.
2013
2012
Azad MA

, M Halappanavar, S Rajamanickam, EG Boman, A Khan, and A Pothen. 2012.

"Multithreaded Algorithms for Maximum Matching in Bipartite Graphs."

In

IEEE 26th International Parallel & Distributed Processing Symposium (IPDPS 2012), May 12-25, 2012, Shanghai, China

,

pp. 860-872

. IEEE Computer Society, Los Alamitos, CA. doi:10.1109/IPDPS.2012.82

Scherrer C

, A Tewari, M Halappanavar, and DJ Haglin. 2012.

"Feature Clustering for Accelerating Parallel Coordinate Descent."

In

Advances in Neural Information Processing Systems 25: 26th Annual Conference on Neural Information Processing Systems (NIPS 2012), December 3-6, 2012, Lake Tahoe, Nevada

,

ed. P. Bartlett, et al,

pp. 28-36

. Neural Information Processing Systems Foundation, La Jolla, CA.

Scherrer C

, M Halappanavar, A Tewari, and DJ Haglin. 2012.

"Scaling Up Coordinate Descent Algorithms for Large l1 Regularization Problems."

In

Proceedings of the 29th International Conference on Machine Learning (ICML 2012), June 26, 2012, Edinburgh, Scotland

,

ed. J Langford adn J Pineau

. International Machine Learning Society, Madison, WI.
Catalyurek UV,

JT Feo

, AH Gebremedhin, M Halappanavar, and A Pothen. 2012.

"Multithreaded Algorithms for Graph Coloring."

Parallel Computing

38

(10-11):576-594. doi:10.1016/j.parco.2012.07.001
Halappanavar M,

JT Feo

, K Dempsey, H Ali, and S Bhowmick. 2012.

"A Novel Multithreaded Algorithm For Extracting Maximal Chordal Subgraphs."

In

41st International Conference on Parallel Processing (ICPP), September 10-13, 2012, Pittsburgh, Pennsylvania

,

pp. 58-67

. Institute of Electrical and Electronics Engineers, Piscataway, NJ. doi:10.1109/ICPP.2012.10
Halappanavar M, JT Feo, O Villa,

A Tumeo

, and A Pothen. 2012.

"Approximate Weighted Matching On Emerging Manycore and Multithreaded Architectures."

International Journal of High Performance Computing Applications

26

(4 ):413-430. doi:10.1177/1094342012452893
Halappanavar M, Y Chen,

RD Adolf

, DJ Haglin, Z Huang, and MJ Rice. 2012.

"Towards Efficient N - x Contingency Selection Using Group Betweenness Centrality."

In

SC Companion: High Performance Computing, Networking, Storage and Analysis (SCC 2012), November 10-16, 2012, Salt Lake City, UT

,

pp. 273 - 282

. Institute of Electrical and Electronics Engineers, Piscataway, NJ. doi:10.1109/SC.Companion.2012.45
Khan A, DF Gleich, A Pothen, and

M Halappanavar

. 2012.

"A Multithreaded Algorithm for Network Alignment Via Approximate Matching."

In

International Conference for High Performance Computing, Networking, Storage and Analysis (SC), November 10-16, 2012, Salt Lake City, Utah

. Institute of Electrical and Electronics Engineers, Piscataway, NJ. doi:10.1109/SC.2012.8
2011
Adolf RD

, DJ Haglin, M Halappanavar, Y Chen, and Z Huang. 2011.

"Techniques for Improving Filters in Power Grid Contingency Analysis."

In

Proceedings of the 7th International Conference on Machine Learning and Data Mining in Pattern Recognition (MLDM), August 30-September 3, 2011, New York. Lecture Notes in Computer Science

,

vol. 6871,

ed. P Perner,

pp. 599-611

. Springer-Verlag, Berlin, Germany. doi:10.1007/978-3-642-23199-5_44
Ali N, S Krishnamoorthy, M Halappanavar, and

JA Daily

. 2011.

"Tolerating Correlated Failures for Generalized Cartesian Distributions via Bipartite Matching."

In

Proceedings of the 8th ACM International Conference on Computing Frontiers (CF 2011), May 3-5, 2011, Ischia, Italy

. Association for Computing Machinery, New York, NY. doi:10.1145/2016604.2016649
Catalyurek U, F Dobrian, AH Gebremedhin,

M Halappanavar

, and A Pothen. 2011.

"Distributed-memory Parallel Algorithms for Matching and Coloring."

In

IEEE International Symposium on Parallel and Distributed Processing Workshops and Phd Forum (IPDPSW 2011), May 16-20, 2011 Anchorage, Alaska

,

pp. 1971-1980

. Institute of Electrical and Electronics Engineers, Piscataway, NJ. doi:10.1109/IPDPS.2011.360