Staff information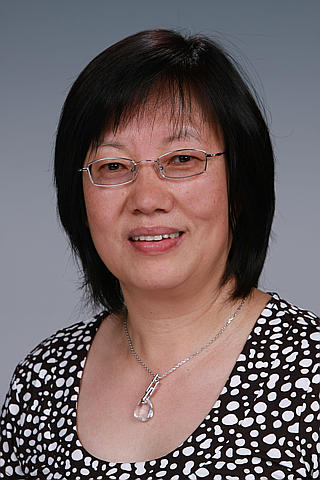 Yulan Li
Applied Computational Mathematics & Engineering
Scientist
Pacific Northwest National Laboratory
PO Box 999
MSIN: K7-90
Richland, WA 99352
509/371-6103
Send Email
Research Interests
Utilize numerical modeling as a tool to provide fundamental understanding of microstructure evolution and evolution kinetics in different materials processes and materials response to applied fields, and predict the relationships between materials properties and macro/micro-structures.
Interested materials include: structural and fuel materials of nuclear reactors; ferroelectrics; ferromagnetics.
Education and Credentials
Ph. D., Solid Fracture Mechanics, Lanzhou University, P. R. China, 1992.
B. Sc., Solid Mechanics, Lanzhou University, P. R. China, 1984.
Awards and Recognitions
Awarded a Humboldt Research Fellowship (Germany) during Feb., 1996 ~ Feb., 1998.
Awarded a JSPS Postdoctoral Fellowship (Japan) during March, 1998 ~ March, 2000.
PNNL Publications
2013
Li Y

, SY Hu, RO Montgomery, F Gao, and X Sun. 2013.

"Phase-field simulations of intragranular fission gas bubble evolution in UO2 under post-irradiation thermal annealing."

Nuclear Instruments and Methods in Physics Research. Section B, Beam Interactions with Materials and Atoms

303

:62-67.

doi:10.1016/j.nimb.2012.11.028

Henager CH, Jr, JS McCloy, P Ramuhalli, DJ Edwards, SY Hu, and

Y Li

. 2013.

"Investigation of Magnetic Signatures and Microstructures for Heat-Treated Ferritic/Martensitic HT-9 Alloy."

Acta Materialia

61

(9):3285-3296.

doi:10.1016/j.actamat.2013.02.017

Hu SY,

Y Li

, JS McCloy, RO Montgomery, and CH Henager, Jr. 2013.

"Magnetic Hardening from the Suppression of Domain Walls by Nonmagnetic Particles."

IEEE Magnetics Letters

4

:Article No. 3500104.

doi:10.1109/LMAG.2013.2245861

Hu SY,

Y Li

, KM Rosso, and ML Sushko. 2013.

"Mesoscale Phase-Field Modeling of Charge Transport in Nanocomposite Electrodes for Lithium-ion Batteries."

Journal of Physical Chemistry C

117

(1):28-40.

doi:10.1021/jp3068014

McCloy JS, RO Montgomery, P Ramuhalli, RM Meyer, SY Hu,

Y Li

, CH Henager, Jr, and BR Johnson. 2013. Materials Degradation and Detection (MD2): Deep Dive Final Report.

PNNL-22309

, Pacific Northwest National Laboratory, Richland, WA.
2012
Li D

, Y Li, SY Hu, X Sun, and MA Khaleel. 2012.

"Predicting Thermal Conductivity Evolution of Polycrystalline Materials Under Irradiation Using Multiscale Approach."

Metallurgical and Materials Transactions. A, Physical Metallurgy and Materials Science

43

(3):1060-1069.

doi:10.1007/s11661-011-0936-0

Li Y

, SY Hu, CH Henager, Jr, H Deng, F Gao, X Sun, and MA Khaleel. 2012.

"Computer Simulations of Interstitial Loop Growth Kinetics in irradiated bcc Fe."

Journal of Nuclear Materials

427

(1-3):259-267.

doi:10.1016/j.jnucmat.2012.05.004

Li Y

, SY Hu, R Montgomery, F Gao, X Sun, M Tonks, B Biner, P Millet, V Tikare, B Radhakrishnan, and D Andersson . 2012. Mesoscale Benchmark Demonstration Problem 1: Mesoscale Simulations of Intra-granular Fission Gas Bubbles in UO2 under Post-irradiation Thermal Annealing.

PNNL-21295

, Pacific Northwest National Laboratory, Richland, WA.

Li Y

, SY Hu, RO Montgomery, F Gao, and X Sun. 2012. Enhanced Generic Phase-field Model of Irradiation Materials: Fission Gas Bubble Growth Kinetics in Polycrystalline UO2.

PNNL-21417

, Pacific Northwest National Laboratory, Richland, WA.

Li Y

, Z Huang, N Zhou, B Lee, R Diao, and P Du. 2012.

"Application of Ensemble Kalman Filter in Power System State Tracking and Sensitivity."

In

IEEE PES Transmission and Distribution Conference and Exposition (T&D 2012), May 7-10, 2012, Orlando, Florida

,

pp. 1-8

. Institute of Electrical and Electronics Engineers, Piscataway, NJ.

doi:10.1109/TDC.2012.6281499

Biner B, M Tonks, PC Millett,

Y Li

, SY Hu, F Gao, X Sun, E Martinez, and D Anderson. 2012. PROGRESS ON GENERIC PHASE-FIELD METHOD DEVELOPMENT.

PNNL-21811

, Pacific Northwest National Laboratory, Richland, WA.
Dubinko V, SY Hu,

Y Li

, CH Henager, Jr, and RJ Kurtz. 2012.

"Dislocation vs. production bias revisited with account of radiation-induced emission bias I. Void swelling under electron and light ion irradiation."

Philosophical Magazine. Structure and Properties of Condensed Matter

92

(33):4113-4150.

doi:10.1080/14786435.2012.704425

Gao F, HY Xiao, Y Zhou, R Devanathan, SY Hu,

Y Li

, X Sun, and MA Khaleel. 2012.

"Ab Initio Study of Defect Properties in YPO4."

Computational Materials Science

54

:170-175.

doi:10.1016/j.commatsci.2011.10.005

Hu SY, CH Henager, Jr,

Y Li

, F Gao, X Sun, and MA Khaleel. 2012.

"Evolution kinetics of interstitial loops in irradiated materials: a phase-field model."

Modelling and Simulation in Materials Science and Engineering

20

(1):Article No. 015011.

doi:10.1088/0965-0393/20/1/015011

Kalsi K, Y Sun, Z Huang, P Du, R Diao, KK Anderson,

Y Li

, and B Lee. 2012.

"Calibrating Multi-machine Power System Parameters with the Extended Kalman Filter."

In

2011 IEEE Power & Energy Society General Meeting, July 24-28, 2011, Detroit, Michigan

. IEEE , Piscataway, NJ.

doi:10.1109/PES.2011.6039224

Kathan-Galipeau K, P Wu,

Y Li

, LQ Chen, A Soukiassian, Y Zhu, DA Muller, XX Xi, DG Schlom, and DA Bonnell. 2012.

"Direct Determination of the Effect of Strain on Domain Morphology in Ferroelectric Superlattices with Scanning Probe Microscopy."

Journal of Applied Physics

112

(5):Article No. 052011.

doi:10.1063/1.4746081

Liang L,

Y Li

, F Xue, and LQ Chen . 2012.

"Pressure and electric field effects on piezoelectric responses of KNbO3."

Journal of Applied Physics

112

(6):Article No. 064106.

doi:10.1063/1.4752418

Sheng G, JM Hu, J Zhang,

Y Li

, ZK Liu, and LQ Chen. 2012.

"Phase-field simulations of thickness-dependent domain stability in PbTiO3 thin films."

Acta Materialia

60

(8):3296-3301.

doi:10.1016/j.actamat.2012.03.003

Wu P, X Ma,

Y Li

, V Gopalan, and LQ Chen . 2012.

"Dipole spring ferroelectrics in superlattice SrTiO3/BaTiO3 thin films exhibiting constricted hysteresis loops."

Applied Physics Letters

100

(9):Article No. 092905.

doi:10.1063/1.3691172

Wu P, X Ma,

Y Li

, V Gopalan, and LQ Chen . 2012.

"Dipole spring ferroelectrics in superlattice SrTiO3/BaTiO3 thin films exhibiting constricted hysteresis loops."

Applied Physics Letters

100

(9):Article No. 092905.

doi:10.1063/1.3691172
2011
Li Y

, SY Hu, X Sun, and MA Khaleel. 2011. Phase-field Model for Interstitial Loop Growth Kinetics and Thermodynamic and Kinetic Models of Irradiated Fe-Cr Alloys.

PNNL-20467

, Pacific Northwest National Laboratory, Richland, WA.

Li Y

, SY Hu, X Sun, F Gao, CH Henager, Jr, and MA Khaleel. 2011.

"Phase-field modeling of void evolution and swelling in materials under irradiation."

Science China. Physics, Mechanics & Astronomy

54

(5):856-865.

doi:10.1007/s11433-011-4316-y

Du P, Z Huang, Y Sun, R Diao, K Kalsi, KK Anderson,

Y Li

, and B Lee. 2011.

"Distributed Dynamic State Estimation with Extended Kalman Filter."

In

43rd North American Power Symposium (NAPS 2011), August 4-6, 2011, Boston, Massachusetts

. Institute of Electrical and Electronics Engineers, Inc., Piscataway, NJ.

doi:10.1109/NAPS.2011.6024863

Dubinko V, SY Hu,

Y Li

, CH Henager, Jr, and RJ Kurtz. 2011.

"DISLOCATION VS. PRODUCTION BIAS REVISITED WITH ACCOUNTED OF RADIATION-INDUCED EMISSION BIAS: VOID SWELLING UNDER ELECTRON AND LIGHT ION IRRADIATION."

In

Fusion Materials Semiannual Progress Report for the Period Ending December 31, 2011

,

vol. 51; DOE/ER-0313/51,

pp. 109-115

. Department of Energy, Oak Ridge, TN.
Kathan-Galipeau K, P Wu,

Y Li

, LQ Chen , A Soukiassian, XX Xi, DG Schlom, and DA Bonnell. 2011.

"Quantification of Internal Electric Fields and Local Polarization in Ferroelectric Superlattices."

ACS Nano

5

(1):640-646.

doi:10.1021/nn102884s

Sun Y, P Du, Z Huang, K Kalsi, R Diao, KK Anderson,

Y Li

, and B Lee. 2011.

"PMU Placement for Dynamic State Tracking of Power Systems."

In

43rd North American Power Symposium (NAPS 2011), August 4-6, 2011 Boston, Massachusetts

. Institute of Electrical and Electronics Engineers, Inc., Piscataway, NJ.

doi:10.1109/NAPS.2011.6024865
2010
Li Y

, SY Hu, X Sun, F Gao, CH Henager, Jr, and MA Khaleel. 2010.

"Phase-field Modeling of Void Migration and Growth Kinetics in Materials under Irradiation and Temperature Field."

Journal of Nuclear Materials

407

(2):119-125.
Aravind VR, AN Morozovska, S Bhattacharyya, D Lee, S Jesse, I Grinberg,

Y Li

, S Choudhury, P Wu, K Seal, AM Rappe, SV Svechnikov, EA Eliseev, SR Phillpot, LQ Chen, V Gopalan, and SV Kalinin. 2010.

"Correlated polarization switching in the proximity of a 180° domain wall."

Physical Review. B, Condensed Matter

82

(2):Article No. 02411.

doi:10.1103/PhysRevB.82.024111

Baek SH, HW Jang, CM Folkman,

Y Li

, B Winchester, JX Zhang, Q He, YH Chu, CT Nelson, MS Rzchowski, XQ Pan, R Ramesh, LQ Chen , and CB Eom. 2010.

"Ferroelastic switching for nanoscale non-volatile magnetoelectric devices."

Nature Materials

9

(4):309-314.

doi:10.1038/nmat2703

Cao Y, G Sheng, JX Zhang , S Choudhury,

Y Li

, CA Randall, and LQ Chen . 2010.

"Piezoelectric response of single-crystal PbZr1-xTixO3 near morphotropic phase boundary predicted by phase-field simulation."

Applied Physics Letters

97

(25):Article No. 252904.

doi:10.1063/1.3530443

Hu SY,

Y Li

, X Sun, F Gao, R Devanathan, CH Henager, Jr, and MA Khaleel. 2010.

"Application of Phase-field Method in Predicting Gas Bubble Microstructure Evolution in Nuclear Fuels."

International journal of materials research

10

(4):515-522.
Liang L,

Y Li

, SY Hu, LQ Chen, and GH Lu. 2010.

"Piezoelectric anisotropy of KNbO3 single crystal."

Journal of Applied Physics

108

(9):Article No. 094111.

doi:10.1063/1.3511336

Sheng G,

Y Li

, JX Zhang , S Choudhury, QX Jia, V Gopalan, DG Schlom, ZK Liu, and LQ Chen . 2010.

"A modified Landau-Devonshire thermodynamic potential for strontium titanate."

Applied Physics Letters

96

(23):Article No. 232902.

doi:10.1063/1.3442915

Sheng G,

Y Li

, JX Zhang , S Choudhury, QX Jia, V Gopalan, DG Schlom, ZK Liu, and LQ Chen . 2010.

"Phase transitions and domain stabilities in biaxially strained (001) SrTiO3 epitaxial thin films."

Journal of Applied Physics

108

(8):Article No. 084113.

doi:10.1063/1.3488636
2009
Eliseev EA, AN Morozovska, SV Kalinin,

Y Li

, J Shen, MD Glinchuk, LQ Chen , and V Gopalan. 2009.

"Surface effect on domain wall width in ferroelectrics."

Journal of Applied Physics

106

(8):Article No. 084102.

doi:10.1063/1.3236644

Liang L,

Y Li

, LQ Chen , SY Hu, and GH Lu. 2009.

"Thermodynamics and Ferroelectric Properties of KNbO3."

Journal of Applied Physics

106

(10):Article No. 104118.

doi:10.1063/1.3260242

Liang L,

Y Li

, LQ Chen , SY Hu, and GH Lu. 2009.

"A phenomenological thermodynamic potential for potassium niobate ."

Applied Physics Letters

94

(7):Article Number: 072904 .
Morozovska AN, EA Eliseev,

Y Li

, SV Svechnikov, P Maksymovych, VY Shur, V Gopalan, LQ Chen , and SV Kalinin. 2009.

"Thermodynamics of nanodomain formation and breakdown in Scanning Probe Microscopy: Landau-Ginzburg-Devonshire approach."

Physical Review. B, Condensed Matter and Materials Physics

80

(21):Article No. 214110.

doi:10.1103/PhysRevB.80.214110

Tenne DA, P Turner, JD Schmidt, M Biegalski,

Y Li

, LQ Chen, A Soukiassian, S Trolier-McKinstry, DG Schlom, XX Xi, DD Fong, PH Fuoss, JA Eastman, GB Stephenson, C Thompson, and SK Streier. 2009.

"Ferroelectricity in ultrathin strained BaTiO3 films: probing the size effect by ultraviolet Raman spectroscopy."

Physical Review Letters

103

(17):Article No. 177601.

doi:10.1103/PhysRevLett.103.177601