Staff information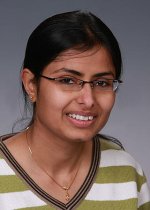 Khushbu Agarwal
Data Sciences
Scientist
Pacific Northwest National Laboratory
PO Box 999
MSIN: J4-30
Richland, WA 99352
509/372-4169
Send Email
Research Interests
Data Mining, High performance Computing, GPUs
Education and Credentials
M.S. Dept of Computer Science and Engineering. The Ohio state University. Columbus OH - Dec 2007
B.E. Dept of Computer Science and Engineering. Birla Institute of Technology. Mesra - Jun 2005
Affiliations and Professional Service
IEEE Women in Engineering
Awards and Recognitions
University Fellow, The Ohio State University 2005-2006
PNNL Publications
2014
Ciraci S, JA Daily, JC Fuller, AR Fisher, LD Marinovici, and K Agarwal.

2014.

"FNCS: A Framework for Power System and Communication Networks Co-Simulation."

In

DEVS 2014: Proceedings of the Symposium on Theory of Modeling & Simulation, April 13-16, 2014, Tampa, Florida

,

p. Article No. 36

. Society for Computer Simulation International, San Diego, CA.
2013
Agarwal K, P Sharma, J Ma,

C Lo

, I Gorton, and Y Liu. 2013.

"REVEAL: An Extensible Reduced Order Model Builder for Simulation and Modeling ."

Computing in Science & Engineering

16

(2):44-53. doi:10.1109/MCSE.2013.46
Chavarría-Miranda D, K Agarwal, and

TP Straatsma

. 2013.

"Scalable PGAS Metadata Management on Extreme Scale Systems."

In

13th IEEE/ACM International Symposium on Cluster, Cloud and Grid Computing (CCGrid'13), May 13-16, 2013, Delft, Netherlands

,

ed. P Balaji, D Epema and T Fahringer,

pp. 103-111

. IEEE Computer Society, Los Alamitos, CA. doi:10.1109/CCGrid.2013.83
Pan W, J Bao,

C Lo

, C Lai, K Agarwal, BJ Koeppel, and MA Khaleel. 2013.

"A general approach to develop reduced order models for simulation of solid oxide fuel cell stacks."

Journal of Power Sources

232

:139-151. doi:10.1016/j.jpowsour.2013.01.057
2011
Agarwal K, JM Chase, KL Schuchardt, TD Scheibe,

BJ Palmer

, and TO Elsethagen. 2011.

"Design and Implementation of "Many Parallel Task" Hybrid Subsurface Model."

In

MTAGS '11: Proceedings of the 2011 ACM International Workshop on Many Task Computing on Grids and Supercomputers, November 12-18, 2011, Seattle, Washington

,

pp. 25-32

. Association for Computing Machinery, New York, NY. doi:10.1145/2132876.2132884

Yin J, K Agarwal, MK Krishnan, D Chavarría-Miranda, I Gorton, and TG Epperly.

2011.

"Implementing High Performance Remote Method Invocation in CCA."

In

IEEE International Conference on Cluster Computing (CLUSTER 2011), September 26-30, 2011, Austin, Texas

,

pp. 547-551

. IEEE Computer Society, Los Alamitos, CA. doi:10.1109/CLUSTER.2011.78
2010
Schuchardt KL

, K Agarwal, JM Chase, ML Rockhold, VL Freedman, TO Elsethagen, TD Scheibe, G Chin, Jr, and C Sivaramakrishnan. 2010.

"Task parallel sensitivity analysis and parameter estimation of groundwater simulations through the SALSSA framework."

In

Proceedings of the 2010 Scientific Discovery through Advanced Computing (SciDAC) Conference, July 11-15, 2010, Cattanooga, Tennessee

,

pp. 233-237

. Oak Ridge National Laboratory, Oak Ridge, TN.

Krishnamoorthy S, and K Agarwal.

2010.

"Scalable Communication Trace Compression."

In

The 10th IEEE/ACM International Conference on Cluster, Cloud and Grid Computing

,

pp. 408-417

. Institute of Electrical and Electronics Engineers, Piscataway, NJ. doi:10.1109/CCGRID.2010.111
Shah AR, K Agarwal, ES Baker, M Singhal, AM Mayampurath, YM Ibrahim, LJ Kangas, ME Monroe, R Zhao, ME Belov,

GA Anderson

, and RD Smith. 2010.

"Machine learning based prediction for peptide drift times in ion mobility spectrometry ."

Bioinformatics

26

(13):1601-1607. doi:10.1093/bioinformatics/btq245