Biological Sciences Staff information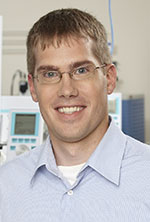 Sam Payne
Integrative Omics
Scientist, TL
Pacific Northwest National Laboratory
PO Box 999
MSIN: K8-98
Richland, WA 99352
509/371-6513
Send Email
Biography
Dr. Payne's research interests are focused on algorithms for proteomics data analysis and subsequent interpretation and integration. He is a DOE Early Career Investigator for algorithmic research in metaproteomics, or proteomics of environmental communities. The goal of the project is to increase the sensitivity and utility of metaproteomics through better identification algorithms. Additionally, he is PI for an NSF Microbial Genome Sequencing grant, Automated Protoegenomics Annotation for Prokaryotic Genomes. Proteogenomics is the process of using proteomics data to discover novel genes and correct and improve current genome annotation. The project will create a robust pipeline for proteogenomic annotation, and then apply the pipeline to all publicly available prokaryotic proteomics data. Over 80 bacterial and archaeal datasets have been analyzed with the pipeline, and the resulting data is being used as the training set for updating all prokaryotic genomes (a collaboration between NCBI and JGI).
Prior to joining PNNL, Dr. Payne was an Assistant Professor of Informatics at the J. Craig Venter Institute in Rockville, MD. Dr. Payne received a B.S. of computer science at Brigham Young University. He earned his Ph.D. in Bioinformatics from UC, San Diego working with Dr. Vineet Bafna. His research focused on computational proteomics and algorithm design, making a phosphorylation specific scoring method for mass spectrometry data which improved both sensitivity and specificity compared to current methods. He also helped lead the Arabidopsis proteogenomics project.
Research Interests
Bioinformatics
Computational Proteomics
Education and Credentials
B.S. Computer Science, Brigham Young University
Ph.D Bioinformatics, University of California San Diego
Awards and Recognitions
2012 U.S. Department of Energy Office of Science Early Career Research Winner
PNNL Publications
2015
2014
2013
Ivankov D,

SH Payne

, MY Galperin, S Bonissone, PA Pevzner, and D Frishman. 2013.

"How many signal peptides are there in bacteria?"

Environmental Microbiology

15

(4):983-990.

doi:10.1111/1462-2920.12105
2012
2011
Selected Publications
2012
Peterson ES, LA McCue, AC Schrimpe-Rutledge, JL Jensen, H Walker, MA Kobold, SR Webb, SH Payne, C Amspmg. JN Adkins, WR Cannon, and BJM Webb-Robertson. 2012. "

VESPA: Software to Facilitate Genomic Annotation of Prokaryotic Organisms through Integration of Proteomic and Transcriptomic Data

."

BMC Genomics

13(1):131. DOI:10.1186/1471-2164-13-131.

Schrimpe-Rutledge AC, MB Jones, S Chauhan, SO Purvine, JA Sanford, ME Monroe, HM Brewer, SH Payne, C Ansong, BC Frank, RD Smith, SN Peterson, VL Motin, and JN Adkins. 2012. "

Comparative Omics-Driven Genome Annotation Refinement: Application across Yersiniae

."

PloS One

7(3):e33903. DOI:10.1371/journal.pone.0033903.
2011
2010
2008
2007
2006
2005
Payne SH. 2005. "Metabolic Pathways." Pages 41-57 in: Dictyostelium Genomics. WF Loomis and A Kuspa, Editors, Horizon Press, Far Hills, New Jersey.