Biological Sciences Staff information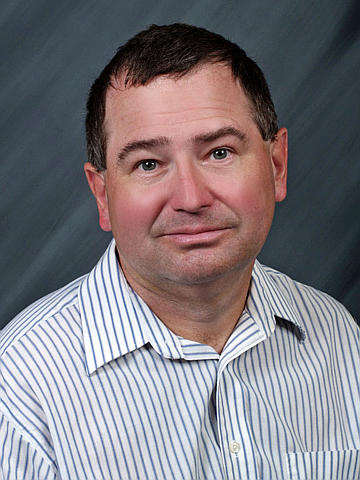 Ronald C. Taylor
Computational Biology
Scientist
Pacific Northwest National Laboratory
PO Box 999
MSIN: J4-18
Richland, WA 99352
509/372-6568
Send Email
Biography
Dr. Taylor is a research scientist (2003-present) serving in the areas of systems biology and bioinformatics. Dr. Taylor is currently working in the analysis of bacterial communities, in metabolic modeling of bacteria, in analysis of next generation sequencing data (including metatranscriptomics), in inference of biological networks, in the application of high-performance computing techniques to analysis of high-throughput data, and in the construction of scalable databases suitable for data integration and integrated analysis of terabyte-size data sets.
In earlier work at PNNL, Dr. Taylor created an open source web-based framework for combined use of network inference algorithms on high-throughput data, the Software Environment for Biological Network Inference (SEBINI). From 2000-2003, Dr. Taylor served as director of gene expression analysis in the Center for Computational Pharmacology at the University of Colorado Health Sciences Center (UCHSC). Before that, he served as a computer scientist at the National Institutes of Health (1991-2000, ending rank GS-14). Dr. Taylor worked first at the Division of Computer Research & Technology/NIH and then at the National Cancer Institute/NIH, where he was a senior investigator in the Biometric Research Branch/NCI with responsibility for the design and development of computer systems to handle high-throughput gene expression analysis and analysis of genome and gene expression data to identify and clarify the function of cancer-associated genes. Also, Dr. Taylor has worked on knowledgebase creation (automated reasoning, use of ontologies) while at UCHSC, and helped develop the MIAME and MAGE gene expression data standards.
View Dr. Taylor's bibliography from NCBI/NIH
Research Interests
Reconstruction of biological networks, with development of algorithms for inference of regulatory networks focused on information-theoretic and graphical model (Bayesian network) approaches.
Metabolic modeling of bacteria and bacterial communities, including flux balance analysis and metabolic pathway flux prediction using NMR and mass spectrometry Carbon-13 labeling.
Integrated analysis of high-throughput gene expression and protein abundance data; analysis of next-generation sequencing data sets. Most recently, metatranscriptomics analysis of bacterial communities.
High-performance computing techniques (e.g., Hadoop, HBase, Spark platforms on Linux clusters) for large-scale data analysis and construction of data warehouses.
Automated reasoning and machine learning techniques as applied to joint analysis of regulatory networks, metabolic pathways, and genomic data.
Biological database and knowledgebase design.
Education and Credentials
Ph.D./ Bioinformatics, George Mason University (dissertation advisor: Lawrence Hunter, University of Colorado School of Medicine), 2003
M. S./ Biology, Case Western Reserve University (research-oriented master's; thesis advisor: Ross Overbeek, Argonne National Laboratory (ANL), research performed while holding graduate assistantship at ANL, 1989-1991), 1991
M. S./ Computer Science, Case Western Reserve University, 1985
B. S./ Physics, Case Western Reserve University, 1979. (National Merit Scholar; CWRU Presidential Scholar)
Affiliations and Professional Service
Secretary 2000-2006, Treasurer 2006-present, Functional Genomics Data (FGED) Society - formerly, Microarray and Gene Expression Data (MGED) Society
Member, editorial board of the journal Network Biology
Member, International Society for Computational Biology
Member, Open Bioinformatics Foundation
Awards and Recognitions
Outstanding Mentor Award, US Dept of Energy Office of Science, 2006
Navachat Tongvichat Bioinformatics Memorial Scholarship, George Mason University, 2001
Member, program committee for the Gene Network & Pathway Generation/Analysis Workshop, August, 2010
Member, program committee for the 2010 and 2011 Bioinformatics Open Source Conferences (BOSC)
Member, three-person organizing committee for the Second International Emerging Computational Methods for the Life Sciences Workshop (ECMLS-2011)
PNNL Publications
2015
2014
2013
2012
2011
2010
2009
2008
Taylor RC, and

M Singhal

. 2008.

"Biological Network Inference and Analysis using SEBINI and CABIN."

Chapter 24 in

Computational Systems Biology

,

vol. 541,

pp. 551-576

. Humana Press, New York, NY.
2007
2006
Stoeckert CJJ, C Ball, A Brazma, R Brinkman, HC Causton, L Fan, J Fostel, G Fragoso, M Heiskanen, F Holstege, N Morrison, HE Parkinson, J Quackenbush, P Rocca-Serra, SA Sansone, U Sarkans, G Sherlock, R Stevens, C Taylor,

RC Taylor

, P Whetzel, and JC White. 2006.

"Letter to the editor in "Wrestling with SUMO and bio-ontologies"."

Nature Biotechnology

24

(1):21-22.
Taylor RC,

A Shah

, CC Treatman, and ML Blevins. 2006.

"SEBINI: Software Environment for Biological Network Inference."

Bioinformatics

22

:2706-2708.