Biological Sciences Staff information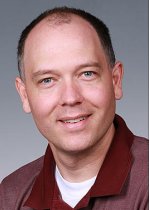 Rick Jacob
Health Impacts & Exposure Science
Scientist
Pacific Northwest National Laboratory
PO Box 999
MSIN: J4-18
Richland, WA 99352
509/371-6889
Send Email
Education and Credentials
Ph.D., physics, University of Utah
BS, physics, Arizona State University
Affiliations and Professional Service
American Physical Society
American Physiological Society
American Association for the Advancement of Science
PNNL Publications
2015
Jacob RE

, WJ Lamm, DR Einstein, M Krueger, RW Glenny, and RA Corley. 2015.

"Comparison of CT-derived Ventilation Maps with Deposition Patterns of Inhaled Microspheres in Rats."

Experimental Lung Research

41

(3):135-145.

doi:10.3109/01902148.2014.984085
2014
Jacob RE

, and JP Carson. 2014.

"Automated Measurement of Heterogeneity in CT Images of Healthy and Diseased Rat Lungs using Variogram Analysis of an Octree Decomposition."

BMC Medical Imaging

14

:Article No. 1.

doi:10.1186/1471-2342-14-1

Cooper WJ, RC Albertson,

RE Jacob

, and MW Westneat. 2014.

"Re-description and Reassignment of the Damselfish Abudefduf luridus (Cuvier, 1830) Using Both Traditional and Geometric Morphometric Approaches."

Copeia

2014

(3):473-480.

doi:10.1643/CI-13-074

Miller FJ, B Asgharian, JD Schroeter, O Price, RA Corley, DR Einstein,

RE Jacob

, TC Cox, S Kabilan, and T Bentley. 2014.

"Respiratory tract lung geometry and dosimetry model for male Sprague-Dawley rats."

Inhalation Toxicology

26

(9):524-544.

doi:10.3109/08958378.2014.925991
2013
Jacob RE

, JP Carson, M Thomas, and DR Einstein. 2013.

"Dynamic Multiscale Boundary Conditions for 4D CT Images of Healthy and Emphysematous Rat."

PLoS One

8

(6):Article No. e65874.

doi:10.1371/journal.pone.0065874

Jacob RE

, MK Murphy, JA Creim, and JP Carson. 2013.

"Detecting Radiation-Induced Injury Using Rapid 3D Variogram Analysis of CT Images of Rat Lungs."

Academic Radiology

20

(10):1264-1271.

doi:10.1016/j.acra.2013.07.001

Jacob RE

, SM Colby, S Kabilan, DR Einstein, and JP Carson. 2013.

"In Situ Casting and Imaging of the Rat Airway Tree for Accurate 3D Reconstruction."

Experimental Lung Research

39

(6):249-257.

doi:10.3109/01902148.2013.801535

Einstein DR, AP Kuprat, X Jiao, JP Carson, DM Einstein, RA Corley, and

RE Jacob

. 2013.

"An Efficient Algorithm for Mapping Imaging Data to 3D Unstructured Grids in Computational Biomechanics."

International Journal for Numerical Methods in Biomedical Engineering

29

(1):1-16.

doi:10.1002/cnm.2489
2012
Asgharian B, O Price, G McClellan, RA Corley, DR Einstein,

RE Jacob

, JR Harkema, SA Carey, E Schelegle, D Hyde, J Kimbell, and FJ Miller. 2012.

"Development of a Rhesus Monkey Lung Geometry Model and Application to Particle Deposition in Comparison to Humans."

Inhalation Toxicology

24

(13):869-899.

doi:10.3109/08958378.2012.725782

Corley RA, S Kabilan, AP Kuprat, JP Carson, KR Minard,

RE Jacob

, C Timchalk, RW Glenny, S Pipavath, TC Cox, C Wallis, R Larson, M Fanucchi, E Postlewait, and DR Einstein. 2012.

"COMPARATIVE COMPUTATIONAL MODELING OF AIRFLOWS AND VAPOR DOSIMETY IN THE RESPIRATORY TRACTS OF RAT, MONKEY, AND HUMAN."

Toxicological Sciences

128

(2):500-516.

doi:10.1093/toxsci/kfs168

Freed AD, DR Einstein, JP Carson, and

RE Jacob

. 2012. Viscoelastic Model for Lung Parenchyma for Multi-Scale Modeling of Respiratory System, Phase II: Dodecahedral Micro-Model.

PNNL-21287

, Pacific Northwest National Laboratory, Richland, WA.
Minard KR, AP Kuprat, S Kabilan,

RE Jacob

, DR Einstein, JP Carson, and RA Corley. 2012.

"Phase-Contrast MRI and CFD Modeling of Apparent 3He Gas Flow in Rat Pulmonary Airways."

Journal of Magnetic Resonance

221

:129-138.

doi:10.1016/j.jmr.2012.05.007

Neradilek MB, N Polissar, DR Einstein, RW Glenny, KR Minard, JP Carson, X Jiao,

RE Jacob

, TC Cox, E Postlewait, and RA Corley. 2012.

"BRANCH-BASED MODEL FOR THE DIAMETERS OF THE PULMONARY AIRWAYS: ACCOUNTING FOR DEPARTURES FROM SELF-CONSISTENCY AND REGISTRATION ERRORS."

The Anatomical Record

295

(6):1027-1044.

doi:10.1002/ar.22476
2011
Jacob RE

, and WJ Lamm. 2011.

"Stable Small Animal Mechanical Ventilation for Dynamic Lung Imaging to Support Computational Fluid Dynamics Models."

PLoS One

6

(11):e27577.

doi:10.1371/journal.pone.0027577
2010
Jacob RE

, BG Amidan, JJ Soelberg, and KR Minard. 2010.

"In Vivo MRI of Altered Proton Signal Intensity and T2 Relaxation in a Bleomycin Model of Pulmonary Inflammation and Fibrosis."

Journal of Magnetic Resonance Imaging

31

(5):1091-1099.

doi:10.1002/jmri.22166

Gierada DS, JC Woods,

RE Jacob

, AJ Bierhals, CK Choong, ST Bartel, YV Chang, NA Das, C Hong, B Lutey, JH Ritter, TK Pilgram, JD Cooper, GA Patterson, RJ Battafarano, BF Meyers, DA Yablonskiy, and MS Conradi. 2010.

"Emphysema Quantification in Inflation-Fixed Lungs Using Low-Dose Computed Tomography and 3He Magnetic Resonance Imaging."

Journal of Computer Assisted Tomography

34

(5):773-779.

doi:10.1097/RCT.0b013e3181e480f9
2009
Jacob RE

, JP Carson, KM Gideon, BG Amidan, CL Smith, and KM Lee. 2009.

"Comparison of Two Quantitative Methods of Discerning Airspace Enlargement in Smoke-Exposed Mice."

PLoS One

4

(8):E6670.

doi:10.1371/journal.pone.0006670

Gierada DS, JC Woods, AJ Bierhals, ST Bartel, JH Ritter, CK Choong, NA Das, C Hong, TK Pilgram, YV Chang,

RE Jacob

, JC Hogg, RJ Battafarano, JD Cooper, BF Meyers, GA Patterson, DA Yablonskiy, and MS Conradi. 2009.

"Effects of Diffusion Time on Short-Range Hyperpolarized 3He Diffusivity Measurements in Emphysema."

Journal of Magnetic Resonance Imaging

30

(4):801-808.

doi:10.1002/jmri.21912
2008
Jacob RE

, KR Minard, GJ Laicher, and C Timchalk. 2008.

"3D He-3 diffusion MRI as a local in vivo morphometric tool to evaluate emphysematous rat lungs."

Journal of Applied Physiology

105

:1291-1300.

doi:10.1152/japplphysiol.90375.2008

Einstein DR, B Neradilak, N Pollisar, KR Minard, C Wallis, M Fanucchi, JP Carson, AP Kuprat, S Kabilan,

R Jacob

, and R Corley. 2008.

"An Automated Self-similarity Analysis of the Pulmonary Tree of the Sprague-Dawley Rat."

The Anatomical Record

291

(12):1628-1648.

doi:10.1002/ar.20771

Minard KR,

RE Jacob

, G Laicher, DR Einstein, AP Kuprat, and RA Corley. 2008.

"MR Imaging of Apparent 3He Gas Transport in Narrow Pipes and Rodent Airways ."

Journal of Magnetic Resonance

194

(2):182-191.

doi:10.1016/j.jmr.2008.07.006
2007
Jacob RE

, G Laicher, and KR Minard. 2007.

"3D MRI of Non-Gaussian ³He Gas Diffusion in the Rat Lung."

Journal of Magnetic Resonance

188

(2):357-366.

doi:10.1016/j.jmr.2007.08.014
2006
Minard KR, DR Einstein,

RE Jacob

, S Kabilan, AP Kuprat, C Timchalk, LL Trease, and RA Corley. 2006.

"Application of Magnetic Resonance (MR) Imaging for the Development and Validation of Computational Fluid Dynamic (CFD) Models of the Rat Respiratory System."

Inhalation Toxicology

18

(10):787-794.

doi: 10.1080/08958370600748729
Selected Publications
2008
Jacob RE, KR Minard, G Laicher, C Timchalk. 2008. "3D 3He Diffusion MRI as a local in vivo morphometric tool to evaluate emphysematous rat lungs." Journal of Applied Physiology 105:1291-1300.

Minard KR, RE Jacob, G Laicher, DR Einstein, AP Kuprat, and RA Corley. 2008. "MR Imaging of Apparent 3He Gas Transport in Narrow Pipes and Rodent Airways." Journal of Magnetic Resonance 194:182-191.
2006
Minard KR, DR Einstein, RE Jacob, S Kabilan, A Kuprat, C Timchalk, L Trease, and RA Corley. 2006. "Application of Magnetic Resonance (MR) Imaging for the Development and Validation of Computational Fluid Dynamic (CFD) Models of the Rat Respiratory System," Inhalation Toxicology 18:787-794.