Staff information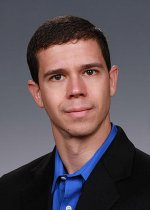 John Shilling
Atmospheric Measurement & Data Sciences
Scientist
Pacific Northwest National Laboratory
PO Box 999
MSIN: K4-28
Richland, WA 99352
Send Email
Biography
Dr. John Shilling is an early-career atmospheric chemist at PNNL with expertise in measuring aerosol gas- and particle-phase chemical composition and gas/particle interactions. He came to PNNL in 2008 as a staff scientist and led a project to design and build an aerosol measurement laboratory and environmental chamber in PNNL's Atmospheric Measurement Laboratory (AML). Dr. Shilling is an expert in aerosol gas and particle measurements and in applying mass spectrometry to problems in atmospheric chemistry. Currenly, he is conducting laboratory experiments investigating the lifecycle of organic aerosol particles and their climate-relevant properties. Dr. Shilling has also applied his mass spectrometry expertise to field studies. He served as the principal investigator for both gas- and particle-phase mass spectrometers deployed onboard the G-1 research aircraft during several field campaigns including CARES, TCAP, BBOP and GoAmazon (upcoming).
Research Interests
Secondary organic aerosols
Heterogeneous kinetics and chemistry
Phase transitions
Mass spectrometry
Education and Credentials
Post-doctoral Associate at Harvard University
Ph.D., Analytical/Atmospheric Chemistry, University of Colorado
B.S., Chemistry (with Honors) Ursinus College
Affiliations and Professional Service
American Association of Aerosol Research, Member
American Geophysical Union, Member
Awards and Recognitions
Selected to attend the Atmospheric Chemistry Colloquium for Emerging Senior Scientists (ACCESS)
NASA Earth System Science Fellow
ACS Award for Undergraduate Achievement
ACS Undergraduate Award in Analytical Chemistry
PNNL Publications
2015
2014
2013
2012
2011
2010
2009
Selected Publications
2009
Shilling JE, Q Chen, SM King, T Rosenoern, JH Kroll, DR Worsnop, PF DeCarlo, AC Aiken, D Sueper, JL Jimenez, and ST Martin. 2008. "Loading-Dependent Elemental Composition of α-Pinene SOA Particles." Atmos. Chem. Phys. 9: 771-782.
2008
2007
King SM, T Rosenoern, JE Shilling, Q Chen, and ST Martin. 2007. "Cloud Condensation Nucleus Activity of Secondary Organic Aerosol Particles Mixed with Sulfate." Geophysical Research Letters 34:Art. No. L24806. doi:10.1029/2007GL030390.

Shilling JE, SM King, M Mochida, DR Worsnop, and ST Martin. 2007. "Mass Spectral Evidence that Small Changes in Chemical Composition Caused by Oxidative Aging Processes Alter Aerosol CCN Properties." Journal of Physical Chemistry A 111:3358-3368.
2006
Shilling JE, BM Connelly, and MA Tolbert. 2006. "Uptake of Small Oxygenated Organic Molecules onto Ammonium Nitrate Under Upper Tropospheric Consitions." Journal of Physical Chemistry A 110:6687-6695.

Shilling JE, MA Tolbert, OB Toon, EJ Jensen, BJ Murray, and AK Bertram. 2006. "Measurements of the Vapor Pressure of Cubic Ice and Their Implications for Atmospheric Ice Clouds." Geophysical Research Letters 33: Article No. L17801.

Shilling JE, TJ Fortin, and MA Tolbert. 2006. "Depositional Ice Nucleation on Crystalline organic and inorganic Solids." Journal of Geophysical Research 111(D12): Article No. D12204.
2004
Shilling JE and MA Tolbert. 2004. "Uptake of Acetic Acid on Thin Ammonium Nitrate Films as a function of Temperature and Relative Humidity. Journal of Physical Chemistry A 108:11314-11320.
2003
Wise ME, JD Surratt, DB Curtis, JE Shilling, and MA Tolbert. 2003. "Hygroscopic Growth of Ammonium Sulfate/Dicarboxylic Acids." Journal of Geophysical Research 108(D20): Article No. 4638.
2002
Fortin TJ, JE Shilling, and MA Tolbert. 2002. "Infrared Spectroscopic Study of rthe Low-Temperature Phase Behavior of Ammonium Sulfate." Journal of Geophysical Research 107(D10): Article No. 1029.

Hudson PK, JE Shilling, MA Tolbert, and OB Toon. 2002. "Uptake of Nitric Acid on Ice at Tropospheric Temperatures: Implications for Cirrus Clouds." Journal of Physical Chemistry A 106:9874-9882.