Regional and Global Scale Modeling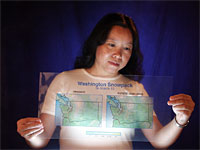 Pacific Northwest National Laboratory scientist Ruby Leung develops and applies regional climate models to investigate the potential impacts of climate change on snowpack and water resources in the Northwest. Her study suggests large reduction of mountain snowpack along the Cascades by 2050s that would significantly affect water supply for irrigation and hydropower generation in the region.
Enlarged View
Develop regional climate models and conduct research on their strengths and limitations.
Develop and apply regional climate models and other tools (e.g., crop production models) for understanding the effects of climate change and climate variability on climate-sensitive systems (e.g., water resources, agriculture, etc.)
Use regional climate models to understand and parameterize the effects of small-scale climate features on the global climate system.
Global climate models cannot afford the spatial resolution needed for assessing climate impact at the scales that matter. To provide adequate resolution within a limited domain, regional climate models have been developed. The Pacific Northwest National Laboratory's regional climate model is based on the National Center for Atmospheric Research/Penn State Mesoscale Model (MM5). In addition to the MM5 physics, it features a subgrid parameterization of orographic precipitation to represent the effects of subgrid scale orography and land cover. The model has been applied to study climate change impacts on water resources and air quality and to investigate the hydroclimate of orographic systems and the monsoon climate of Asia. In collaboration with the National Center for Atmospheric Research (NCAR), efforts are on-going to develop regional climate modeling capability using the Weather Research and Forecast (WRF) model, which is a next generation mesoscale model with advanced numerical techniques and model physics. We are also contributing to the development of WRF-chem, a version of WRF that simulates the emission, turbulent mixing, transport, transformation, and fate of trace gases and aerosols simultaneously with the meteorology and contains treatments of aerosol direct and indirect forcing.