Atmospheric Transport and Fate Modeling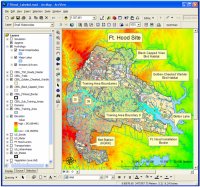 Displayed in the figure is the setup of the PNNL-developed DUSTRAN modeling system showing the geography and land use around Fort Hood, Texas. The widely-used ArcView geographic information system is used in DUSTRAN for setting-up model runs and viewing model results.
Enlarged View
Atmospheric transport and fate models have a wide range of uses in air quality, environmental assessments, emergency response and non-proliferation activities. At PNNL, our scientists develop, validate and apply meteorological and atmospheric dispersion and deposition models for the U.S. Departments of Energy (DOE), Defense (DoD) and Homeland Security (DHS), and the U.S. Forest Service, Environmental Protection Agency (EPA) and Nuclear Regulatory Commission (NRC). We develop models that account for the dominant processes governing atmospheric dispersion based on our extensive research experience in boundary layer meteorology, turbulence and atmospheric diffusion. We also develop algorithms for the proper treatment of the fate of airborne materials in atmospheric models through our research in atmospheric chemistry, transformations, deposition and resuspension.
Dust Transport
Scientists at PNNL recently completed the development of the DUST TRANsport modeling system (DUSTRAN) for use by military staff for assessing training/testing range contributions to local and regional particulate air quality, to help manage dust-generating activities, and to help develop dust mitigation strategies. This effort, which delivered a fully-tested and documented atmospheric dust dispersion modeling system, was funded by DoD's Strategic Environmental Research and Development Program. The DUSTRAN system is based on commercially available Geographic Information System (GIS) software coupled to EPA-approved atmospheric dispersion models. The modeling system is applicable to the release of any airborne material. DUSTRAN also estimates the contribution of wind-generated dust from the surface to regional particulate air quality and has been applied at the Fort Bliss, Fort Irwin and Fort Hood military installations.
Drift Modeling
For the U.S. Forest Service and the EPA to estimate the drift of pesticides from aerial spraying operations, PNNL scientists developed the VALley DRIFT computer model (VALDRIFT) which accounts for the physics governing the transport and diffusion of a spray cloud in a mountain valley. The VALDRIFT model computes three-dimensional concentration fields and ground-level deposition fields of air contaminants released from area, line and point sources located within a mountain valley. Our scientists also recently completed the development of a GIS-based atmospheric pesticide drift model for these agencies. The fully-documented and tested modeling system, SPRAYTRAN, is available on installation CDs.
Emergency Response
Models capable of treating complex meteorological processes, atmospheric chemistry, surface deposition and resuspension are necessary for emergency response, and characterization of releases of harmful airborne materials. PNNL scientists have developed and are developing, documenting, validating and applying atmospheric transport and fate models and modeling systems for emergency response and event characterization. The Air Pollutant Graphical Environmental Modeling System (APGEMS) is a fully validated emergency response system with a graphical user interface that allows for quick estimates and forecasts of consequences of airborne releases of radiological materials. It is currently being used as the emergency response model for the DOE Hanford Site. Our scientists also assisted with the development of the NRC's Radiological Assessment System for Consequence Analysis (RASCAL) dose assessment system and are now testing and refining the system.
Dispersion Modeling
Scientists at PNNL are applying state-of-the-art dispersion modeling systems to meet DHS needs. We coupled the EPA-approved CALMET meteorological model to the DoD's Hazardous Prediction and Assessment Capability (HPAC) modeling system for treating complex meteorology in characterizing dispersion in the DHS Biological Warning Incident and Characterization (BWIC) system. Our researchers are incorporating a PNNL-developed GIS-based atmospheric dispersion model into the DHS Rapidly Deployable Chemical Defense System (RDCDS) for estimating the near-term transport of chemical plumes indicated by chemical sensors. The modeling system incorporated in RDCDS is based on the fully-documented and tested DUSTRAN modeling system developed by our scientists.
Computational fluid dynamics (CFD) models are advanced models capable of simulating flows and dispersion around buildings in complex urban areas. For DHS, our scientists are leading an evaluation effort of six different CFD models from the United States and Europe.
Meteorological and dispersion models are important tools in evaluating source-receptor relationships such as in non-proliferation investigations and in reconstruction of hazardous events for developing cleanup strategies. Our scientists recently completed a model-development effort for the DoD by coupling the next-generation Weather, Research and Forecasting (WRF) mesoscale meteorological model with the FLEXPART Lagrangian particle dispersion model. The coupled FLEXPART-WRF system allows for the multi-scale meteorological predictions made by WRF to be used directly in source-receptor analyses.
Contact: Will Shaw