Environmental Molecular Sciences Laboratory
A major focus of atmospheric chemistry research at Pacific Northwest National Laboratory is on the nature and occurrence of fine airborne particulate matter and its influence on the radiative forcing of climate. The Environmental Molecular Sciences Laboratory (EMSL)—a DOE national scientific user facility located at PNNL—has a variety of sophisticated instruments and facilities important to aerosol research. These advanced capabilities support observational needs for sensitive techniques with high-time resolution to better understand particulate matter composition, sources and chemical transformation in both field and laboratory experiments. Major EMSL instruments and capabilities used in atmospheric research at PNNL—and most of which can be mobilized for field research and deployment in other labs or facilities—include:
Proton Transfer Reaction Mass Spectrometer (PTR-MS): a field deployable instrument providing continuous quantitative measurements of volatile organic hydrocarbons important to ozone and particulate matter formation.
Aerodyne Aerosol Mass Spectrometer (AMS): a field deployable instrument providing continuous quantitative measurements of size resolved bulk particle composition (40-500 nm) for major constituents such as sulfate, ammonium, nitrate, and organics.
Electron Microscopy: time resolved particle collection by impaction onto a electron microscopy grid and post-facto analysis of single particles by X-ray florescence to quantify major elements and to image particle morphology.
Ion Beam Techniques: time and size resolved particle collection by a 3-stage rotating drum impactor and post-facto analysis to quantify trace elements by Proton Induced X-ray Emission (elements Na-U); Proton Elastic Scattering Analysis (H content); and Scanning Transmission Ion Microscopy (particle mass).
These instruments and capabilities have been used on the Gulfstream-1 research aircraft, significantly improving our ability to measure the spatial distribution of atmospheric aerosol composition and to follow chemical processes in the atmosphere that convert volatile gases into particulate matter.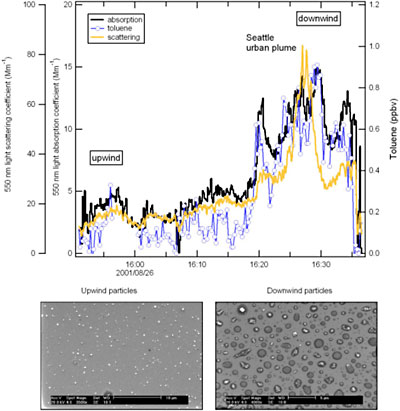 The figure (above) illustrates some of these measurement capabilities. Shown in the upper panel is a segment of data collected from the G1 aircraft as it flew upwind then downwind of the Seattle urban area. The PTR-MS measurements of toluene identify the location of the urban plume and display a strong correspondence with particle light absorption (due to particles containing soot), indicating the impact of vehicle emissions. The bottom panels show electron microscopy images of particles collected upwind and downwind of Seattle. These images display marked differences in composition and morphology, likely due to the emission and photochemical processing of organic hydrocarbons in the urban plume.