Field Campaigns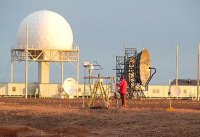 Our researchers are experts in the development and deployment of sophisticated remote sensing instruments and radars to obtain atmospheric measurements in climates ranging from the arid cold of the Arctic to the heat and humidity of the tropics.
Enlarged View
Field research campaigns are essential for observing and measuring actual Earth system phenomena and validating computer models that simulate Earth systems. Ultimately, field data help improve the nation's ability to predict climate change and its impacts.
In carrying out field campaigns, PNNL draws on its expertise in field experiments and observations, instrument design and deployment, laboratory and field measurements, and modeling and evaluation.
Field campaigns often involve international collaboration. PNNL has served in leadership and technical roles in campaigns ranging from Darwin, Australia to Africa and Chile. PNNL's world class facilities and equipment, combined with leadership in technical direction of the DOE's ARM Climate Research Facility, ARM Aerial Facility, and Atmospheric Systems Research (ASR), contribute to our unique strengths in the arena of large-scale field campaigns.