Joint Global Change Research Institute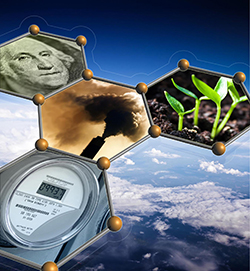 The Joint Global Change Research Institute is a unique partnership formed in 2001 between Pacific Northwest National Laboratory and the University of Maryland. The Institute staff are internationally recognized for their expertise in understanding the interactions between climate, energy production and use, economic activity and the environment.
Collecting the expertise of domestic and international collaborators encourages research at the Institute that develops global and equitable solutions to the climate change problem.
The Institute focuses on understanding both the causes and effects of climate change, with particular emphasis on the following areas:
Integrated assessment modeling, for examining the complex interactions between our physical environment and human activities and understanding the economic effects of climate change
Technology strategies for limiting the scope of climate change, as exemplified in the Global Technology Strategy Project
Natural resource modeling and assessment for understanding the effects of environmental change on water and land use
Vulnerability and adaptation studies for examining the regional impacts of climate change and strategies for adapting to these changes
Local and global environmental mitigation measures for developing and testing practical policies for dealing with this issue, particularly as they relate to transitional and emerging economies.
Contact: Ghassem Asrar