Laboratory Awards
Jump to:
2007
|
2006
|
2005
|
2004
|
2003
|
2002
|
2001
|
2000
---
2006 Awards
PNNL chosen as one of America's Safest Companies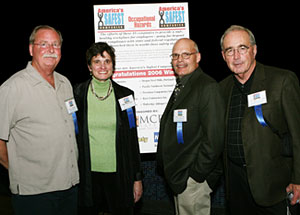 From left to right: Vern Madson, PNNL VPP co-chair; Cindy Caldwell, PNNL Manager, Worker Safety and Health; Steve Smith, PNNL Operations Manager, Computational & Information Sciences Directorate; Roger Briggs, DOE Pacific Northwest Site Office, Industrial Hygienist; accept award on behalf of PNNL
In November 2006, PNNL was recognized as one of America's Safest Companies by Occupational Hazards magazine. The honor is given to a select group of companies each year, small and large, that can demonstrate their safety processes include support from management, involvement from staff, and innovative solutions to safety challenges. The winning organizations also must demonstrate solid safety performance and a commitment to safety education and communications. "They get the symbiotic relationship between productivity, profits, morale and employee retention" said Sandy Smith, chief editor of Occupational Hazards.
"Without the value and commitment that our staff place on safe work practices, this award would not have been possible" said Roby Enge, Director, Environment, Safety, Health & Quality.
PNNL is the first Battelle-affiliated laboratory and multi-program national laboratory to win this respected award. Previous winners include: Alcoa, Bechtel Group Inc., Dow Chemical Co. and DuPont.
Learn more about PNNL's award at the Occupational Hazards website. (announced 11/30/2006)
Green Business of the Year Award
Green Business of the Year Award, awarded by the City of Richland. The Green Project of the Year – Business Category was awarded to Pacific Northwest National Laboratory and Connell Oil for their efforts in bringing biofuel to the community.
For more information see the City of Richland's Green Recognition Program web site. (announced 9/30/2006)
Pollution Prevention Star Winnner for "PNNL Stewardship: Conservation through Reuse"
Awarded by the U.S. Department of Energy, Office of Enviroment, Safety and Health. The P2 Star Award is in its 12th year. This is the second year the Office of Environment, Safety and Health has recognized exemplary performance at DOE sites through the P2 Star Awards system. P2 Star Award selections were made by an independent panel of judges from EPA, the Department of Defense, and the Department of Interior.
This year's eight P2 Star Award recipients were chosen from 33 nominations from across the DOE complex, representing a wide range of outstanding performances in reducing risk, protecting natural resources, and enhancing site operations. For more information about the awards see the DOE 2006 P2 Star Award winners. (announced 7/30/2006)
PNNL won the Federal Electronics Recycling and Reuse Challenge (FERRC) Award
During last year's challenge, nearly 70 facilities from 11 agencies donated for reuse or recycled a total of approximately 2.5 million pounds of electronic equipment. To win, eleven DOE facilities reused or recycled a total of more than a half million pounds of surplus and end of life electronics over four months.
PNNL was one of the 11 DOE sites that won the award. (announced 6/30/2006)
White House Closing the Circle Award
PNNL was selected as one of the recipients for this year's White House Closing the Circle (CTC) Award. The prestigious award recognizes outstanding achievements of federal employees and their facilities for efforts that resulted in significant contributions to environmental stewardship. The awards focus on waste prevention, recycling, and green purchasing activities under a variety of executive orders. PNNL received the award June 12, 2006 at a White House ceremony in Washington, DC, for its efforts to integrate waste minimization and pollution prevention processes and tools into the Laboratory's Environmental Management System (EMS). More than $2 million in purchasing and waste disposal costs during fiscal year 2005 was avoided through activities such as reduction, reuse, and recycling of equipment, chemicals, office products and construction materials. Read more about the 2006 CTC Awards (pdf, 165kb). (announced 5/19/2006)
PNNL earns Better Workplace award from the Assoication of Washington Business
Richland's Pacific Northwest National Laboratory was selected among 19 other companies to recieve the Better Workplace Award for safety from the Association of Washington Business. PNNL provides a safe work environment for its employees and PNNL's Voluntary Protection Program is a partnership between management and staff to continuly improve PNNL's safety culture. (announced 2/20/2006)