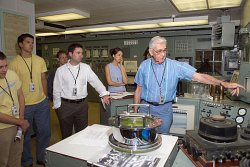 Shared Graduate Program
In 2011 PNNL and Washington State University partnered to pilot a program in which graduate students in selected areas would do part of their dissertation work at PNNL. Students are recruited in areas related to Clean Energy Technologies and have internships with PNNL while completing their initial graduate school requirements.
A New Model
This program is more than just a research endeavor; students are also exposed to entrepreneurship and leadership training, along with other topics with a goal of helping them hit the ground running after graduate school.
Looking Ahead
Upon successful completion of the pilot year, additional topic areas will be identified and WSU will work to engage a wider cross section of academic departments in the program.