PNNL Fast Facts, Fiscal Year 2015
For more than 50 years—proudly operated by Battelle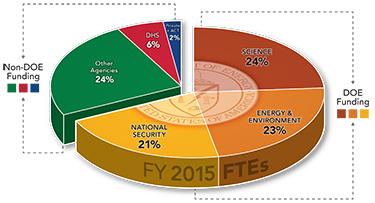 Business Volume, Employment, and Sponsors
$955 million at the end of our 2015 fiscal year in September in R&D expenditures
4,400+ scientists, engineers and professionals
Sponsors include the U.S. Department of Energy; other federal, state and local agencies; universities; and industry sponsors.
Patents
78 in FY15, 2,410 U.S. and foreign since 1965
Peer-Reviewed Publications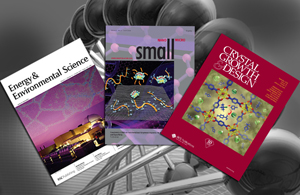 1,048 peer-reviewed, published articles (FY2015)
According to Essential Science Indicators rankings among top 1% of research institutions in publications and citations in (FY2013):

Biology and Biochemistry
Chemistry
Clinical Medicine
Engineering
Environment and Ecology
Geosciences
Materials Science
Microbiology
Pharmacology & Toxicology
Physics
FY2015 Awards Include
2 Federal Laboratory Consortium awards for technology transfer in FY15, a total of 81 awards since 1984.
5 R&D 100 Awards in FY15, a total of 98 since we began submitting entries in 1969.
1 Fellow, American Association for the Advancement of Science (AAAS)
1 Fellow, American Nuclear Society
1 Fellow, Electrochemical Society
1 Fellow, Materials Research Society
3 members of the Washington State Academy of Sciences
1 appointee to a National Academies committee
1 appointee to the Board of Scientific Counselors for the Office of Public Health Preparedness & Response/Centers for Disease Control
1 recipient of the American Chemical Society Chemical Instrumentation Award
1 awarded an inaugural American Geophysical Union Ambassador (First year presented, given to a maximum of five members)
1 awarded the American Society for Testing & Materials Award of Merit
2 invited to participate in the Kavli Foundation/National Academy of Science symposiums
Payroll and Taxes
Gross payroll, approximately $412 million
Various state and federal payroll taxes paid amounted to more than $32 million
Purchased Goods and Services
Economic Development
More than 170 businesses with roots to Battelle, operator of the Laboratory, and PNNL technology or personnel; for the Tri-Cities, Washington area, this currently represents approximately 4,672 direct and indirect jobs.
Since 1994, completed about 1,205 technology assistance projects with approximately 68% of them supporting Washington-based companies, resulting in product or service improvements and increased revenues for these companies
Battelle Community Involvement
Invested nearly $520,000 in area philanthropic and civic organizations (FY2015)
Since 1965, Battelle has invested more than $26 million to improve science, education and quality of life in the Tri-Cities, Wash. community
Invested $106,000 (FY2015) in Richland, Wash. Delta High School, a STEM- (science, technology, engineering and mathematics) focused school; total estimated support since 2007, including cash and in-kind support, is estimated at $4.4 million
Through Team Battelle, our staff volunteer program, employees volunteered 43,340 hours for 56 local organizations in (FY2015)
Over the past ten years, PNNL staff have volunteered more than 254,000 hours to community projects
Boards
PNNL has members on numerous boards that influence the Tri-Cities and the State of Washington. A small sampling includes:
Economic Impact
In addition to its scientific and technological advances, PNNL and its operator, Battelle, are also one of Washington State's most important economic contributors. The Economic Impact of Pacific Northwest National Laboratory on the State of Washington in Fiscal Year 2014 report lists several economic indicators including: PNNL's funding and total spending, jobs, wages, purchased goods and services, health care, visitor spending, spinoff companies, STEM support and corporate charitable contributions, as well as the economic impact of PNNL operations.
Details can be found in the full report or the 2-page flier.
Note: Report statistics are from FY14, so they may differ slightly from those on this FY15 Fast Facts webpage.
Contact
Thank you for visiting the PNNL web site, and if you have questions or comments, please contact us.