PNNL Business Facts, Fiscal Year 2012
Proudly operated by Battelle since 1965
Business Volume, Employment, and Customers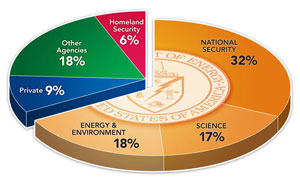 $1.0 billion at the end of our 2012 fiscal year in September
4,454 scientists, engineers and non-technical staff
Customers include the U.S. Department of Energy; other federal, state and local agencies; universities; and industry sponsors.
Patents
43 U.S. (FY2012)
75 foreign (FY2012)
Since 1965, combined total of 2,153 U.S. and foreign
Peer-Reviewed Publications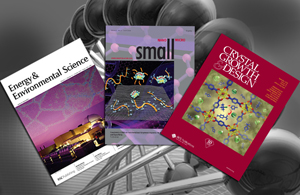 1,041 peer-reviewed, published articles (FY2012)
According to Essential Science Indicators rankings among top 1% of research institutions in publications and citations in (FY2012):

Biology and Biochemistry
Chemistry
Clinical Medicine
Engineering
Environment and Ecology
Geosciences
Materials Science
Microbiology
Molecular Biology & Genetics
Physics
FY2012 Awards Include
5 Fellows, AAAS
Federal Laboratory Consortium award for technology transfer
2 R&D 100 Awards
3 DOE Honor Awards (recognizing work associated with the Deepwater Horizon oil spill, the Fukushima nuclear accident, and for work to secure weapons-grade plutonium in the former Soviet Union)
DOE Presidential Early Career Award for Scientists and Engineers (PECASE)
DOE Sustainability Award
DOE Secretary's Award of Excellence in Project Management
Federal Laboratory Consortium Interagency Partnership Award
DOE Classification Award of Excellence
DOE Early Career Research Award
3 Fellows, American Chemical Society (ACS)
Payroll and Taxes
Gross payroll, approximately $422 million
Employer-paid benefits totaled $119 million
Various state and federal payroll taxes paid amounted to more than $31 million
$715,336 in sales and use taxes
$986,881 in property and leasehold taxes.
Purchased Goods and Services
Economic Development
Nearly 150 businesses with roots to Battelle, operator of the laboratory, and PNNL technology or personnel; for the Tri-Cities, Washington area, this currently represents approximately 1,500 jobs
Since 1994, completed about 1,017 technology assistance projects with approximately 75% of them supporting Washington-based companies, resulting in product or service improvements and increased revenues for these companies
Battelle Community Involvement
Invested nearly $616,925 in area philanthropic and civic organizations (FY2012)
Since 1965, Battelle has invested more than $24 million to improve science, education and quality of life in the Tri-Cities, Wash. community
Invested $413,000 in Richland, Wash. Delta High School, a STEM- (science, technology, engineering and mathematics) focused school; total estimated support since 2007, including cash and in-kind support, is more than $3.4 million
Through Team Battelle, our staff volunteer program, more than 2,500 employees volunteered more than 35,000 hours for 55 local organizations in (FY2012)
Over the past 10 years, PNNL staff have volunteered more than 160,000 hours to community projects
Boards

PNNL has members on numerous boards that influence the Tri-Cities and the State of Washington. A small sampling includes:
Contact
Thank you for visiting the PNNL web site, and if you have questions or comments, please contact us.